Ipsos, a Paris-based research institute released the results of a recently conducted study on Wednesday which showed significant changes in the major political parties' share of votes.
The research was prepared for private broadcaster CNN TÜRK and conducted in the all 81 provinces across Turkey with 1614 voters over the age of 18. The research which has an error margin of 2.4 percent indicates major changes in the voters' decisions after the election results were announced.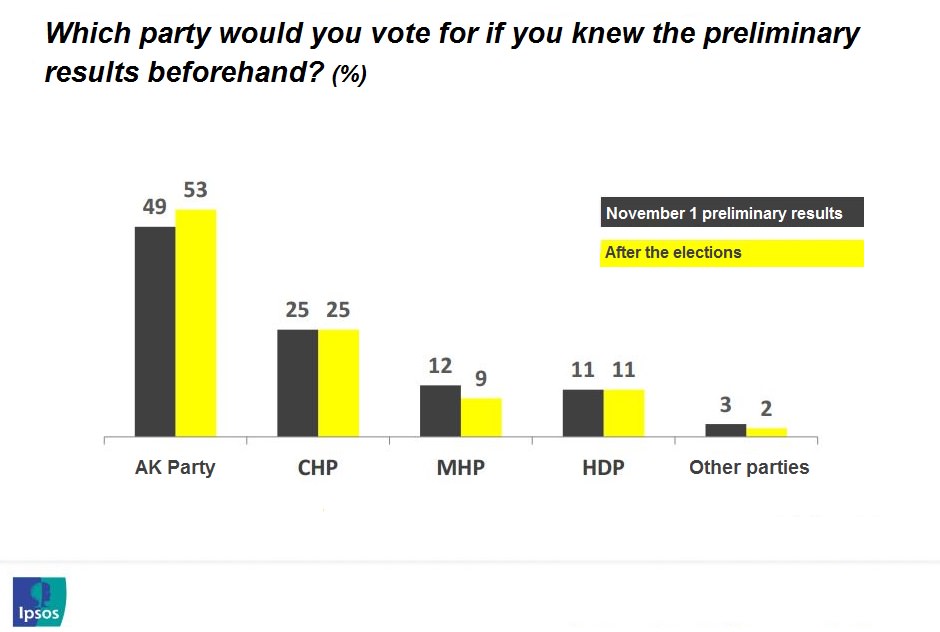 In the research, the voters were asked whether they would change their decisions if they had seen the results beforehand. While the social democrat Republican People's Party (CHP) and pro-Kurdish Peoples' Democratic Party (HDP) voters seemed uncompromising as the percentage indicated the same figures for the both parties, 25 and 11, respectively, conservative Justice and Development Party (AK Party) and Nationalist Movement Party (MHP) votes seemed to differ from the unofficial results of the November 1 snap elections.
3 percent of the MHP voters said that they would not vote for the party, which is significant as a 9 percent of total votes would deter nationalist deputies from entering the parliament and that would give AK Party extra deputies especially from the provinces in central Turkey and the Black Sea region.
The number of AK Party voters seemed to increase by 4 percent, putting the party to 53 percent. On such an occasion, with the MHP below the 10-percent electoral threshold, AK Party would muster a super majority with approximately 345 deputies in the 550-seat parliament, enabling it to go for a referandum to make constitutional changes, as the election simulation below shows.

Following the June 7 general elections in which the AK Party garnered 40.8 percent of the vote and failed to receive a parliamentary majority with 258 deputies, the parties failed to come to an agreement to form a coalition, leading Turkey to an early election on November 1.
In the snap elections, the AK Party led with 49.46 percent of the vote and 316 parliamentary seats, followed by the CHP with 25.27 percent and 133 seats, the MHP with 11.97 percent votes and 42 seats and the HDP with 10.34 percent and 59 seats, just above the 10 percent election threshold.