The Turkish American National Steering Committee, which represents over 150 Turkish associations in the U.S. have called on President Barack Obama, through a message published on the Washington Post, to provide assistance to Turkey in terms of the refugee crisis and the fight against PKK terrorist organization, ahead of his visit to attend the G20 Summit.
"On behalf of 150 Turkish American organizations nationwide, the Turkish American National Steering Committee (TASC) commends your upcoming visit to Turkey and expresses its sincere hopes for a productive G20 Summit in Antalya, and meetings with Turkish leaders." the statement said, and highlighted the close relations between Turkey and U.S. as allies.
The message stated that Turkey is "confronted with daunting challenges" as countries in the region are pulled into terrorism and millions of people are displaced due to conflict.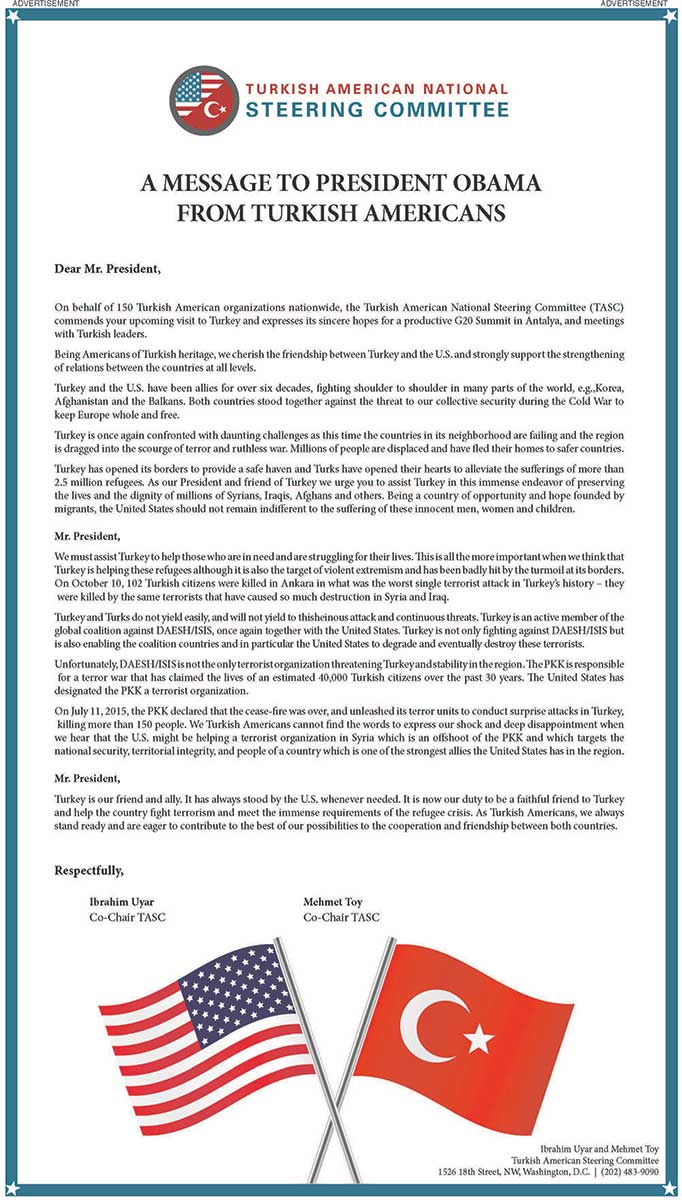 The TASC asked the U.S. to provide assistance to Turkey, which has opened its doors to over two million refugees, while urging the U.S. to not remain indifferent to the suffering of innocent civilians.
The message also touched upon the issue of terrorism in Turkey and underscored that ISIS is not the only terrorist organization posing a threat to security in Turkey and the region, and that the PKK, which the U.S. recognizes as a terrorist organization also disturbs security in the country.
"We Turkish Americans cannot find the words to express our shock and deep disappointment when we hear that the U.S. might be helping a terrorist organization in Syria which is an offshoot of the PKK and which targets the national security, territorial integrity, and people of a country which is one of the strongest allies the United States has in the region." TASC message said.
The TASC reminded President Obama that Turkey has always stood by the U.S. whenever it needed help, and now it was the U.S.'s duty to "be a faithful friend to Turkey and help the country fight terrorism," while adding that Turkish Americans are ready and eager to contribute to the efforts.