The Russian warplane shot down by Turkey near the Syrian border on Tuesday violated Turkish air space despite being warned 10 times in the space of five minutes, the Turkish military said in a statement.
Two Turkish F-16 jets on patrol duty along the border were involved in the downing of the warplane, the military statement said.
The military has also released a path analysis [red dotted line] of the downed Russian jet, showing the entry and exist of the plane into Turkish airspace. Moscow, on the other hand, claimed that it could prove the jet had not left Syrian air space.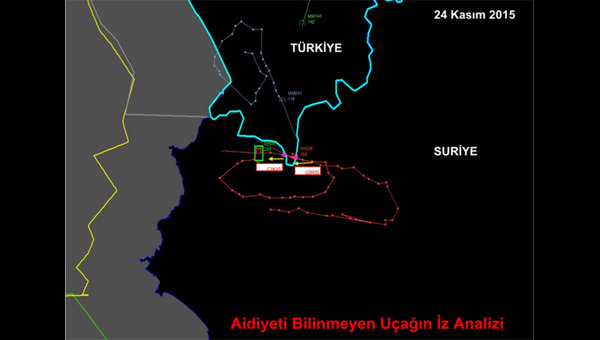 The downing of the warplane was not an action against any specific country but a move to defend Turkey's sovereign territory within the rules of engagement, a senior official told Reuters on Tuesday.
The plane was brought down in northwest Syria near the Turkmen town of Bayırbucak. Two airmen parachuted from the Russian jet after it was hit, the Syrian Observatory for Human Rights said.
NATO is in "close contact" with Ankara and watching the developments, an official said Tuesday. "NATO is monitoring the situation closely. We are in contact with Turkish authorities," the official reportedly said.
Ankara had sharply warned Moscow in October when Russian fighter jets twice violated Turkish airspace.
Just last week, the Turkish Foreign Ministry summoned the Russian ambassador to lodge a complaint over airstrikes in north-western Syria, near Latakia province, which allegedly hit an area controlled by ethnic Turkmen groups backed by Turkey.
The incursions in October took place days after Russia's September 30 launch of airstrikes in Syria aimed at Daesh and other opposition groups.
At the time, Prime Minister Ahmet Davutoğlu said Russia had admitted to "mistakenly" violating Turkey's airspace.
But he warned in an interview to Haber Türk TV that Turkey's rules of engagement were clear: "The Turkish armed forces are clearly instructed. Even it is a flying bird it will be intercepted."
Davutoglu, however, insisted that the violations would not cause tensions between Turkey and Russia. "The Syrian issue is not a Turkey-Russia crisis," he said.
While stressing that the two countries were allies, President Recep Tayyip Erdoğan said at the time: "If Russia also loses a friend like Turkey, with whom it has made much collaboration, it will lose much."
Erdoğan said that an attack against Turkey would be an attack against the entire NATO alliance, of which his country is a member.