Turkey's military forces have shelled YPG targets for a second day in Northern Syria on Sunday, the Syrian Observatory for Human Rights (SOHR) stated on Sunday.
The shelling targeted Mannagh air base and villages Ayn Daqnah and Maranas near the air base, Turkish news agencies reported.
According to SOHR, two YPG militants died in the shelling.
There are various reports from the area suggesting that shelling resumed during the day.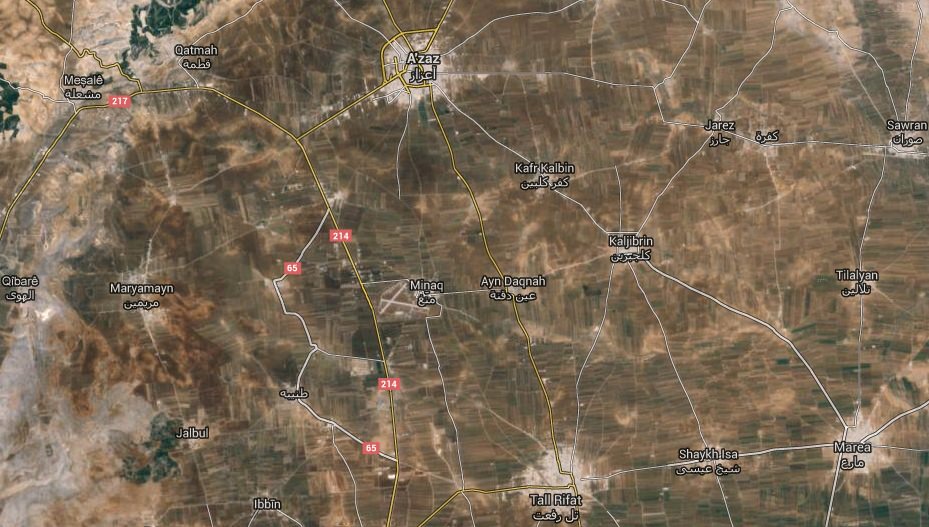 Deputy Prime Minister Yalçın Akdoğan also commented on the shelling on Sunday, and said that Turkey will protect its national security and is determined to respond to attacks, be it from Daesh or PYD.
Speaking in a TV program on Turkish broadcaster Kanal7, Akdoğan said that this was not the first time that Turkey retaliated an attack.
Akdoğan reminded that Turkey previously mentioned the Euphrates as a red line and they will not allow the PYD or the YPG to pass west of Euphrates.
Akdoğan also said that the YPG's attack on Tal Rifat poses a security threat as it resulted in tens of thousands of people seeking refuge in Turkey.
On Saturday, Turkish military shelled YPG targets near the town of Azaz in northern Syria under the rules of engagement, in response to two separate attacks carried out by YPG and Assad forces on a Turkish military base and a police station.
Prime Minister Ahmet Davutoğlu said on Saturday that YPG is engaged in an ethnic cleansing against Arabs and Turkmens in the region in cooperation with the Assad regime and added that the group must immediately leave Azaz and its surroundings.
Davutoğlu reiterated that Turkey will respond to any development that threatens the country's national security and will not allow any powers to harass Turkish borders.
Meanwhile, the Syrian regime has condemned Turkey's shelling of PYD held areas inside Syrian territory, describing it as an attempt to raise the morale of "terrorist" groups.
In two messages sent Sunday to the U.N. secretary general and the president of the U.N. Security Council, Damascus also denounced recent statements made by the Turkish prime minister justifying shelling PYD in Syria.
The regime, which Turkey accuses of cooperating with both the PYD and Daesh in its crimes against the people of Syria, urged the Security Council to stop Turkey's violations.