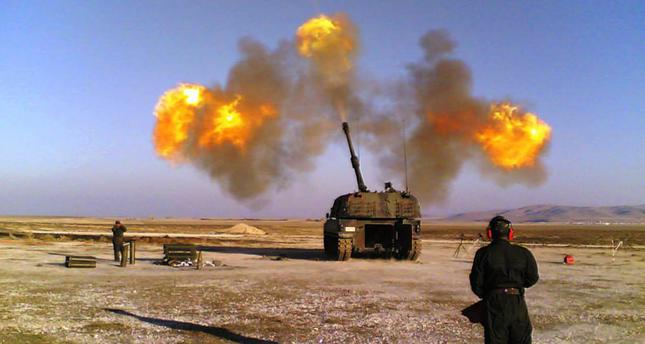 Yaşar Hacısalihoğlu

TURKEY NOW HAS RIGHT TO SEND TROOPS INTO SYRIA

International relations Professor Yaşar Hacısalihoğlu said moves to divide Turkey are being made and the legitimate right to send ground troops into Syria to fight the Syrian PKK affiliate Democratic Union Party's (PYD) armed Peoples' Protection Unis (YPG) has emerged for Ankara. "Turkey is fighting more than one terror organization. Turkey's hands cannot be tied with the lie that the PYD is not a terror organization. No democratic country can surrender to terror. Neither will Turkey," Hacısalihoğlu said, adding that Turkey is directly threatened by terror. "Turkey has shown that it will deliver what is necessary in the fight against terror and it is Turkey's very legitimate right to send troops into Syria. It is absolutely Turkey's right from now on," he said. Underscoring that Turkey's border security has expanded with the latest attack, Hacısalihoğlu said today's situation in the region has come from those who stirred Iraq and Syria as well as Bashar Assad's regime "that has killed 450,000 people of its own."
When asked about what the U.S.'s stance will be after the attack in Ankara, Hacısalihoğlu said the U.S. has entered into election fever and it will dodge Turkey's messages. "The U.S. will stall Turkey on the ground by not delivering what it demands," he contended, adding that it will be possible to see what the U.S. will decide what to do after its presidential election in November.
İlhami Işık


SAFE ZONE ONLY SOLUTION, OPERATION IN SYRIA OBVIOUS

Renowned Kurdish writer İlhami Işık said it is now obvious that Turkey will carry out a ground operation in Syria against the PYD. "It should not be considered as a war. The operation will be conducted in order to establish a safe zone," Işık said, adding that Turkey is under direct threat from Syria. "The solution is only possible through a safe zone," Işık said, adding that it should be established as soon as possible.
Saying that Turkey's ally countries now have no chance to oppose the safe zone plan, Işık asserted that nobody can prevent Turkey from protecting its security. "A safe zone is a contribution to peace in Syria," he said.
Commenting on U.S. policy on the PYD and YPG, Işık contended that the U.S. paid the price in Iraq and now just sides with whoever is willing to die in Syria. "The U.S. does not send its own troops, yet gives all necessary ammunition and other stuff to those who are willing to die," Işık said, adding that if a NATO country conducts a ground operation in the region, there will be no need for the PYD. "The U.S.'s support for the PYD is due to the context," he suggested.
Kurtuluş Tayiz

TURKEY'S HAND IN ANTI-TERROR FIGHT NOW STRENGTHENED

Akşam daily columnist Kurtuluş Tayiz said Turkey has always tried to act in line with international law because it did not have concrete reasons to make a move. "However, when the PYD crossed Azaz, which was a red line, Turkey shelled its armed YPG," Tayiz said, adding that the attack in Ankara is a far more serious incident. "A YPG militant from Syria committed a terror act in Turkey's capital. It is new to Turkey as well," he said.
Claiming that a new era in international relations for Turkey has started, Tayiz said Ankara's tone with Washington and the Kremlin will sharpen. "Turkey now has the legitimate right [to wage a ground operation] in Syria. A state bordering Turkey supports a terror attack in Turkey," Tayiz said, adding that this attack strengthened Ankara's hand in its legitimate anti-terror fight. He added that the car bombing now offers Turkey a wide range of moves in Syria.
When asked about whether Turkey will send ground troops into Syria alone, Tayiz gave it a slight chance, but did not rule it out. "Ankara cannot do it independently from the international community. However, as in the shelling of the YPG, it can make a move to establish a safe zone in northern Syria, not for a total war," he said.
Vahdettin İnce

TURKEY WILL PROVE US POLICY WRONG

Kurdish writer and author Vahdettin İnce said Turkey will act like it could conduct ground operations in Syria at any time, using its advantage for a certain period of time instead of wasting it at once. "Turkey has shown what it is capable of when it shot down a Russian fighter jet and shelled YPG positions in Syria in line with the rules of engagement. It is not about what Turkey can do from now on, it is about what the others will do to prevent Turkey [from doing]," İnce said. Giving a possible ground operation a slight chance, İnce said that Turkey will make moves that could deal a blow to its enemies in the region. "Turkey crossing into Syria means that it fully presents what its plans are and it will remain limited to it," he said. İnce touched on the recent rift between the U.S. and Turkey over the PYD. "The U.S. cannot sacrifice Turkey, yet it needs a ground force in Syria to be in a powerful position. I guess Turkey will try to show the U.S. that its stance is wrong by shelling YPG positions. Everyone needs to play it multilaterally," he said, adding that whoever thinks it through and takes logical steps will prevail in the end.
Eyüp Ersoy

TURKEY COULD ENTER SYRIA WITH ALLIES

Eyüp Ersoy, a security expert from Bilkent University's International Relations Department, thinks that all actors in Syria, including the U.S., have two policies for consideration regarding the ending of the Syrian civil war and the post-war situation.
"The U.S. is in pursuit of political grounds that can extend its interests after the civil war through the creation of proxies and the consolidation of those proxies within the country. The most convenient actor appears to be the Democratic Union Party (PYD) due to their delayed sharing of allies in the field. They cannot support Assad, because of the legitimacy problem. Turkey and Saudi Arabia are dominant in the Free Syrian Army [FSA]. Therefore, the PYD is the sole actor for fulfilling this role."
He also indicated that an intervention from Turkey in retaliation to the People's Protection Units (YPG) is possible. Stressing the need for support in the air, Ersoy said: "An intensified and dissuasive operation with special forces on the ground is possible. However, a long-term operation towards creating a buffer-zone is difficult because of Russia's presence in the field."
Mustafa Kibaroğlu

TURKEY SHOULD PLAN AN OPERATION WITH NATO APPROVAL

Regarding the stance taken by Washington toward the YPG, Professor Dr. Mustafa Kibaroğlu, chairman of the Department of Political Science and International Relations at MEF University, said he does not predict a dramatic change to the current situation, calling it a four or five-decade issue, not a new one. "Hopefully there will be a change in the attitude in Washington; however, after the decrease in repercussions for the attack, I do not think there will be a drastic change to the prevailing attitude," he said, adding that Washington wants to consider the YPG an "ally" in the field. Kibaroğlu pointed out that if Turkey was preparing for an operation in Syria, this should be planned strictly in accordance with NATO allies. He said, "If Turkey acts alone or together with an actor such as Saudi Arabia as people have speculated, without a NATO-backed decision, it will remain alone within the Alliance. Such an attitude would strengthen those in NATO who don't want to meddle with Russia on account of Turkey. A large scale ground operation without the consent of NATO would result in Turkey solely fighting with Russia. I'm sure that the government is aware of the negative implications of such a contingency."
Murat Yeşiltaş

WASHINGTON'S YPG POLICY HARMS NATO ALLY TURKEY

Murat Yeşiltaş, director of security studies for the Ankara-based SETA Foundation, said that the U.S., given its support for the PKK-affiliated People's Protection Units (YPG), has both abandoned Turkey and indirectly increased the flow of refugees due to the PYD's expansionist policy in Syria. Yeşiltaş said, "While the U.S. is using the YPG as a counterterrorism tool, it also paves the way towards an insurgency in Turkey as an 'unintended consequence.' It indirectly meddles in the issue, providing manpower and military support."
Indicating that he does not expect the bombing to become a breaking point for Washington's YPG policy, Yeşiltaş emphasized the "legitimate self-defense" aspect of Turkey's reaction, saying, "I expect an intervention to take place. Either Turkey implements this alone by hitting the YPG and DAESH, separating the targets and potentially creating a problem for the West, or Turkey implements a U.S.-coordinated response, one with Turkish troops on the ground and Saudi support from the air. This is much more plausible and the grounds for legitimacy are more solid."
Oytun Orhan

TURKISH GROUND OPERATION IN SYRIA WOULD BE LEGITIMATE

Oytun Orhan, an expert on the Middle East at the Center for Middle Eastern Strategic Studies (ORSAM), stresses that the YPG has utilized the anti-DAESH fight as a pretext for expansionist policies; especially after seizing Tal Abyad in northern Syria. He said that the U.S., in response to Turkey's concerns, told the YPG not to cross west of the Euphrates, but the group has continued to advance thanks to Russian support. "Turkey would predictably want the U.S. to choose between Turkey and the YPG, and the U.S. would still try to keep things in balance. Turkey would not embrace this situation. The U.S. would probably guarantee Turkey that the PYD will not cross west of the Euphrates through options of refusing air support, but it would not be realistic to expect that Washington would cut ties with the YPG," Orhan said.
Orhan predicts that Turkey will seek support from U.N. Security Council members, with a ground operation taking place if such support is received. "The conditions for Turkey legitimately taking initiative and intervening to attack the YPG in Syria have now occurred. However, there are serious indicators that Russia can target Turkey in such a situation. Therefore, if Turkey's demands can be met regarding the support, an operation can happen. Otherwise, Turkey could confine itself to striking YPG positions with mortar shells," he said, adding that the YPG's rising threat to Turkey raises the stakes of such an operation.