Speaking to journalists on his official visit to the Croatian capital of Zagreb President Recep Tayyip Erdoğan addressed the debate sparked by Parliament Speaker İsmail Kahraman's opinion that secularism should not be mentioned in the new draft constitution prepared by the ruling Justice and Development Party (AK Party). He said secularism ensures the state is of equal distance to people of all beliefs.
There is a serious effort taking place to prepare a new constitution and he expressed his opinions," Erdoğan said, noting that Kahraman, as a member of the AK Party, had sworn to uphold the party's regulations on secularism. "This means he accepts the AK Party's policies on the matter. He just cited certain examples from around the world during a scientific meeting on constitutions."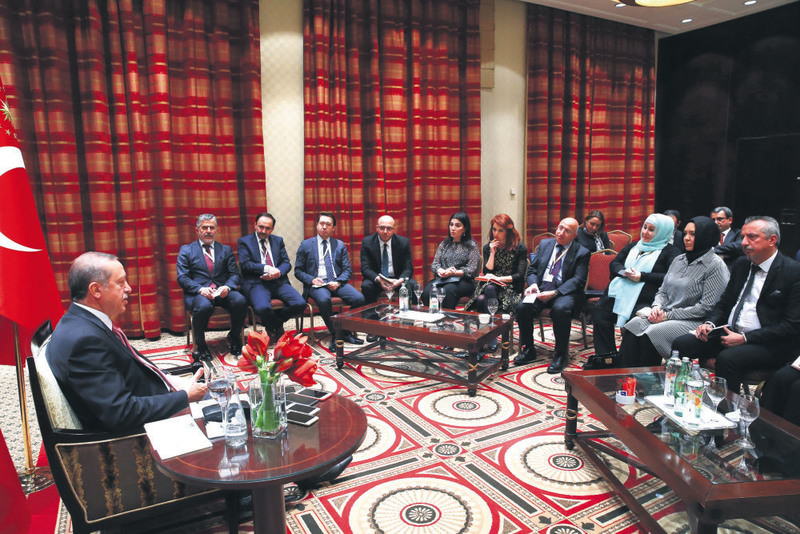 Erdoğan said he had aired his personal opinion on the matter during his address to Muslim Brotherhood officials in Cairo in September 2011, when he said: "Turkey defines secularism as the state being at equal distance to all religions. Secularism is not atheism. I, Recep Tayyip Erdoğan, am a Muslim, but I am not secular. I am the prime minister of a secular state. In a secular state, people have the freedom to believe or not. I hope Egypt will adopt a secular constitution because secularism is not anti-religion. Don't be afraid of it."
Erdoğan said after his speech that he was approached by Muslim Brotherhood head Mohammed Badie, who could not hide his surprise. "After I explained to him over breakfast, he told me he approved if it was as I explained."
"If you impose secularism as being anti-religion, people will naturally object. Secularism, however, means the state being of equal distance to all beliefs, including atheism. I don't believe all the controversy generated by those who tried to exploit our parliament speaker's remarks will get anywhere."
When asked about suggestions that the new constitution would emphasize Islam due to 99 percent of the population being Muslim, Erdoğan said: "If the rights and freedoms of all religions are protected, why should there be any need to emphasize Islam? If I as a Muslim can live the way I want, there is no need. If a Christian can do so, too, there is no need either. The same is true for Jews and also for atheists. This is what we have been advocating since the beginning. When the AK Party first came to power, someone on a TV show asked me if I would bring back the headscarf. I said that was not on our agenda. We never advocated headscarves for all. There was however, a ban on headscarves at the time."
He said the most important thing was to ensure the country has a civilian constitution: "We can even have a short one like the U.S. has with some subheadings and clauses."
The suggestion to introduce a presidential system to replace the current parliamentary structure has generated serious criticism, Erdoğan said, but argued that critics have not proposed any alternatives to ensure a smoothly running state system.
ALLIANCE OF CIVILIZATIONS
Erodğan also briefed the members of the press on his visit to Azerbaijan, where he attended the 7th United Nations Alliance of Civilizations Global Forum, an initiative initially launched by Erdoğan and former Spanish Prime Minister José Luis Rodríguez Zapatero.
"At first, the U.N. was not involved. Spain and Turkey suggested U.N. members' inclusion. Later on, those who took over the government in Spain lost interest. Right now there are 145 members. However, I need to openly say that the needed dynamism still doesn't exist. I hope the body will be an effective weapon against Islamophobia and those who want to link Islam with terrorism. I had hoped for U.N. Secretary-General Ban Ki-moon's presence there. I will ask about his absence at the first opportunity."
He said he also hopes the body would provide an impetus to Turkey's initiative to change the composition of the U.N. Security Council to ensure it is the voice of the world. "We hope a new U.N. [Security Council] structure will have 20 permanent members to be replaced every one or two years with all continents and religions represented on it.
ARMENIA PLAYING WITH FIRE
On the recent flare up between Armenia and Azerbaijan over the Nagorno-Karabakh region, Erdoğan said Armenia is playing with fire. "Turkey is displaying sincerity. There are 100,000 Armenians in our country, half of whom are not our nationals. We tolerate those who do not have residence permits. The state has returned many equities seized from the Armenian community. I released statements on April 24. All this shows our sincerity. Armenia, however, does not seem to understand, and continues to blame us. In the current state of conflict, it is Azerbaijan and its president, İlham Aliyev, who are gaining strength. Russia cannot back Armenia as much as it wants because it had ties based on mutual interests with Azerbaijan."
FIGHT AGAINST DAESH AND PYD
When asked about ties with the U.S., which have been under significant strain due to U.S. President Barack Obama's administration's open support to the PKK terrorist organization's Syrian affiliate Democratic Union Party (PYD), Erdoğan said the anti-DAESH coalition's efforts to target coordinates Turkey has given had strengthened, adding that the U.S. has been quiet concerning the PYD in recent days. "Their stance is not what it used to be," Erdoğan said.
He also noted the significant deployment of military hardware near the Syrian border in Kilis to prevent DAESH from further hitting the town. "Next month, the U.S. will be sending HIMARS batteries, which have a maximum range of 90 kilometers. All necessary measures are taken to protect our security."
He also repeated his opinion on the necessity of establishing a safe zone in northern Syria: "If the world wants to end the refugee flood, the necessary amount of land in the north should become safe. Once that happens, our Syrian brothers currently living in tent or container cities can move there." He said new towns could be built there so Syrians could lead comfortable and safe lives.
He cited the Green Line in Cyprus, secured by U.N. peacekeepers, as an example of how a safe zone can be created in Syria.
When asked about stories in the German media on Germany seeking a base near İncirlik, he said: "Such matters depend on developments. As a NATO member, such deployments benefit us. Germany or France building such a thing near İncirlik could benefit us, we should not forget," but added that such matters can only happen with Ankara's permission.
THAW WITH ISRAEL
When asked about the latest developments concerning ties with Israel, Erdoğan said there had been good progress concerning compensation for the victims of Israel's raid on the Mavi Marmara while it tried to carry aid to Gaza as well as on the lifting of Israel's blockade on the Gaza Strip. "The biggest problem in Gaza is energy. We proposed to dock an energy-generating ship near the port of Ashdod to feed Gaza. They had some objections, and countered with a proposal for a joint Turkish-German construction of an energy plant. We said that could be possible. We still haven't given up on the ship. Israel is also positive toward our proposal to address Gaza's water problem through water desalination plants or wells. There is also a need for schools and hospitals. We are seeking donors. Some have promised to contribute," he said, adding that Turkish and Israeli delegations will meet again in mid-May.
TIES WITH EU
He criticized EU officials for asking for projects to invest in rather than supporting Turkey's efforts to care for Syrians. "[German] Chancellor Angela Merkel saw what we did in Nizip. I can't understand why they are still after projects to release their promised contributions. We have already done most of what they are asking as projects. If you are sincere, support us. What they will send will not go into our budget anyway; it will directly be channeled to help our Syrian brothers. We have already done a lot and will continue to do so. No one should try to deceive one other by asking for projects. There is no need to go into such matters just to get a few photo opportunities."
When asked if he found the EU sincere when it comes to lifting visa restrictions on Turkish nationals for the bloc's Schengen zone, Erdoğan said the lifting of visa restrictions was already an obligation the EU has to implement. "We had already signed the necessary documents when I was prime minister, agreeing on the lifting of the visa [requirement] in October 2016. I don't understand how doing the same thing four months earlier can be promoted as a huge deal. No one had the right to act as if they are doing Turkey a great favor. I openly said this to European Council President Donald Tusk and European Commission President Jean-Claude Juncker. Both are very good friends of mine. However, our conversation took such a turn that I was forced to take a stand. I told them: 'Support us if you want. What projects are you talking about?' We will see how much of the promised money they will release by the end of the year."