President Recep Tayyip Erdoğan said a new constitution with a presidential system is what Turkey needs in order to possess swift decision-making and policy-making mechanisms.
Writing in the first issue of Kriter magazine, which is published by Ankara's Foundation for Political, Economic and Social Research (SETA), Erdoğan said that Turkey's governing structure impedes its rising opportunities and capabilities and what the country needs is a presidential system that is based on a synthesis of Turkish history and culture and universal standards.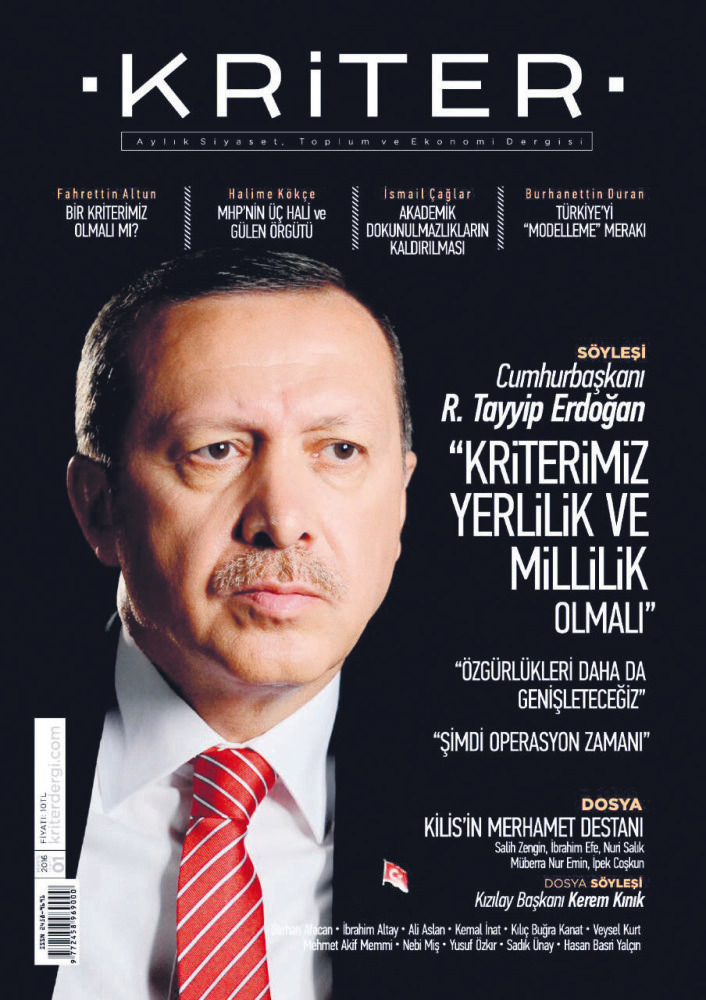 He indicated that many countries of the G20 are ruled with presidential systems and said "We see that presidential systems are behind the success of most of the developed countries in the world because they have the capability of rapid decision making and rapid execution mechanisms. I think that we also need a new constitution and presidential system for the new Turkey in terms of rapid decision-making and rapid execution mechanisms." Regarding several calls that have been made to return to the reconciliation table with the PKK, Erdoğan said it is out of the question and that operations will continue until the last terrorist is purged from the country and its southeast. "The [PKK] terrorist organization, which has been repelled with effective operations, is already in a state of collapse. The solution after this stage is obvious: We will find the real solution after purging the terrorist organization with all its elements from our territory and strongly facilitating our unity and brotherhood."
Gülenist threat to national security
Concerning the fight against the Gülen Movement, he said that this struggle is not his personal matter but rather is a state policy and the movement is a threat to the state and the nation.
Indicating that he previously had doubts about the movement and later on an extensive operation began following the Dec. 17 and Dec. 25 coup attempts, Erdoğan continued: "The 'parallel structure' has caused immense destruction in our institutions where it had infiltrated. We know that there is lots of work to do in order to repair this destruction. This structure has turned into a marginalized organization. As each organization that threatens our national security, the fight against them will also continue resolutely."
Erdoğan also said that a state cannot sit idle to deputies that make advocative remarks about terrorists who kill soldiers and police officers and forces people to migrate in the southeastern and stressed that their lifting of parliamentary immunities is necessary.
He also said the freedom of the press has become a political shield for some and it cannot be exploited for the sake of sacrificing national security threats.