Newly elected chairman of the Justice and Development Party (AK Party) Binali Yıldırım on Tuesday announced the new cabinet at the Presidential Complex in Ankara.
According to the new cabinet list, 12 ministers were reshuffled and new eight members were appointed.
Yıldırım presented the new list consisting of new cabinet members to President Recep Tayyip Erdoğan in the morning.
The president took a break from hosting the World Humanitarian Summit in Istanbul and returned to Ankara to approve Yıldırım's government. President Erdoğan will chair the first meeting of the new cabinet on Wednesday, sources in his office said on Tuesday.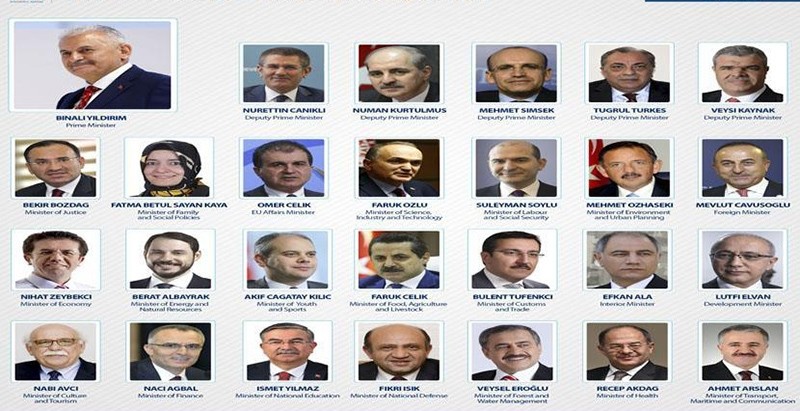 Nurettin Canikli, Mehmet Şimşek, Numan Kurtulmuş, Veysi Kaynak and Tuğrul Türkeş were announced as deputy prime ministers.
Justice Minister Bekir Bozdağ has been reappointed as the justice minister, while former AK Party spokesman Ömer Çelik has been appointed as the new Minister of European Union Affairs, replacing Volkan Bozkır.
Foreign and energy ministers Mevlüt Çavuşoğlu and Berat Albayrak, have also been reappointed, while Nihat Zeybekçi returned as economy minister, a post he had held until last November.
Finance Minister Naci Ağbal also kept his position.
Ahmet Arslan has been named as the transport minister, replacing the newly-appointed prime minister Yıldırım.
Fatma Betül Sayan has been appointed as the new family and social policies minister, replacing Sema Ramazanoğlu as the only female minister in the new cabinet.
On Sunday, Erdoğan asked Yıldırım to form the country's 65th government, after being elected as the chairman of the AK party, which has been ruling the country since 2002.
Yıldırım vowed Tuesday to immediately work on a new constitution, which will include also the presidential system.
"The most important task of the AK Party [parliamentary] group is to better fit the constitution with the actual state of the elected president's relationship with the people", Yıldırım said.
Yıldırım was speaking at the first AK Party parliamentary group meeting in Ankara after announcing the new government.
"This is not just a matter of our president; this issue is the future of the Republic of Turkey," he said.
He vowed to immediately start working to change Turkey's current constitution, which came into effect two years after a military coup in 1980.
Yıldırım has served as transport and communications minister since 2002 with a short interruption in 2015. The engineering-trained politician who is a founding member of the ruling party, has been credited for his role in developing major infrastructure projects which have helped buoy Turkey's economy and boost the party's popularity.