Monday is World Refugee Day, an occasion when it is important to remember that there are almost 60 million displaced people around the world in desperate need of help. The head of Parliament's Refugee Rights Committee, Atay Uslu, in an exclusive interview with Daily Sabah, said that Turkey's generosity toward Syrian refugees fleeing war should point toward the right way to tackle the problem. Uslu said 1951 Geneva Convention on the Status of Refugees is coming apart at the seams and failing to create appropriate solutions for the magnitude of the problem. He said compassion for fellow human beings, good neighborly policies and the culture of hospitality have allowed Turkey to help nearly 3 million Syrian refugees while a fraction of that amount has caused severe political and humanitarian crises in European countries, which are much richer. Uslu last week suggested replacing the Geneva Convention with a "Gaziantep Convention," in honor of the southeastern province where, he said, there is perfect harmony between Syrians and locals.
Each year on June 20, the United Nations High Commission on Refugees (UNHCR) commemorates World Refugee day, to raise awareness of the situation of refugees around the world. Daily Sabah spoke with Deputy Atay Uslu, the head of the Refugee Rights Committee at the Turkish Parliament, to discuss Turkey's ongoing efforts for refugees as well as around the world.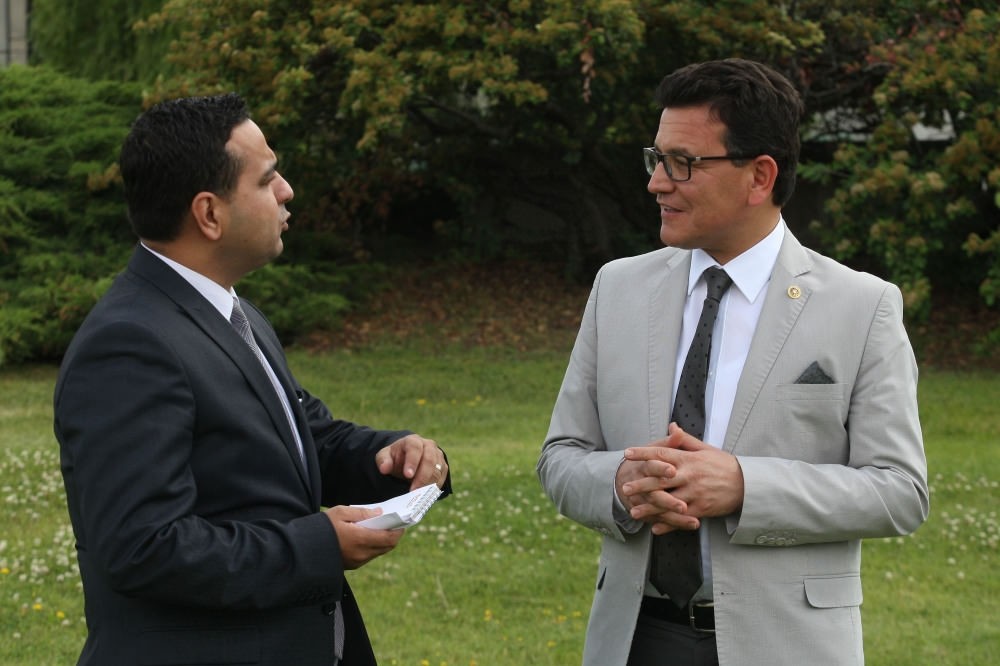 The head of Parliament's Refugee Rights Committee, Atay Uslu (R) and Daily Sabah's Ali Ünal
Uslu said the Geneva Convention is inadequate to respond to the needs of refugees, asserting the world needs a new refugee law. Uslu suggests putting into effect a Gaziantep Convention, in reference to the southern Turkish province on the Syrian border, which is home to many Syrians. Responding to the criticism that Turkey is not maintaining their open door policy, Uslu dismissed the claims and underlined that Turkey has maintained their open door policy, while stressing that they have been working to help refugees by improving integration, healthcare, education and employment policies.
Daily Sabah: Last week you expressed that the 1951 Refugee Convention was inadequate to resolve issues and a new refugee law, which you called a Gaziantep Convention, is needed. Could you elaborate on this subject?
Currently, there are 60 million people in the world who were forced to immigrate due to wars and conflicts. The 1951 Refugee Convention which states international laws regarding refugees says if people are forced to leave their home country, the countries which signed the agreement have to open their borders to them. There are five situations stated in order to be recognized as a refugee: if you are oppressed or fear being oppressed due to your ethnicity, religion, nationality, community or political ideology. These people have the right to seek sanctuary. This clause exists both in the 1951 Refugee Convention and the Universal Declaration of Human Rights, as seeking sanctuary is related with the right to live.

Turkey stands out on world refugee day

- Most generous aid provider in terms of per capita income

- Well over $10 billion spent on Syrian refugees since 2011

- 2.75 million Syrian refugees live in Turkey, according to the UNHCR

- TİKA distributes over $3 billion of aid in 140 countries on five continents
In our region we have this tragic situation. Due to the Syrian War, around 400,000 Syrians have lost their lives. Moreover, 12 million Syrians were forced to immigrate, while six million went abroad. Of this six million, three million are currently in Turkey. People escaping the terror of DAESH in Iraq have sought sanctuary in our country.
Turkey took the initiative during the crisis and welcomed three million refugees with its open door policy. Of course, there is a desire to immigrate to countries with better economic opportunities, hence the migration from Syria to Europe.
We have observed Europe closing its doors against these victims, even though the 1951 Refugee Convention was formed and signed by them. Europe is not abiding to its own laws. They have surrounded their borders with barbed wires and fences. As a result of this, refugees were forced to cross the Mediterranean Ocean and the Aegean Sea. According to International Organization for Migration (IOM) data, over the past two decades 55,000 refugees have died while trying to cross the Mediterranean. The Mediterranean is now the largest cemetery in the world. The sad part is we do not see NGOs or the international organizations addressing this issue seriously.
These kind of tragic deaths used to happen regularly in the Aegean; however, after we signed an agreement with the European Union (EU) on March 18, this decreased the number of deaths in the Aegean Sea almost to zero. Unfortunately, as crossing from Africa, especially from Libya, is not being prevented, 2,500 refugees lost their lives in the last five months. I have to state that I am generally against giving such statistics, as it debases human life, which is invaluable.
While states and civilization exist to protect the lives of human beings, we are unable to enact this goal. Therefore, the existing conventions, agreements and legal framework are inadequate. The legal process for refugees is still in accord with the 1951 Refugee Convention. While this proved useful in the past, it was formed with that era in mind, and now it falls short. Refugees are suffering from tragic and horrible deaths. We have to resolve this issue immediately.
DS: What does the 1951 Refugee Convention lack? How should the new law address these shortcomings?
When the 1951 Refugee Convention was first signed, it granted people the right to seek refuge due to previously transpired events. At first, there was a statute of limitations and the geographical extent of the agreement was limited. In time, the statute of limitations was removed, while the geographical limitations still exist.
While people are being oppressed and killed, it is important to protect and save their lives via allowing them to find sanctuary in another country. However, there are many things to be done after a refugee is settled in the said country. They have to re-establish their lives in a new and foreign place. There is a need for integration and harmonization. The 1951 Refugee Convention doesn't have clauses regarding harmonization and integration; and as it is nonexistent, some countries abuse this situation by forcibly assimilating refugees. There are many examples. Why were many Muslim refugees converted to Christianity in the town of Holstebro, in Denmark? Why have German churches prepared pamphlets in Arabic? Why does the Catholic Church of Lower Saxony abuse refugees' despair? And why are all of these happening? Because the refugees know that if they convert to Christianity, they may gain refugee status more easily. Refugees are lining up in front of churches in order to show the reverends as their reference in their applications. Some churches even admit this situation. The refugees are compromising their beliefs and cultural values in order to survive, and this is happening due to the 1951 Refugee Convention lacking principles of harmonization and integration. This is assimilation and nothing else.
As Europe did not internalize integration policies, these innocent refugees are pushed and shoved all the time. They are not allowed to swim in the same pools. Refugee sanctuaries in Germany suffered 757 assaults last year. There was an instance where a sanctuary was on fire, and some German groups were applauding this with joy. Far-right parties which are anti-immigrant are on the rise. The issue is that their integration and harmonization policies are superficial and artificial. They wonder how we are living in harmony with three million refugees. The answer is easy: compassion, neighborhood and hospitality. People who do not feel these feelings and criticize them as not being rational can never understand us, and they will never be able to resolve the rising xenophobia within their community. The harmonization process also includes human relations and if you employ both rational and emotional approaches, you will be successful. Unfortunately, some countries like Denmark have systematically adopted exclusivist policies. Denmark confiscates the valuable possessions of refugees, as there aren't any international laws which bar them from doing this. This is the issue – there are many arbitrary regulations due to the lack of international laws, which exacerbates discrimination, exclusion and human right infringements against the refugees. According to such countries, polluting the environment has more serious repercussions than assimilating and mistreating refugees. We want a new initiative to take place.
DS: Do you believe there is a desire to amend this convention in the international community?
President Recep Tayyip Erdoğan has presented a new paradigm over the last decade. He makes the world question itself. His statement that "the world is more than five" is a perfect example of this. International organizations which were established in the 20th century are becoming outdated and inadequate. This has become obvious with the deaths and plight of war victims. We speak for these victims, and we have the right to do so as the country hosting the most refugees. Anatolia has always welcomed refugees. We are a civilization ready for preparing this new accord.
DS: Why a Gaziantep Convention? How will this differ from the 1951 Refugee Convention?
I have said why I believe the new convention has to be based in Anatolia. Regarding Gaziantep: we have seen there that there is an almost perfect harmony between the refugees and the local populace. We have seen that many Syrian refugees are more than capable of working. Trauma treatment, access to education and healthcare and employment are the most important elements which should be provided, after harmonization and integration policies. In Gaziantep, we have seen most of this already realized, hence the name. Of course, this is a proposal; any other city can be also proposed, such as Mardin, Şanlıurfa or Hatay, they are all multicultural cities. This is a symbolic matter.
Regarding the 1951 Refugee Convention, integration and harmonization are not mentioned in this agreement. It doesn't specify what kind of healthcare service, education, employment access they should have. It also doesn't specify the process after obtaining refugee status. In our proposal, all of these will be specified. It will include principles about integration and harmonization. Certain values cannot be imposed on refugees; everything regarding their culture and identity should be voluntary. Integration should not be a unilateral process, it must be bilateral. This means that while the refugees are being integrated to the society, society should also try to adapt to their culture. By this way, we can have a new culture or a cultural alliance, which may pave the way for future success. We are aware that integration has certain economic costs; however, we believe that if it is not done, future political and economic implications will definitely be worse.
DS: Turkey is not granting refugee status to the Syrian immigrants applying, citing the geographical limitation clause of the 1951 Refugee Convention. How do you evaluate the criticism toward Turkey regarding this subject?
Between 1923 and 2011, Turkey accepted 1.7 million refugees, while between 2011 and 2014 this number is three million. No one has the right to criticize the country hosting the most refugees, especially those who make refugees wear red wristbands, surround their borders with fences and barbed wires, and who relocate the refugees to distant regions.
Geographical limitation is a right granted by the 1951 Refugee Convention and Turkey is practicing this right. However, Turkey regards every applicant as equal and in accordance with the 1951 Refugee Convention and the 1967 Refugee Protocol.
It's true that we don't grant refugee status to people who are non-European; however, I would like to remind that we have made a promise. When we unite with Europe, we will remove the geographical limitations. This is in our road map, yet if we remove these limitations prematurely, it will have a negative impact on Turkey's politics and economy, as Turkey is at the crossroads of many migration routes and borders an instable region. Even though Turkey practices a geographical limitation clause, it continues to keep its borders open for refugees. While many countries which don't practice geographical limitations still argue on admitting 100 refugees, we are hosting three million refugees. The Canadian prime minister welcomed 150 Syrian refugees at the airport, while there are 150,000 Syrian babies being born in Turkey, under the protection of the state. Therefore, practicing geographical limitations don't have a negative impact on Syrian refugees in Turkey.
Turkey has passed the foreigners and international protection law in 2013 almost unanimously. It's true that we aren't granting refugee status to people who originate from non-European countries, but we are granting them a conditional refugee status. There is a nuance between these two terms, while there aren't any differences regarding access to education, healthcare and welfare. The only difference is in employment; the conditional refugees have to acquire a permit in order to work. The aforementioned law is also commended by the EU. Not many countries grant access to healthcare for refugees like we do.
DS: What are the differences among refugee policies in Turkey and elsewhere in the world?
People who have seen our refugee camps commend us. There isn't any discriminatory approach towards the refugees, as we regard them as our brothers and sisters. We observe that refugees are in a far worse situation in many other countries. The German public is against the refugees and there are systematic issues. For example, some German provinces confiscate refugees' valuable possessions, while Hungary surrounds itself with fences and barb wires. The Hungarian representative of the UNHCR stated that they are investigating the tragedy in Hungary. Refugees are forced to live in primitive conditions, as Macedonia closed its border when some refugees tried to cross from Greece. Similarly, in Calais, France, refugees have had to survive a long time without tents and we still don't know what happened to 160 children at that camp. German Interpol has announced that 6,000 refugee children went missing last year. Europe prefers inaction instead of taking action regarding this issue. There is a significant rise in xenophobia in Europe, both politically and sociologically. Their inaction is causing the death of refugees. Even though they promised to relocate 160,000 refugees among different EU countries, the current number is around 16,000. France has officially accepted only 19 Syrians.
DS: What would be your response toward the criticism that Turkey is not maintaining its open door policy?
Our open door policy is still being maintained and we are working on improving our policies for refugees regarding integration, healthcare, education and employment.
As the Assad regime forces continue to target civilians and civilian structures, such as schools and hospitals, Turkey is facing another wave of immigration. However, when this possibility emerged, our institutions immediately took the necessary precautions. We are always aware that there might be another tragic event in Syria each and every day. Therefore, we keep our borders open.
Europe, the US and all the other countries should be questioned regarding the open door policy. Everyone, especially the NGOs and international organizations, should investigate Europe's discriminatory policies, as they proved fatal for refugees.