In recent weeks, Turkey's normalization of relations with Israel and Russia and a softening tone with Egypt, has aroused questions as to whether Turkey is "resetting" its foreign policy. Daily Sabah spoke with Prof. Dr. Ali Resul Usul, thechairman of the Turkish Foreign Minister's think tank Center for Strategic Research (SAM), to discuss the background of the changes in Turkish foreign policy.
According to Usul, the normalization processes with Israel and Russia have been going on for a while, as relations were problematic. Thus he believes that recent changes are not a revision of foreign policy, but a continuation of the government's "more friends, less enemies" policy, which does not contradict with the previous government's "zero problems with neighbors" policy. Usul further explained that with regards to international relations theory, the change in Turkish foreign policy could be explained as an adjustment change, not as a reset.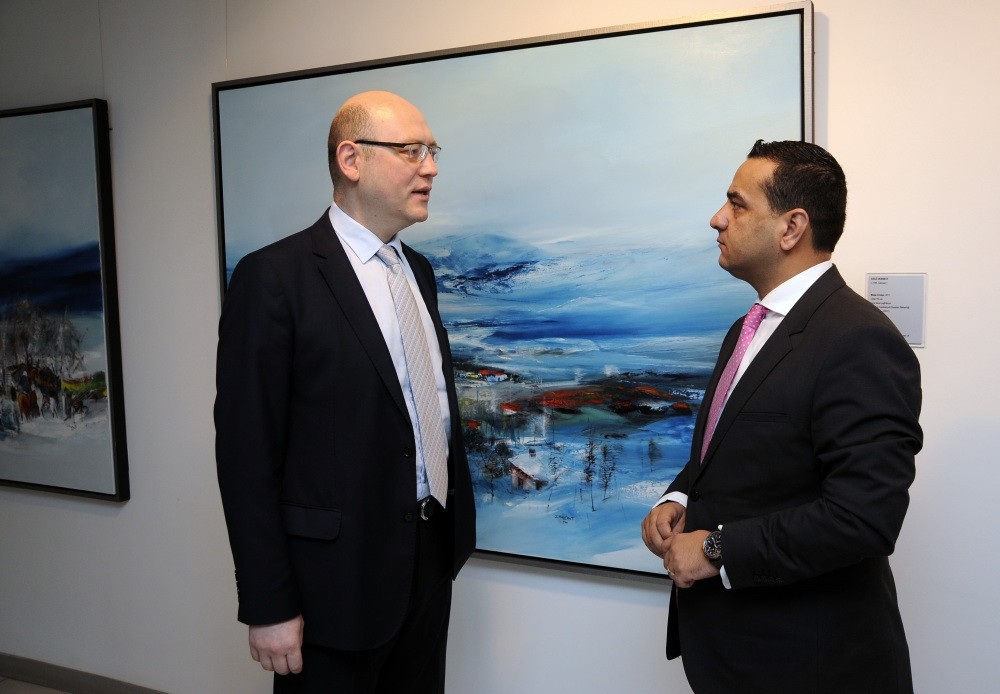 Prof. Dr. Ali Resul Usul (L) and Daily Sabah's Ali Ünal
Regarding Russian-Turkish relations, Usul said that in Turkey's view, Turkish-Russian relations are crucial for developing a multidimensional foreign policy. Touching upon the future of Turkish-Israeli relations, he believes that Israel and Turkey will benefit greatly from normalization; while underlining that it is too early to say whether normalization will provide stability to the region.
Commenting on the future of the Turkish-European Union (EU) relations, Usul stressed that Turkey would maintain strong relations with Europe, even if EU negotiations were suspended. Asked whether Turkey might consider becoming a member of the Shanghai Cooperation Organization, Usul said Turkey is trying to improve multidimensional relations and Shanghai Cooperation Organization is one of its aims. He emphasized that it is not easy to be a Shanghai Five member and simultaneously a NATO member.
DS: What is your opinion on the normalization efforts in foreign policy? Do you believe that Turkish foreign policy is being "reformatted?"
Usul:
Deliberately or not, this is being used frequently nowadays. In foreign policy terminology, the term "reset" expresses a radical change in the policy. However, this change is not singular; according to Charles F. Hermann, a renowned foreign policy analyst, this change occurs on four levels: adjustment change, program change, goal change and international orientation change. As regards Hermann's theory, the change in Turkish foreign policy could be explained as an adjustment change. When we look at the near past, there aren't any events which can be regarded as an international orientation change, as Turkey didn't take such drastic actions such as leaving NATO. Similar critiques have been around since 2009, when Ahmet Davutoğlu became Minister of Foreign Affairs. Yet over time, it was understood that a shift in the axis was non-existent.
Turkey has prioritized regional and international peace following World War I; therefore, there aren't any significant changes in its foreign policy, with the exclusion of its zone of influence. Turkey borders the Middle East, the Black Sea region, Caucasia and even to some extent Central Asia. As Turkey extends its zone of influence in a secure and stable environment, it seeks peaceful relations with the countries in its region, unlike some other countries which gain from chaos and conflict. This increasing influence occurs both as a soft-power and hard-power. Successive AK Party governments have seen this zone of influence span from the Balkans to China. Some have tried to stop the spread of this influence by stating that Turkey is Neo-Ottomanist. However, baseless accusations such as these cannot stop Turkey's increasing influence over the region, which is also the main body of Turkish foreign policy.
DS: It seems that with the new government, Turkey has transitioned from a policy of "zero problems with neighbors" to "more friends, less enemies." Are these policies contradictory?
As we are talking about an adjustment change, it is not possible to claim that these policies are contradictory. Of course, it is only natural to expect slight differences between the previous and current governments; however, these differences don't indicate a fundamental change in foreign policy. The processes of normalization with Israel and Russia have been going on for a while, as relations were problematic. Therefore, it is not a revision of foreign policy, but a continuation. I believe that the policies of both Davutoğlu and Yıldırım are essentially the same, considering their aims. Both of policies seek regional order and peace, as Turkey thrives in such an environment: Turkey needs stability in the region to trade with neighboring countries. There were some who criticized Davutoğlu's "zero problems" policy on the basis of increasing conflicts in the region. What they failed to understand was that his policy represented an ideal state of affairs, not the current state.
DS: What is your comment on the normalization process between Turkey and Russia?
Andrev Kortunov of the Russian International Affairs Council wrote an article titled "Russian-Turkish crisis deficit of strategic depth" after a Russian aircraft was downed by Turkey. He claims that this was due to the lack of strategic depth in Russian-Turkish relations. I have a different theory. I believe that the strained relations after the incident are not connected to bilateral relations between the countries; it is about the increasingly insecure environment in the Middle East.
In Turkey's view, Turkish-Russian relations are crucial for developing a multidimensional foreign policy and securing an alliance for the oncoming international order or disorder. However, this is not a military alliance; it is more of a political and economic alliance. Russia has a similar view about Turkey. It is not possible for Russia to forsake Turkey. Russia may have a strong army, possess nuclear weapons and natural resources; however, they are a declining power in international politics. Moreover, they have suffered greatly from the economic sanctions which followed their occupation of Crimea. The increasing influence of NATO in the Baltic region along with the Chinese influence in Central Asia and Caucasia is also putting Russia in a hard spot, cornering them. In this situation, the normalization of relations with Turkey offers possibly the only exit, making Turkey indispensable.
DS: Do you agree that normalization of relations between Turkey and Israel will provide stability to the Middle East?
I believe both Israel and Turkey will benefit greatly from normalization of relations; however, it is too early to say whether the normalization will provide stability to the region. Still, the cooperation between the two countries will contribute to Turkey's fight against terrorism. Moreover, it will help Turkey to have better relations with certain countries, as it is known that certain relations depend on your standing with Israel. We will have to wait to see what the future holds, with the Middle East being an ever-shifting region.
DS: What are the effects of terrorism on Turkish foreign policy?
This affects us deeply. To give an example, the recent terrorist attack on Istanbul Atatürk Airport is a deliberate attempt to damage Turkey's international reputation and image. Moreover, the PKK's urban warfare aims to keep Turkish and international public opinions busy, while causing Turkey to hesitate from taking decisive action in the Middle East. The main aim of the terrorist attacks is to prevent Turkey from involvement in the issues of the region.
DS: What is your opinion on the future of EU after Brexit? Is this the beginning of the end for the EU?
Some news outlets are claiming that EU is about to collapse as an aftermath of Brexit and they seem to be pleased about this. This is wrong. The collapse of the EU is not beneficial for Turkey. Moreover, look at those who supported Brexit and were pleased about its actualization: racists, xenophobes, Islamophobes. Some groups in Turkey are aligning themselves with these racists, xenophobes and Islamophobes, whether deliberately or not.
On the other hand, I do not believe that the EU is about to dissolve in the near future. Integration takes decades; therefore, its dissolution will be a long process. It is possible that the EU will be relatively weak.
The greatest failure of the EU is that they were not able to convey the importance and desirability of the EU to European people. This makes the EU fragile. Another referendum in another EU country, such as France, may produce the same result as Brexit. What I'm saying is that it can happen anywhere, anytime. Many of the British elite advised the people to vote to stay in the EU; however, the people voted to leave the EU. This situation caused a schism between the elite and the people. We have observed the separation between the core and periphery, as London, the focal point of the British elite, voted to stay, while the countryside voted to leave. This may cause a domino effect, as Scotland has stated that they may hold another referendum for independence. Moreover, there are similar developments also in Northern Ireland. However, this situation should be observed with concern, as the dissolution of EU would mean a more racist, xenophobic and Islamophobic Europe.
DS: Is EU dispensable for Turkey? What is your take on suspending membership negotiations with a referendum?
Actually, Turkey has a unique geopolitics and geoculture. Turkey is a European country and it has been since the Ottoman Empire; the capital of the Ottoman Empire was on the European part of Turkey. Therefore, we always believed that we were a part of the European administrative system. Modern Turkey maintains this understanding, while simultaneously perceiving itself as a Middle Eastern and Caucasian country. When we analyze the policies of successive AK Party governments, we never see any shift in their axis or international orientation. Moreover, Turkey is the member of almost all European institutions and more than half of Turkey's trade is with the EU. As there is an immense integration between Turkey and the EU, the EU is definitely indispensable for Turkey.
I believe that there are two types of attitude towards the EU in Turkey: romantic and realist. Romantics believe that Europe is absolutely perfect, without any flaws, and their only concern is to get into Europe by whatever means. They never question why we should join the EU, which is contradictory with our multidimensional foreign policy. The fact is that a stronger integration with the EU will be greatly beneficial for Turkey.
On the other hand, there is a question which the EU cannot answer: what will happen if they abandon negotiations with Turkey? They don't know which way Turkey will go. That is why they continue to negotiate with Turkey, while not admitting it as a member. They believe that it is problematic to let Turkey go. However, the protectionist policies, along with suspicion towards Turkish people and Muslims, cause the EU to not see that Turkey is a part of Europe. They cannot overcome this dilemma.
EU negotiations have contributed to Turkey's reform and democratization movements. In this regards, having good relations with Europe has always been beneficial for Turkey. These good relations have also benefited the Turkish people, as they provided certain standards for the people. However, despite all benefits, it is wrong to romanticize Europe and the EU; political, economic and cultural factors should be accounted for. Moreover, Turkey should not be blamed for every issue in the bilateral relations, as nine out of 10 of these issues originate from the EU's side. Still, we have to solve these issues through discussion and persuasion.
Suppose that Turkey has ended the negotiations with the EU. Turkey will maintain political and trade relations with the EU, while continuing to be a part in European institutions, similar to Norway and Iceland.
DS: If Turkey suspends EU negotiations, is the alternative joining the Shanghai Five?
As I have said, Turkey would still maintain strong relations with Europe, even if EU negotiations were suspended. Nevertheless, Turkey is trying to improve its multidimensional relations and the Shanghai Cooperation Organization is one of its aims. However, becoming a member of this organization is not yet being discussed. It is not easy to be a Shanghai Five member, and simultaneously be a NATO member. Moreover, there is an issue with geographical distance, and the organization's functioning is not robust. Rather than the Shanghai Five, there is another organization led by Russia: the Eurasian Economic Union. It is an organization similar to the EU. However, time will show whether or not it is effective. Turkey will decide accordingly in the future.
DS: How do you evaluate cooperation with the Turkic Council?
Turkic Central Asian countries have historic and cultural bonds with Turkey, and it is possible for Turkey to have strategic partnership with these countries. This organization was first convened in 1992, and became the Turkic Council via institutionalization. Turkey, Kazakhstan and Azerbaijan constitute the current members of the organization, while Uzbekistan and Turkmenistan are not yet members. Turkmenistan has not become a member on the basis that they are an internationally neutral country. In regards with Uzbekistan, unfortunately, we do not have strong relations with them. Therefore, we have to persuade Uzbekistan into joining the Turkic Council. Nevertheless, this is a significant effort. There is an umbrella organization named the Turkic Council and their headquarters is in Istanbul. Moreover, there are many institutions which are not formally a part of this umbrella organization, such as the International Turkic Academy in Astana, Kazakhstan.
The Turkic Council has become a functioning mechanism and we are working on improving cooperation. For example, we proposed a revision to the Silk Road project. In our proposition, the Silk Road will cross through the Turkic Republics in Central Asia, in order to revitalize them. This proposition also has economic implications. We have to focus on this project.