Friday
10 p.m.: The coup attempt was first noted when social media users announced that gendarmerie forces had blockaded the Bosporus and Fatih Sultan Mehmet Bridges in Istanbul, while military jets flew low over military institutions in Ankara.
10:30 p.m.: Prime Minister Binali Yıldırım spoke to media regarding developments, said that there is a possibility that a group within the military is attempting a coup.
11.50 p.m.: Coup actors occupy the General Staff building in Ankara, and clashes erupted between police officers. State-run Anadolu Agency (AA) reported that Chief of General Staff General Hulusi Akar had been taken hostage.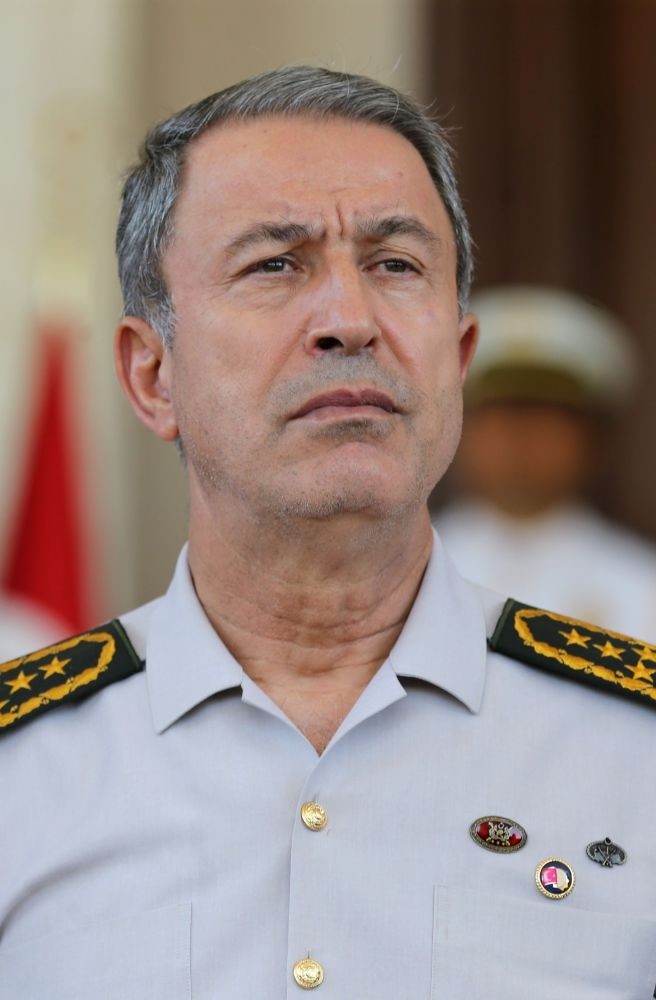 Chief of General Staff Hulusi Akar was taken hostage by Gülenist coup soldiers. Later on, Akar was rescued in a special operation. The putschists strangled Akar with a belt and pointed a gun at his head. The bruise on Akar's throat is seen in the photo.
Provincial organizations belonging to the ruling Justice and Development Party (AK Party) were surrounded by soldiers.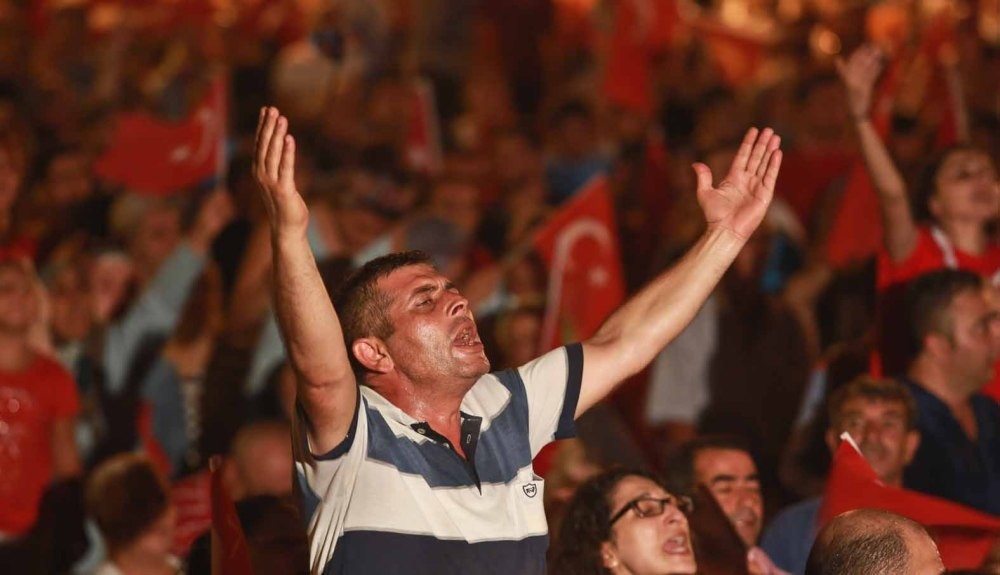 A citizen at "the Democracy Watch"
An unsigned declaration was issued on the Turkish Armed Forces (TSK) website, in which the coup actors declared that they had seized control of the country. The declaration was read on live TV by a newscaster, at gunpoint, on the state-run TRT channel.
Saturday
12:20 a.m.: Defense Minister Fikri Işık announced that those attempting the coup were outside the chain of command, and said the coup declaration was fake.
In Istanbul, the coup actors seized Atatürk International Airport's air traffic control tower.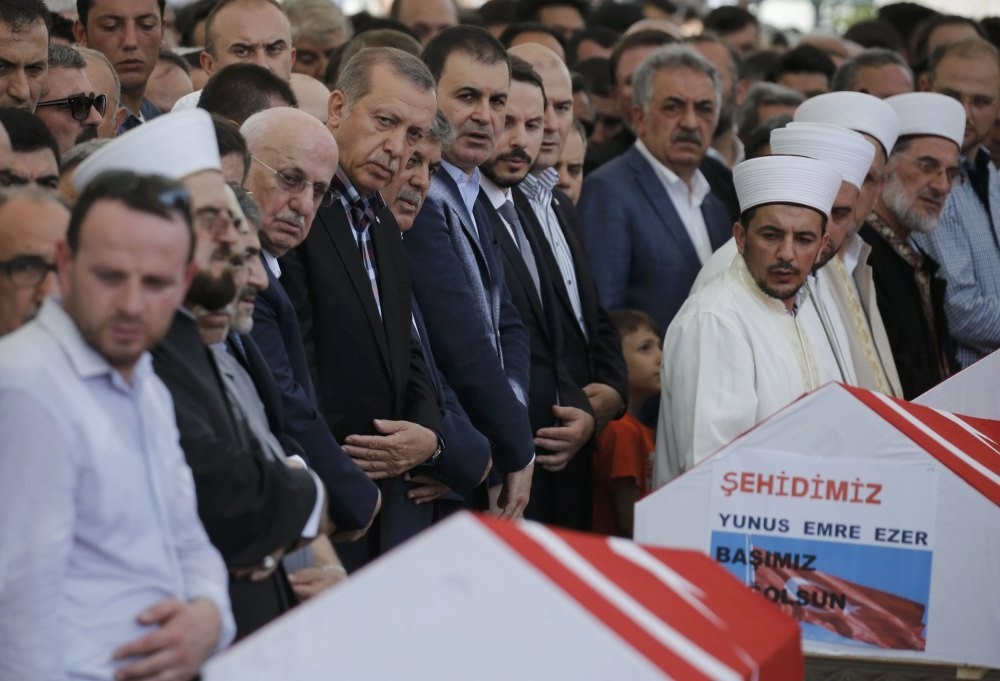 President Erdoğan at a funeral held for the fallen with former president Gül and ministers.
In Ankara, a group of coup soldiers surrounded the National Intelligence Agency's (MİT) headquarters. A helicopter flying over the area opened fire on the building.
12:30 a.m.: President Recep Tayyip Erdoğan spoke via live through Facetime from the Marmaris district of the southwestern province of Muğla.
1:10 a.m.: General Ümit Dündar, Commander of the First Army, said they were working with Governor Vasip Şahin to dismantle the attempt in Istanbul. The soldiers who occupied Atatürk airport abandoned the traffic control tower, and citizens entered the building.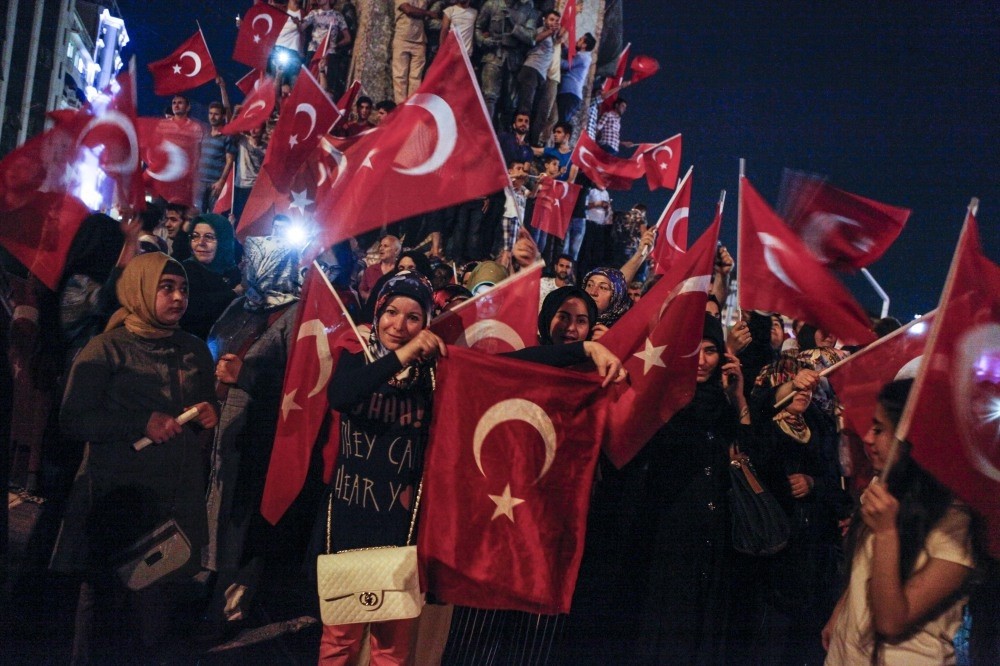 Thousands flocked to Istanbul's historic Taksim Square with Turkish flags.
2:05 a.m.: In Ankara, a helicopter used by the coup plotters was shot down by F-16 jets. The coup actors killed 17 police officers at the Police Special Forces Training Academy, while two civilians were killed at the TURKSAT national satellite company compound.
Parliament convened 100 deputies, and announced that they will hold an emergency convention on Saturday.
Police officers and citizens neutralized four soldiers, including one senior officer, who had occupied the TRT building. The chief of Bursa's provincial gendarmerie command was detained.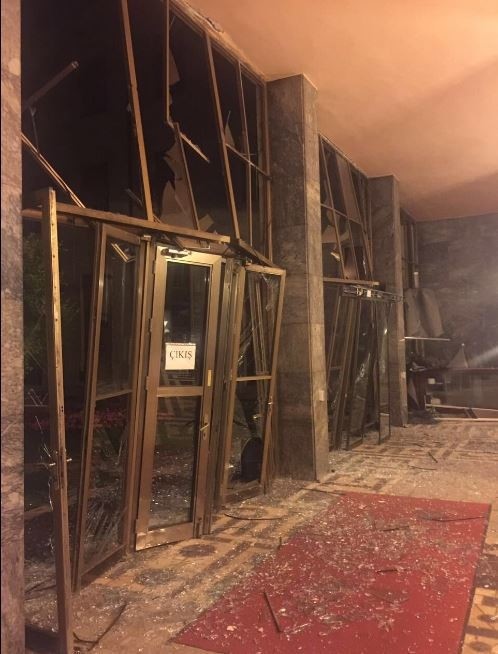 Gülenist coup soldiers bombed Parliament and heavily damaged the building.
2:30 a.m.: MİT announced that the coup attempt was mostly rebuffed, and announced that the coup plotters are Gülenists, adding that they will be tried for treason tomorrow. While attempting to enter the Presidential Complex in Ankara, 13 soldiers including three senior officers were detained.
2:40 a.m.: In Ankara, explosions were heard in Parliament. The general assembly hall had 100 deputies present.
3:10 a.m.: In Istanbul, President Erdoğan's plane landed at Atatürk International Airport, as Prime Minister Yıldırım said that a no-fly zone had been declared in Ankara, announcing the situation was mostly under control.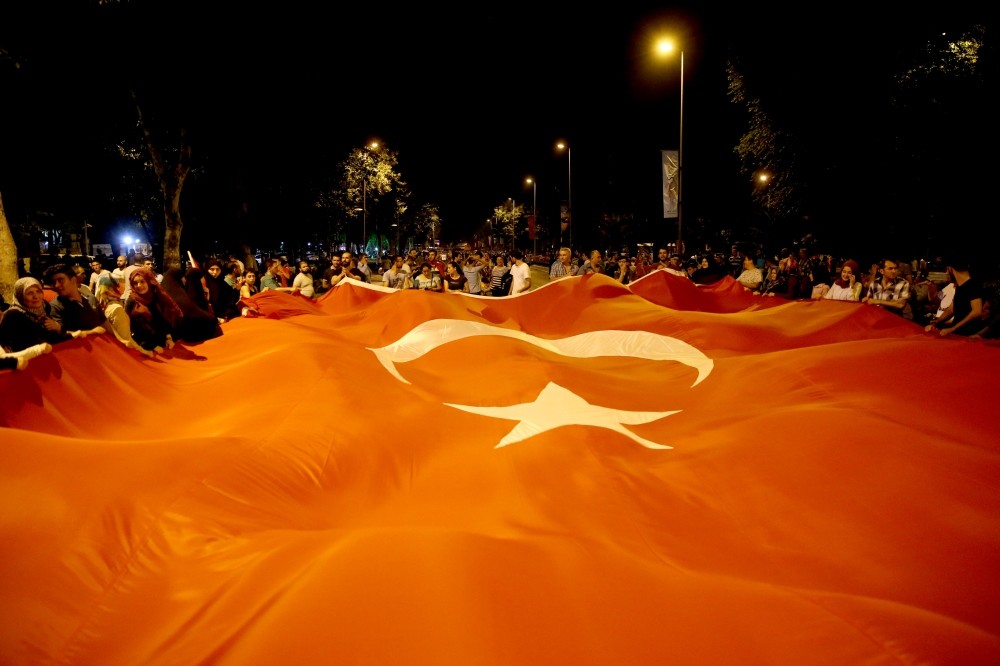 Citizens with a huge Turkish flag.
3:30 a.m.: Another explosion was heard in Parliament. Deputies sought shelter.
4 a.m.: President Erdoğan is received by many people in the airport.
4:05 a.m.: Coup actors opened fire on the hotel in Marmaris where Erdoğan was while on vacation.
4:30 a.m.: At Atatürk International Airport, President Erdoğan spoke to the media and gave the details of the attempted coup. He said: "It is auspicious to purge Gülenists from the military. It is not a coincidence that they did this before the meeting of Supreme Military Council (YAŞ)," and added that his Presidency Secretary-General Fahri Kasırga had been seized by the coup actors.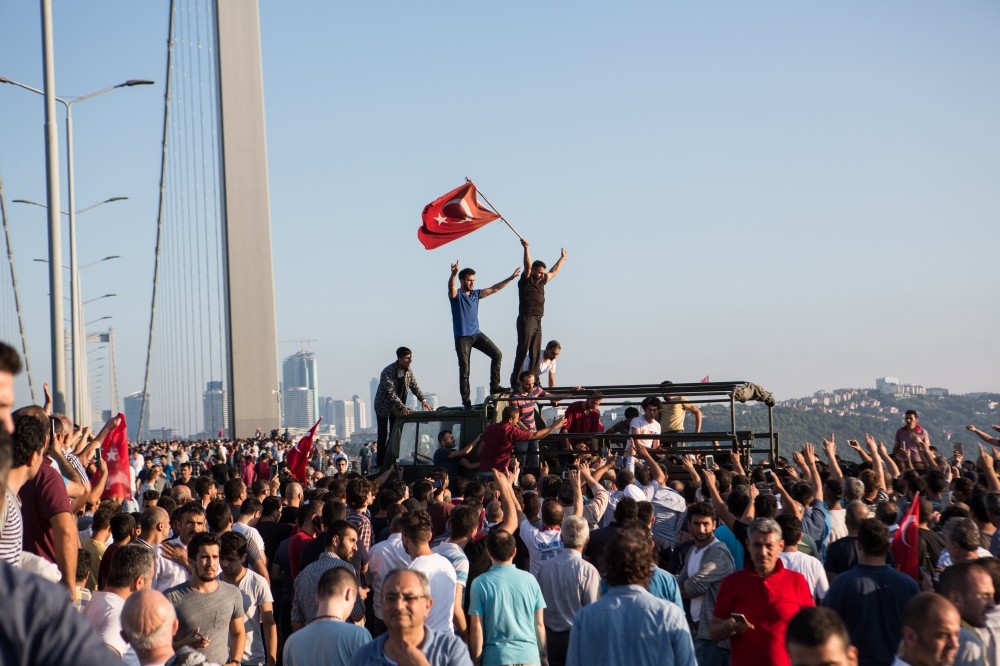 Citizens took back the Bosporus Bridge and chanted with Turkish flags.
6:30 a.m.: Erdoğan addressed people at Atatürk International Airport. "I am grateful on behalf of my nation. Last evening revealed the criminal acts by the parallel state [Gülenists]. They carried out, in a strict sense, a terror attack." He called for people to stay in the streets until everything became normal.
8 a.m.: While life returned to normal in Istanbul, 50 soldiers belonging to the coup faction surrendered to police officers on the Bosporus Bridge. Reuters reported that the General Staff building was under the control of soldiers loyal to the government.
8:15 a.m.: Police headquarters announced that 16 soldiers were killed, and 250 soldiers were detained at the Gendarmerie General Command in Istanbul.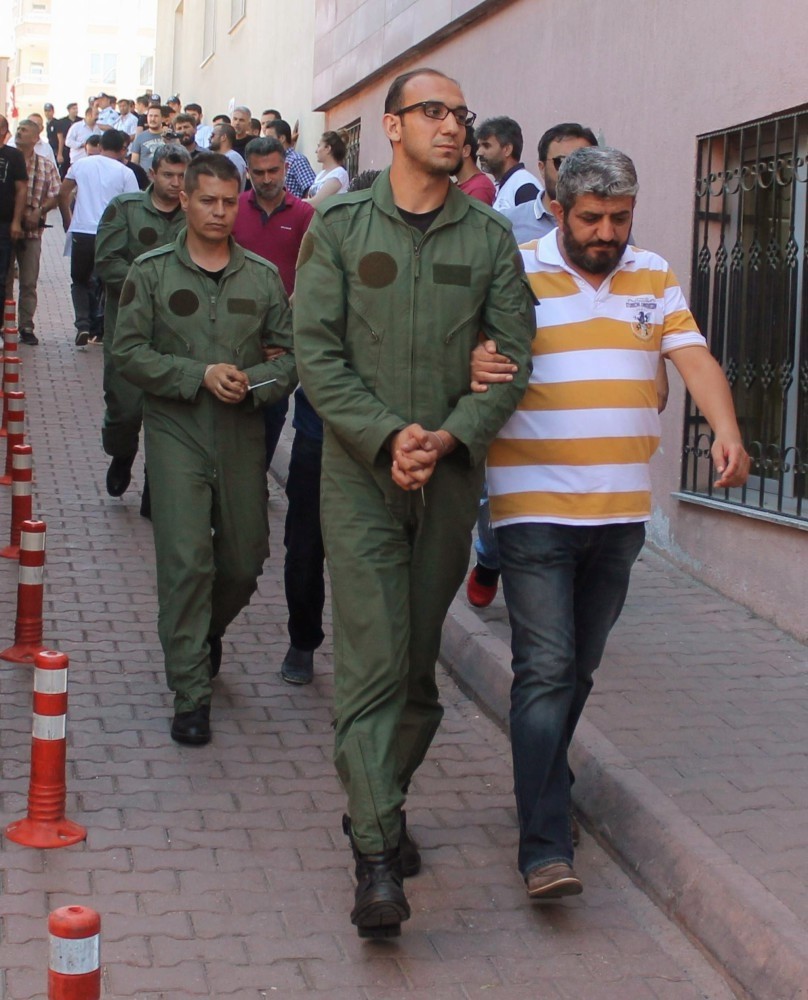 Gülenist fighter jet pilots taking part in the illegitimate coup attempt were detained across Turkey.
8:30 a.m.: Chief of General Staff Hulusi Akar was rescued by a Special Forces team.
9:40 a.m.: The Justice Ministry said 1,563 Turkish Armed Forces personnel were detained.
9:50 a.m.: AA reported that during the night's events, 90 people were killed and 1,154 people were injured. The statement said that 200 unarmed soldiers in General Staff building had surrendered to police officers in Ankara.
11:05 a.m.: Chief of General Staff in Charge Umit Dündar said 1,563 soldiers were arrested, while 104 coup-affiliated soldiers were killed. Those killed included 90 people, including 47 civilians, and 1,154 protestors and security forces were injured.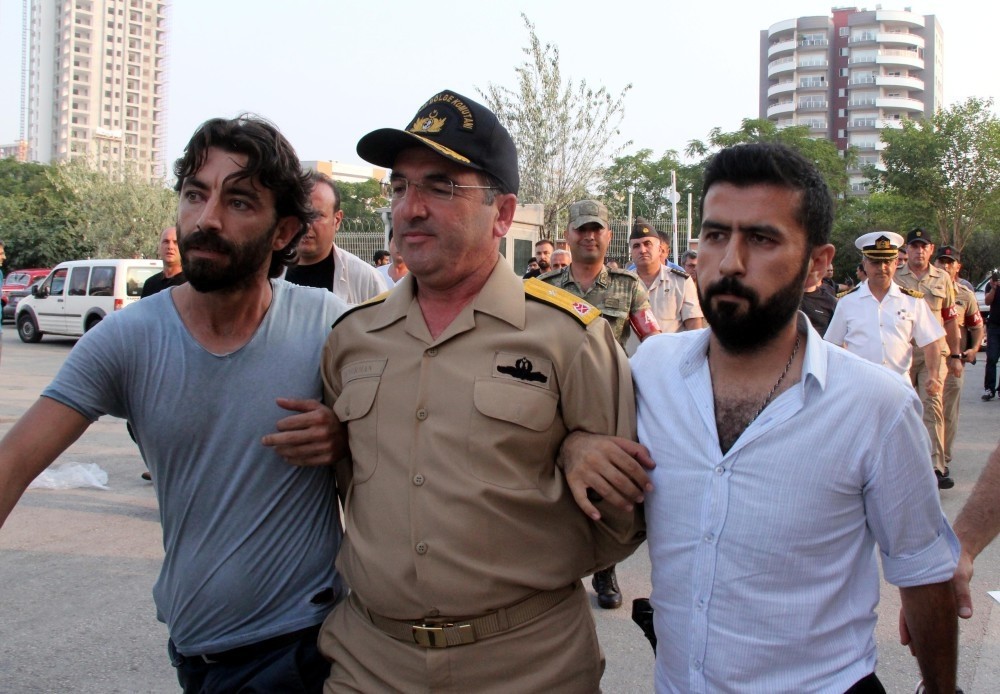 Gülenist military officers were detained across Turkey.
11:45 a.m.: A no-fly zone was declared in the Marmara region, covering an area including Istanbul.
12:20 a.m.: Prime Minister Yıldırım spoke to reporters saying "July 15 is a dark stain on Turkish democracy."
A helicopter landed in Greece, with seven coup-affiliated soldiers and one civilian seeking asylum.
1:35 p.m.: MİT Chief Hakan Fidan said anti-coup operations will be finished within an hour.
2:55 p.m.: The Supreme Board of Judges and Prosecutors (HSYK) fires 2,745 judges.
3:00 p.m.: Top Turkish judicial body HSYK removes five members following failed coup attempt
Around 100 Turkish military staff detained in s.eastern Diyarbakır air base in connection with failed coup attempt
3:57 p.m.: Turkey's İncirlik Air Base - used by US-led coalition to hit Daesh - sealed off, power cut off
Citizens did not abandon the "Democracy Watch" and waited until daylight.
4:03 p.m.: 10 Court of Appeals members detained, detention warrants issued for 140 others over coup attempt
4:08 p.m.: Helicopter to be returned to Turkey ASAP, asylum demand of 8 coup-involved staff to be examined, says Greek gov't
4:48 p.m.: German Chancellor Angela Merkel condemns coup attempt in Turkey
4:55 p.m.: US to help Turkey investigate failed coup attempt, invites Ankara to share any evidence against Fethullah Gülen
5:09 p.m.: Grand National Assembly of Turkey convenes emergency session after failed coup attempt, 1000s chant outside
5:17 p.m.: 11 prosecutors have been arrested in connection to the failed coup attempt
5:44 p.m.: PM Yıldırım: Those who tried to topple the gov't elected by the people have been toppled by the people
6 p.m.: CHP Chairman Kılıçdaroğlu: We strongly condemn the coup attempt
6:14 p.m.: MHP Chairman Bahçeli: Last night's coup attempt was a terrorist attack
6:22 p.m.: 2nd Army Commander Gen. Huduti detained in Malatya province after failed coup attempt
6:26 p.m.: Greece says they will extradite the pro-coup soldiers who sought asylum there, FM Çavuşoğlu says
6:38 p.m.: Former Air Force Commander Akın Öztürk, a mastermind behind coup attempt detained
6:45 p.m.: 8 traitors who escaped to Greece following failed coup attempt to be extradited as soon as possible: FM
7:13 p.m.: Gülen-linked Constitutional Court Judge Alparslan Altan detained for involvement in failed coup attempt
7:37 p.m.: Defense Minister Işık: All military commanders held hostage by coup-staging group rescued, situation completely under control
7:51 p.m.: Lieutenant General Erdal Öztürk, commander of the Third Army, detained after failed coup attempt
8:32 p.m.: President Erdoğan: I urge Obama to extradite Fethullah Gülen to Turkey; we extradited every terrorist the US demanded
8:50 p.m.: Another member of Constitutional Court, Erdal Tercan detained for alleged involvement in coup attempt
9:19 p.m.: Comm. of Gendarmerie Forces Gen. Galip Mendi rescued; 67 coup soldiers surrender in Ankara
9:26 p.m.: Turkey's top judicial body HSYK orders detention of 2,745 Gülen-linked judges after failed coup attempt
10:03 p.m.: Egypt blocks UN Security Council condemnation of failed coup attempt in Turkey
Millions of citizens chanted at squares: "We want the death penalty."
10:41 p.m.: People start to gather in front of Fethullah Gülen's house in Pennsylvania to protest coup attempt in Turkey
11:07 p.m.: President Erdoğan calls leaders of opposition CHP, MHP to thank them for showing solidarity in wake of coup attempt
Sunday
12:07 a.m.: A team from the Turkish army arrives in Greece to bring back 8 coup soldiers who fled Turkey after failed coup attempt: officials
01:37 a.m.: 8 pro-coup soldiers who fled to Greece are being brought back to Turkey: Greek officials
10:48 a.m.: More than 50 additional troops, including Major General, arrested in western Turkey after failed coup attempt
12:59 p.m.: 8 pro-coup soldiers face trial in Greece after fleeing Turkey with helicopter following failed coup attempt
01:02 p.m.: Turkish Justice Min Bozdağ: Detentions related to failed coup attempt nears 6,000, expected to increase as judicial process continue
01:14 p.m.: Russia's Putin calls President Erdoğan, express condolences for the victims of failed coup attempt
03:02 p.m.: Prime Minister Binali Yıldırım: Everything back to normal, coup-attempting terrorists have been defeated
03:31 p.m.: Turkey to request fugitives from US, EU, says Erdoğan at funeral of his advisor's brother killed in failed coup
03:54 p.m.: 11 soldiers, including İncirlik's commander General B.E. Van, and policeman arrested for complicity in coup attempt
04:34 p.m.: Former air force commander General Akın Öztürk brought to Counter Terrorism Unit in Ankara for questioning.