The Economy Ministry has started a 26-country tour following the Gülenist coup attempt on July 15, aiming to explain the current state of Turkey's economy. Speaking to Daily Sabah, Economy Minister Nihat Zeybekci said that the ministry has brought along on the tour CEOs who have invested in Turkey, saying that the CEOs would be more eeffective in conveying the value of the Turkish economy. Zeybekci expressed that Turkey will transform into one of the most democratic countries in the world, while adding that they have mobilized their means to increase export and are providing new incentives for small and medium-sized enterprises (SMEs).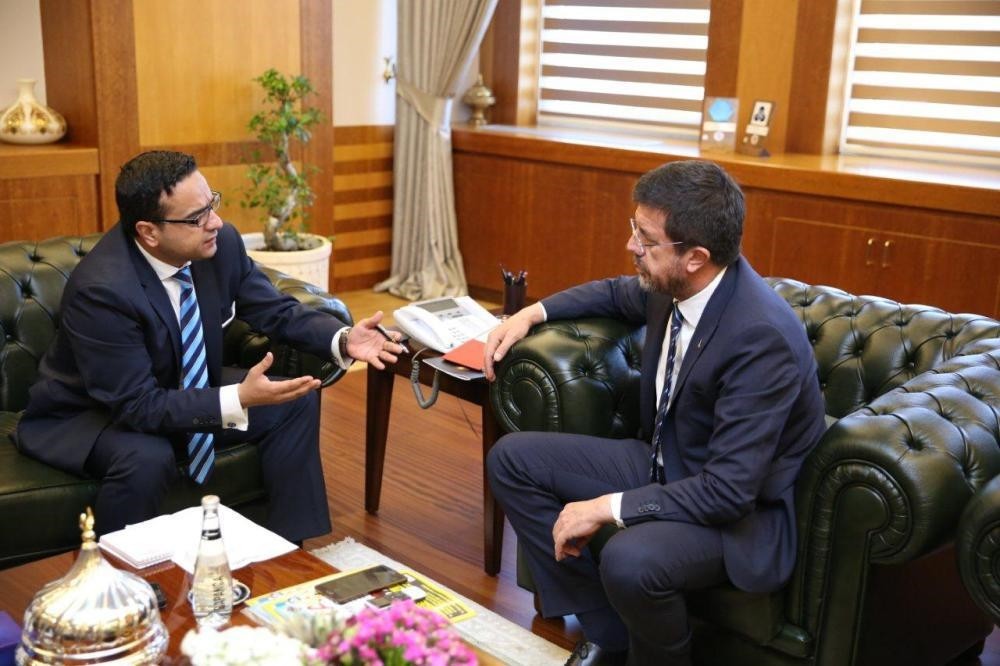 Daily Sabah' s Ali Ünal (L) with Economy Minister Nihat Zeybekci.
Describing the negotiations for updating the Turkey-EU customs treaty as important for achieving full economic integration with the EU, Zeybekci said the EU ratio of Turkey's foreign trade might increase to as much as 70 percent.
Zeybekçi stated that Turkey will continue efforts for full EU membership and the EU customs treaty, even while joining other international economic unions such as the Eurasian Customs Union.
Daily Sabah: You started your visits abroad after the July 15 coup attempt in order to more accurately convey the economic situation in Turkey. What are your expectations?
Nihat Zeybekci:
We started these trips right after the coup attempt; however, these really should be routine. Of course, following the coup attempt, there was an evident need to explain the current economic situation in Turkey. Some claim that the coup attempt was one of many operations against Turkey. We are seeing certain forces that are trying to manage the perceptions against Turkey. This is why Turkey is perceived differently than it actually is.
There are two aspects to this situation. Turkey's investment opportunities, which uphold universal standards and are protected by law, were portrayed as a risky investment, due to an overnight coup attempt. In addition, some tried to utilize certain footage of the coup night to show Turkey's economy in a bad light, causing Turkey to have a negative connotation.
Therefore we started our trips abroad to explain the situation. We believed that it was for the best if some CEOs joined us on our trips. We gathered a team consisting of CEOs of foreign-invested companies, including FIAT, Ford, Carrefour and Philip Morris, allowing them to discuss their first-hand experience of the Turkish market and their profits. We want to film these testimonies, making a TV movie, then advertising these through the newspapers. We designated 16 countries and cities for this project. We want our friends to convey their experience in the Turkish market through ads running for a month on billboards, newspapers and on the internet. Delegates of institutions – such as the Turkish Union of Chambers and Commodity Exchanges,​Turkish Industrialists' and Businessmen's Association, Independent Industrialists' and Businessmen's Association – will join our committee and visit 26 countries. We made our first trip to Denmark, bringing along the delegates of Turkish companies and NGOs, who are the most active institutions there. We also had delegates from the ruling Justice and Development Party (AK Party), Republican People's Party (CHP) and Nationalist Movement Party (MHP) with us. We are documenting these visits through the Ministry of Economy. The next stops are the Netherlands and Italy. We will continue our trips until we visit 26 countries.
DS: What are the most asked questions during these visits?
Zeybekci:
We do not usually face many questions after we explain everything. People always like to talk about distant places they do not really know. However, when presented with footage and evidences, our 15-year-long economic development and prestigious investment opportunities in Turkey, they know that we are talking about a land of opportunity.
We also don't need to explain ourselves much: if one looks at the international data, they will see that Turkey is one of the five fastest-growing countries. For 26 quarters, we have been growing with an annual average of 5.3 percent. We are doing better than almost all European countries with regards to budget discipline. The ratio of our public debt to our domestic income is 26 percent. Turkey has created over 1 million employment opportunities over the last year. We have received $176 billion in direct investment within the past 15 years. We are also trying to resolve our issues with our neighbors, such as Russia and Israel. When we look at Turkey's investment incentives, export subsidies, tourism and agriculture policies, we can see a developing and growing country.
When we talk about the night of July 15, we express that as the victory of Turkish democracy. Of course, many people were martyred and many state institutions were bombed. However, this will be remembered as a revolution in the world history of democracy. We now have the spirit of national reconciliation, as a result of the brave actions of our people who took the streets and stood against tanks. I believe this spirit will transform Turkey into one of the most advanced democracies in the world.
DS: You announced that there will be tax immunity for strategic investments and for some investments the state will provide a guarantee of purchase through the new incentive package. Could you elaborate on this subject?
Let's start with the part about guarantee of purchase. The state providing a guarantee of purchase is against the spirit of incentives. However, we see many examples of this from around the world. Especially in the defense industry and in science, we see that this is the case. The state in Turkey doesn't otherwise have a consumer identity. Therefore this shouldn't be discussed as a part of the investment package.
Regarding the incentive package, Turkey can only go so long by being a contract manufacturer, in a world where raw materials, energy sources, designs, patents and consumer behavior is controlled by a few. We have seen that Turkey stagnated around the middle-income level with salaries around $10,000 per capita, and exports at around $150 billion after the 2008 Global Crisis. To overcome these limitations, Turkey has to take measures in fields it cannot control, while achieving a certain degree of sustainability. Turkey therefore has to secure its future in such sectors. To produce on an optimum level in designated sectors and regions, we will shortlist domestic and international corporations. We will then guarantee the sustainability of their investments, taking into consideration the difficulties of the region, terrain, infrastructure and so forth. We will specify the incentives by taking into account the regulation of tax immunity and required support for social security premiums. If needed, we will also provide support for financing interest rates. The public might participate in these investments up to 49 percent, if this is transparent and has accountability. Unlike the previous investment packages, this one aims to provide sustainability, while also securing Turkey's future. We are trying to increase Turkey's saving funds, for which an important step is the establishment of a Turkish Sovereign Wealth Fund.
DS: The state's partnership with enterprises recalls bad experiences in the past with state-owned enterprises. What measures are to be taken to prevent these?
The direct state investment in private enterprises will be done quite rarely. If the investment is highly strategical, the state will invest to become a partner. It is also important to say that the state won't use the Treasury funds, but rather the Turkish Sovereign Wealth Fund, with the aim of owning at the most 49 percent of the enterprise. When you have a minor share, it means that the private sector will decide on employment, administration and production output. The state will own the shares only for ten years; and then it will sell these to the senior partner, other entrepreneurs or the public.
DS: Which products will have guarantee of purchase?
Defense industry and communications technologies. This means that the guarantee of purchase will only work for products that the state is already buying.
DS: Could you talk about the measures you have taken regarding the state of emergency, in order to preserve production, exports and the interests of the business-world?
There was already a limited possibility of reduction in exports after the declaration of a state of emergency. We will see if it will regress or not. I believe it will not. If the coup attempt had lasted longer, it would have affected the business-world negatively. Some of the corporations which buy from Turkey were concerned and they pulled back their production orders. Even though we experienced such incidents, I believe that these effects will be limited and fade away in a short period of time.
Turkey has to grow around 5.5 to 6.7 percent every year, while creating new employment opportunities each year for at least one million people. When Turkey grows at a faster rate, one problem is the current deficit. As Turkey has a low savings rate, this fund is acquired from foreign sources. This causes an unwelcome amount of current deficit. This is a dilemma; Turkey has to choose whether it will have such a deficit or stagnate. We have to firstly increase the savings rate in order to overcome this situation, and secondly Turkey will mobilize unused raw materials and industrial capacity to create and sell products, which will support Turkey with additional income.
We need to renew the mobilization for exports and go beyond $150 billion in exports. We have export incentives; however, our unit value for every kilogram is around $1.5, while South Korea, Germany and Japan are well over the $2.5 mark. We need to produce products which have high value-added. We need to transition from upper-middle technology production to high-tech production. Currently, we are providing support for upper-middle technology production and export. To provide financing for exporters in Turkey, we have to improve Eximbank's sources and opportunities. We want to also mobilize foreign sources to provide capital for the Eximbank.
Our ministry provides supports for a wide spectrum of activities, including Expos, advertisements and Turquality. We will announce a new support package which improves the existing supports and providing new ones to the exporters. Eximbank currently has capital of $16 billion, while using up to $30 billion in credits. We are trying to improve it, so that the Eximbank will be able to utilize $100 billion. There are small-sized exporters who cannot benefit from the funds provided by the Eximbank; thus we are working on certain regulations to improve their conditions. Eximbank can give credits to entrepreneurs only when they have a bank guarantee, which is a difficult document for SMEs to acquire.
To address these issues we will establish an export guarantee fund, which will help our exporters with advantageous credit opportunities. The pooled fund for exports is around TL 2 billion, we want to increase this amount to TL 6 billion by the end of 2017. This will give an edge to our exporters.
DS: Last week you announced that you are aiming to join the Eurasian Customs Union. Could you elaborate on this?
Before the downing of the Russian aircraft on Nov. 24, 2015, we were negotiating a free-trade agreement (FTA) with Russia. During Putin's last visit to Turkey, we signed the frame agreement with the Russian Minister of Economy. Now we have restarted the FTA negotiations with Russia. We want to conclude these negotiations as swiftly as possible. The FTA will first cover the service sector and investments. Later we want to include industrial production, especially agricultural products.
Russia leads the Eurasian Customs Union, which includes countries such as Belarus, Kyrgyzstan, Kazakhstan, Azerbaijan and Armenia. Of course, we want to join the Eurasian Customs Union without comprising our EU full-membership aims and violating the Customs Union.
DS: Does this aim contradict with the regulations of the Customs Union?
Zeybekci: It doesn't. We will improve and realize co-operation with other organization, while preserving the Customs Union Agreement with the EU. There are certain sensitivities regarding transporting products to Russia as well as the EU, but we can overcome these and persuade both parties.
DS: What are the latest developments in negotiations regarding updating the Customs Union agreement with the EU?
Zeybekci: We published a joint declaration with EU Commissioner Cecilia Malström in Brussels in May 2015. We talked about three essential issues. Firstly, Turkey had to be allowed to participate in the Customs Union the decision-making mechanisms. Secondly, Turkey was to be a party in FTA negotiated by the EU, as well as similar agreements with a third-party. The third was to expand the Customs Union to cover the service sector, agriculture, public procurement and investments, as it currently only covers the industrial sector. We reached a consensus on these demands. The technical negotiations will commence in 2017. We concluded our impact assessments and now the EU is working on their own assessments. We hope that this process will be concluded in the autumn.
DS: How long will it take to conclude the negotiations?
Zeybekci: We aim to conclude the negotiations as soon as possible, at the latest by 2018. Unfortunately, with the EU we had to extensively discuss immigrants and visa-free travel. We missed certain points regarding the Customs Union. Updating the Customs Union means full economic integration with the EU, without the need for full political integration. Therefore, if this is achieved, Turkish corporations will benefit from the existing advantages for EU member countries. This will give us the opportunity to increase the exports to the EU significantly, which will constitute between 65 percent to 70 percent of our total exports. We need to achieve full economic integration with the EU.
DS: After President Erdoğan's visit to Moscow, you announced that you want to use the Turkish Lira (TL) and the Ruble in trade between Turkey and Russia. What are the most recent developments on this subject? Do you aim for similar cooperation with other countries?
Zeybekci: This was a previously-discussed matter. Both leaders instructed their respective cabinets to realize this. Unfortunately, we were not able to materialize this idea. Now this matter was discussed again, and we are trying to put the plan into action. Working with my counterpart, we have achieved a certain level of completion in technical aspects for a joint Turkish-Russian investment fund. If we have a foreign trade volume of $24 billion, why shouldn't we realize the half of the trade in Ruble and TL?
DS: The Ruble is a newly convertible and volatile currency. Doesn't this pose a risk for Turkey?
Zeybekci: We are currently using the Ruble in bilateral trade. We are aiming to use TL for at least one-third of the trade, while they use Ruble. If Russian tourists in Turkey were able to pay with Rubles, this would be wonderful. We are trying to formulate a solution.