Gülen-linked journalist Altan predicts coup attempt the day before July 15https://t.co/QYVHORNCBW pic.twitter.com/ojq42uH5JE

— DAILY SABAH (@DailySabah) September 10, 2016

Turkish journalist Ahmet Altan was taken into custody on Saturday due to his links with the Gülenist Terror Cult (FETÖ), who perpetrated the July 15 coup attempt.
A video recording which shows Altan's remarking about coups on the day before the July 15 coup attempt in a program on the Gülenist TV channel, Can Erzincan TV, had emerged on social media.
Speaking on the program, Altan says that "All the developments which previously paved the way for the military takeovers that have taken place in Turkey are being laid by Erdoğan today."
Altan is also known for his active role in legitimizing and making propaganda for the Ergenekon and Sledgehammer cases in Turkey, both of which were FETÖ's infiltration plans to remove some soldiers in Turkish Armed Forces (TSK) and replace them with Gülen followers. During those times, Altan was the editor-in-chief of the Gülenist daily newspaper, Taraf.
In his headlines in the Taraf daily, he supported the cases and the arrests of the journalists who criticized the cases.
One of the headlines in the newspaper, seen below, says "They weren't arrested for journalistic activity"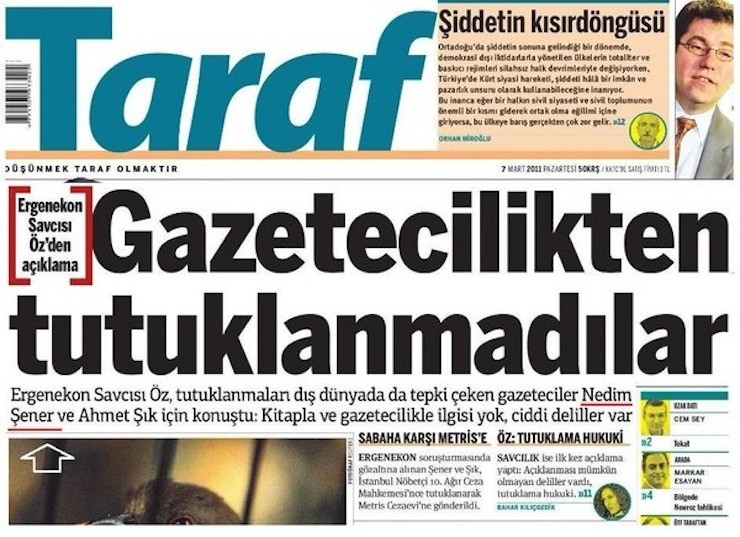 Taraf, which had a more politically liberal outlook than the rest of the Gülen-linked media, played a crucial role in the Ergenekon and Sledgehammer coup plot cases launched into the Turkish military by publishing evidence later used by the prosecution, which later turned out to be fake or illegally obtained. As many military officers were detained or laid off during the trial process, these cases provided FETÖ the opportunity to assign military officers linked to the terrorist group, most of whom are accused of complicity with the coup.