As tempers boil over in a debate on a constitutional reform package in the Turkish Parliament, the ruling Justice and Development Party (AK Party) Trabzon Deputy Muhammed Balta, who was bitten on his leg by an unknown deputy from the opposition Republican People's Party (CHP) is calling on all deputies to take DNA test to find his attacker.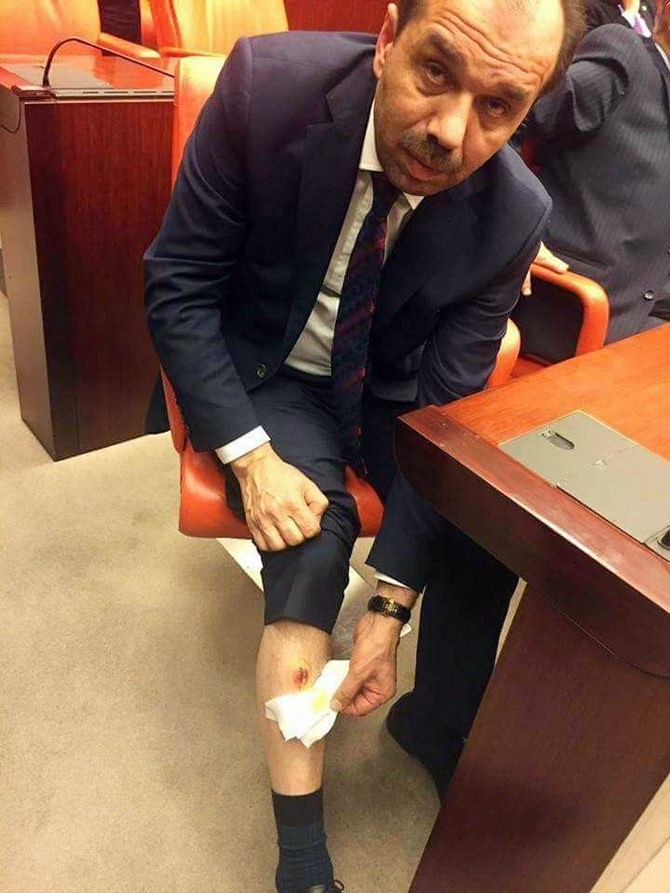 Turkish lawmakers have since the start of the week been debating the first reading of the 18-article bill to change the constitution, however, the sessions held in the parliament were not as sound as expected as there are already a broken nose and a bitten leg on AK Party's side.
A brawl erupted in the chamber as the voting took place in an overnight session, with lawmakers punching each another and chairs being thrown, television pictures showed.
AK Party's Ankara Deputy Fatih Şahin's nose was broken by CHP Antalya Deputy Niyazi Nefi Kara, while the deputy who bit Balta's leg during the brawl remains unknown. AK Party members blamed CHP deputies for the attack and some MPs carried "no dogs are allowed" signs in the parliament, prompting reactions from animal rights groups.

However, CHP deputy chairman, Özgür Özel, rejected the claims that someone from his party did the attack, asking who would do such thing during a scuffle. However, the pictures coming from the parliament show that dozens of lawmakers crowded around the speaker's rostrum with some MPs held in chokehold and others kicked in the shins.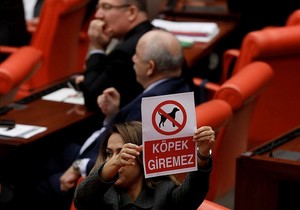 Balta is confident that his leg was bitten by a CHP deputy and even challenged the opposition MPs to take DNA tests to prove none of them carried out the assault. He added that he got a medical report for the injury and also tetanus shot after the bite.
Thursday marked the fourth day since the debate on the constitutional reforms began in Parliament. The first four articles of the proposed constitution were adopted on Tuesday and late Wednesday.

The items were concerned with the exercise of judicial power, an increase in parliamentary seats, lowering the age for candidates and regulations on parliamentary and presidential elections, respectively.

Thirteen more amendments proposed by the AK Party await voting in Parliament, which will likely be followed by a referendum where the option of replacing Turkey's parliamentary system with a presidential model will be put to the electorate.

President Recep Tayyip Erdoğan and his supporters have argued that Turkey needs a strong presidency to avoid weak governance and allow the country to successfully tackle a number of challenges, including terror attacks from Daesh, the PKK and the Gülenist Terror Group (FETÖ).