French academic and former diplomat Philippe Moreau-Defarges has unleashed some controversial remarks calling for a civil war in Turkey and the assassination of Turkish President Recep Tayyip Erdoğan, drawing harsh criticism from a number of academics and the Turkish public, with a formal complaint being filed by President Erdoğan's lawyers in Turkey.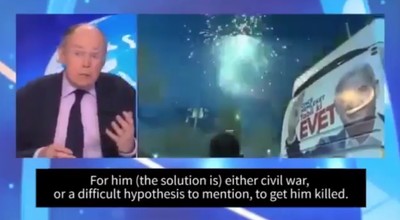 Experts have argued that the increasing far-right rhetoric that has been haunting Europe in the past decade is taking over the media and also the academic world.
Monday, judicial and presidential sources stated that Ankara prosecutors have launched an investigation into comments Defarges made Saturday on live television while covering the results of Turkey's April 16 referendum on the constitutional amendment package with French broadcaster BFM Business.
Presidential spokesman İbrahim Kalın also confirmed, yesterday, that steps have been taken to file a formal complaint against Defarges, saying, "We are observing an unfortunate situation where a politician has called for the assassination of our president. This is only the repetition of scenarios purported by some political circles who have enmity against Erdoğan, written by their buttresses the PKK [terrorist organization] and FETÖ [Gülenist Terror Group]," Kalın said, adding that the normalization of such rhetoric will not be allowed.
Emre Gönen, a columnist at Daily Sabah and an academic at Turkey's Bilgi University who specializes in EU politics, said that Defarges rhetoric is a reflection of the same rhetoric of far-right French presidential candidate Marine LePen.
"Philippe-Moreau Defarges, a very well-known political analyst and writer, has made a very unfortunate analysis about Turkey, basically leaving us with two options: Charybdis, a civil war and Scylla, the assassination of President Erdoğan… Let alone the orientalist and deeply patronizing, incomprehensible attitude, but the essence of the analysis look very much like that of Le Pen's: Blunt, disdainful, superficial and imbecile," Gönen said.
Anadolu Agency reported, yesterday, that President Erdoğan's lawyer, Hüseyin Aydın, sent a four-page criminal complaint to the Ankara Public Prosecutor's Office accusing Defarges of "attempting an assassination and an assault," according to an anonymous presidential source.
The French professor Defarges apologized via his social media account, saying his controversial remarks were misunderstood. However, Defarges abstained from apologizing for the comments he made regarding President Erdoğan.
"On Saturday, April 22, I was invited to 'Seven Days in the World' [BFM Business] to discuss my views on the situation in Turkey. Some of my statements were inappropriate and misunderstood," Defarges tweeted on his Twitter account in French.

"I want to express my deepest sadness and sincerest apology to the people and groups I might have hurt. My words are not binding to the IFRI in any way and are completely personal," his tweet read.
Turkey's presidential spokesman Kalın responded to the tweet by Defarges, saying, "He has offered an apology. We do not find this to be sufficient. It is the shared opinion of legal experts that this is a criminal case."

Kalın also added that such acts should not be taken lightly and should have legal consequences, "We will not allow such fascist discourse to become normalized. Not just Turkey but also in Europe should also respond to such fascist approaches. This is a test for Europe."
Daily Sabah contacted Institut Français des Rélations Internationales (IFRI), the think-tank where Defarges is listed as a research fellow, and requested a statement on the issue and a statement was later made available by the Office of the Director.

"As he reiterated in a statement published on Sunday, April 23, in which he expressed his deep regrets and his sincere apologies, the researcher was speaking on a strictly personal basis. These words can not, in any way, represent Ifri," the institute said in the statement published in French.

Meanwhile, speaking to Daily Sabah, Dr. Jana Jabbour, research associate at Sciences Po Paris and a professor at Saint Joseph University in Beirut, said that such rhetoric is the product of refusal to accept a strong leader in Turkey.

"President Erdoğan is a real headache for the West and Europe who have a hard time dealing with a strong Muslim, Middle Eastern president. They are used to having relations with Arab Muslim leaders who are submissive and subjugated to the West. Now, they are facing Erdoğan who is following an independent and autonomous path of foreign policy and who allows his country to emerge as a 'challenger' and an anti-status-quo power. This is something that old powers have a hard time digesting," Jabbour said.
"This is partly why getting rid of President Erdoğan is an appealing option," she added.
Turkey's Justice Minister Bekir Bozdağ also criticized the controversial remarks on Monday, saying, "They are dreaming that they can go back to the 'old Turkey' if Mr. Tayyip leaves."
Defarges remarks were also met with a response from Gülnur Aybet, a senior adviser to President Erdoğan, who said in a tweet that, "A former French diplomat openly calls for the assassination of President Erdoğan. The IFRI should terminate his fellowship and apologize."
"What would be the reaction if a former diplomat and a senior fellow at a Turkish think-tank called for the assassination of the French president?" she asked.
The European media, politicians and academics have taken a harsh stance against President Erdoğan recently, while also allowing previously banned terror groups, such as the PKK terror organization, to hold rallies across European cities.
In late March, around 250 PKK followers and some socialist parties gathered in front of the parliament building in the Swiss capital of Bern to stage a rally against President Erdoğan and to promote a "no" vote in the April referendum. It was here where protesters were seen holding placards saying "Kill Erdoğan."
Echoing the rhetoric and discourse of Europe, a resident scholar at the American Enterprise Institute and a former staff adviser for Iraq and Iran at the Pentagon, Michael Rubin also sent a controversial tweet against President Erdoğan, implying that he will be the first person to be hanged if he brings the death penalty back.
Meryem Ilayda Atlas, a columnist at Daily Sabah and the Editor-in-Chief of Turkish magazine Lacivert, said in an article published on March 25 that anti-Erdoğan and anti-Turkey sentiments are the products of an industry that is producing the "other" as a new target.

"Erdoğan, as the leader of Turkey, has been a vocal critic of European policies towards refugees and of the EU's attitude toward Turkey's EU accession process. As a highly visible and popular Muslim leader, he is an easy target for defamation by European newspapers, magazines and social media," Atlas said.
The rise of far-right populism has emerged as a concern for many in Europe as they feel that the democratic values embraced as the foundations of Europe are diminishing. The anti-refugee and anti-Muslim sentiment has particularly become visible in the public spaces of European metropolises, increasing in severity from simple, anti-migrant rhetoric to violent attacks and the vandalizing of Muslim establishments that have become routine stories in newspapers.

European politicians such as Marine Le Pen, Geert Wilders, Frauke Petry and Victor Orban further fuel such rhetoric, calling for Muslims to leave those countries.