The Turkish consulate general in Switzerland's Zurich was vandalized Monday with different colors of paint, while graffiti reading "Kill Erdoğan" was written on a bus stop and a building near the mission.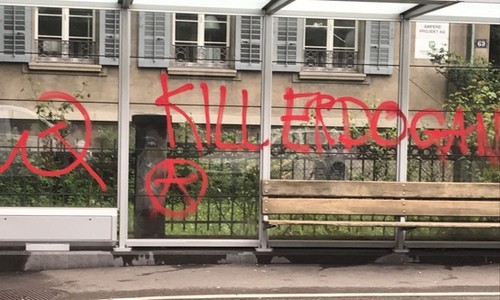 Consul General, Asiye Nurcan İpekçi, told Anadolu Agency that the attack happened in the afternoon. "Police arrived right after the incident and we are examining the attack," she said.
Explaining that the attackers were around 60 people wearing balaclavas, İpekçi said that police had taken necessary precautions and were in cooperation with the mission. "It's now calm here and there is nothing to fear about. The paints they threw on the building are being cleaned too," she added.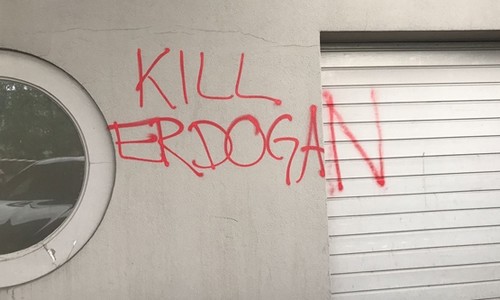 "As May 1 is an official holiday in Switzerland, there is no one in the consulate other than security personnel. For this reason, the incident only caused material damage," she stated.
The colors of paint thrown on the building resembled the colors on the PKK banner, therefore sympathizers of the terror group are suspected to be behind the attack.
Around 250 PKK followers and some socialist parties gathered in front of the Parliament building in Swiss capital Bern on March 25 before the April 16 Turkish constitutional referendum to stage a rally against President Recep Tayyip Erdoğan and to promote a "No" vote in the referendum on constitutional amendments that will introduce a switch to a presidential system. The Swiss Green Party also supported the rally.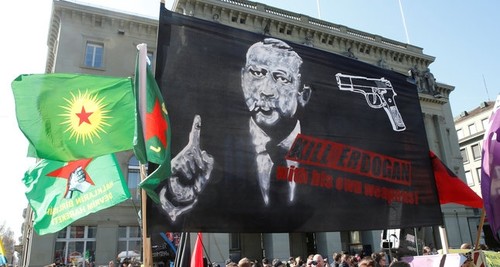 The protesters were seen holding placards reading "Kill Erdoğan," and demonstrating against the "Yes" side of the referendum.