Adile Faouzi, once a Turkish citizen, was barely over 15 years old when she married a Syrian. Having left the Turkish border province of Kilis to pursue happiness in an international marriage, Adile settled in Aleppo, Syria. Around 60 years later, she was forced out of her house with her family, fleeing in a journey that would take them all the way to the rural Idlib province near the Turkish border. "We have nothing left there [in Aleppo]. They bombed everything down on our heads, so we came here last December," Adile recalls as she tells her story in broken Turkish.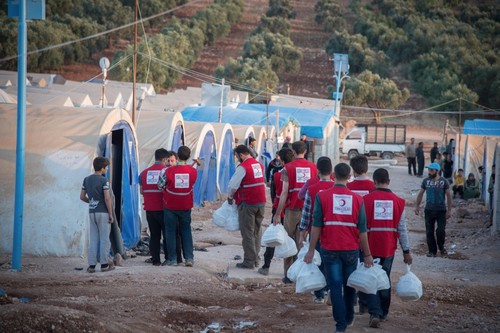 Her family, like the other 1,600 Syrians in the Şefkat tent camp in the Qah region of rural Idlib, lives in a small tent with no easy access to food or natural resources. However, Adile has recently gained relief as the Turkish Red Crescent began to deliver sahur and iftar meals to each family in the Şefkat tent camp at the start of Ramadan. "We have been living in debt. Thank God we have been receiving food since the beginning of Ramadan from them [referring to the Turkish Red Crescent]," she said.
This one Turkish non-governmental organization alone distributes food to more than 12,000 internally displaced people in four camps during Ramadan. More than 700,000 people are estimated to be at around 400 tent camps in Idlib.
Tens of thousands of Syrians were forced to evacuate Aleppo last December after the city fell into the hands of the Assad regime. Scores of people were carried out of Aleppo to Idlib in dramatic scenes.​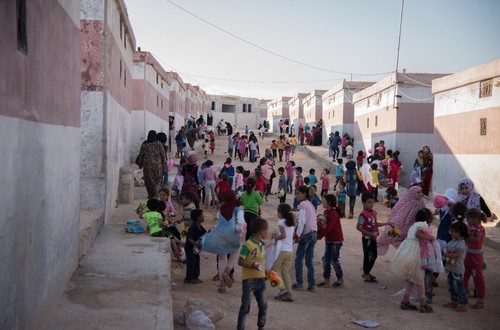 On the other hand, the unending Syrian crisis has another disheartening facade. The orphans of Syria have welcomed Ramadan in a bittersweet mood. Entering into the holy month without their parents, the orphans are not left alone thanks to Turkish efforts. The Turkish Red Crescent looks after around 9,000 orphans across 12 orphanages in Syria.
More than 300 children at the Zemzem Orphanage in the Derhassan region of rural Idlib cherished the moment on Wednesday as the Turkish Red Crescent distributed toys, milk and biscuits.
Aisha, a nine-year-old orphan at the orphanage, said she has not received a toy since she left Aleppo years ago after her father was killed in an airstrike. Acting shy, Aisha did not speak as she found joy in her new toys.
According to Turkish Red Crescent statistics, more than 11 million Syrians have been displaced since the beginning of the Assad regime's bloody war campaign in 2011. "A total of 5 million Syrians fled their country; 6 million of those that stayed in Syria are near the Turkish border in Idlib and Azaz," Kerem Kınık, the Turkish Red Crescent president, said.​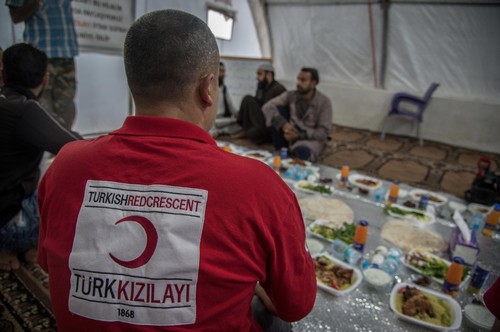 Stressing that these Syrians must bear a heavy burden and live under quite harsh conditions, Kınık said Turkey, and the Turkish Red Crescent in particular, has been a significant help to the cause.
Over 40,000 trailers of humanitarian aid have been sent into Syria to the needy. Also, the Disaster and Emergency Management Authority (AFAD) and the Turkish Grain Board (TMO) have delivered 250,000 tons of flour. "However, 4.5 million people need food and humanitarian aid on a daily basis," the nongovernmental organization's (NGO) president said, underlining the permanent need.
Apart from providing basic food and humanitarian needs, the Turkish Red Crescent seeks ways to better the lives of internally displaced Syrians. The NGO has already commenced the building of 1,000 permanent apartments and it helps Syrians get vocational education, infrastructure, schools and hospitals.
Turkey is also the most generous country in the entire world with regards to opening its doors to war-stricken people. More than 3 million refugees are currently in the country finding safe haven from the bloody war in Syria. According to the Turkish government's figures, the country has spent around $25 billion in total on the crisis.