Republican People's Party (CHP) Chairman Kemal Kılıçdaroğlu Thursday embarked on a 450-kilometer-long journey on foot from the capital city of Ankara to Istanbul, saying it was in the name of "justice" as thousands joined him after Republican People's Party (CHP) lawmaker Enis Berberoğlu was arrested on Wednesday over spying charges. Kılıçdaroğlu slammed the government at the beginning of his march in his speech, in a move that was aimed at mobilizing the dissenting section of the public. However, whether the CHP chairman's abrupt decision to kick off a march in Ankara to mobilize the opposition will pay off remains unclear.
"We do not want to live in a country where there is no justice," Kılıçdaroğlu said, adding, "We want to live in peace in our own country, like any free or civilized country."
Istanbul's 14th Supreme Penal Court ruled to sentence CHP lawmaker Berberoğlu to 25 years in jail for releasing secret documents with the purpose of political or military espionage. His arrest promptly sparked outrage in the opposition, leading to Thursday's march.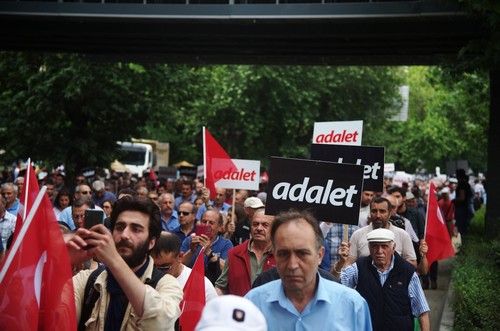 Serdar Karagöz, Daily Sabah's editor-in-chief, said that the Turkish public does not see eye to eye with Chairman Kılıçdaroğlu. "The public is quite furious with the Gülenist Terror Group (FETÖ) for the July 15 coup attempt. It is not enough to mobilize opposing elements to organize a march for Enis Berberoğlu, who was sentenced due to involving in spying activities that put Turkey's national security at risk," he said.
The environment throughout the march was tense. Despite chanting "murderous, corrupt Erdoğan," referring to President Recep Tayyip Erdoğan, people called for freedom and democracy. However, Mehmet Durmuş, a 52-year-old citizen, saw things differently. "It is nothing more than an attempt to escalate the tensions in the country," he claimed.
Citizens joining the march did not face any interference from the police. The chants against President Erdoğan did not lead to any feared clashes between different sections of the society. Halil Soyak, 43, did not like the chants at all. Expressing his utmost dislike for chants against the president he elected, Soyak said, "Kılıçdaroğlu wants to create a tense environment."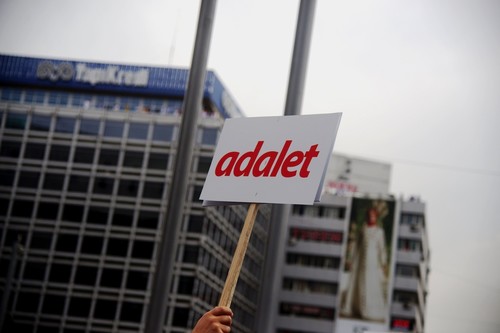 Tanju Tosun, an academic focusing his works on the opposition CHP, said that it is too early to reach a conclusion as to whether Kılıçdaroğlu's march will lead to the mobilization of the opposition. "I do not know whether the march will continue until he reaches Istanbul. If not, it could lead to question marks," he said.
Karagöz contended that Kılıçdaroğlu's possible failure to conclude his march to Istanbul would bring his tenure at the CHP to an end. Stressing that leading CHP figures did not attend the march alongside Kılıçdaroğlu, the editor-in-chief said: "It is quite difficult to walk from Ankara to Istanbul while it is too hot in Turkey for the time being. His failure to fulfill his promise may lead to the emergence of a new candidate for the chairmanship," he added.
Meanwhile, Nationalist Movement Party (MHP) Chairman Devlet Bahçeli yesterday blasted Kılıçdaroğlu's decision, saying that his march "aims at anarchy." Stressing that his call for the march appeals to the international community with "dictatorship" rhetoric, Bahçeli said Kılıçdaroğlu's move equals to secretly supporting FETÖ.
Kılıçdaroğlu has already been under fire from dissenting voices within the party. He is being criticized for his repeated failure in the elections and referendums against President Erdoğan and the Justice and Development Party (AK Party).
The CHP held its 35th ordinary congress in Ankara from Jan. 16-17, 2016, and Kılıçdaroğlu was re-elected as the party's leader with 990 of the 1,238 votes. He entered the congress as the only candidate, which was interpreted by some as a sign of lack of competition in the party.
Some dissidents are now calling for an emergency convention, even though Kılıçdaroğlu vehemently rejects the idea.
While questions are asked about whether Kılıçdaroğlu is sincere in his decision to march in the name of justice and freedoms, academic Tosun hinted at the possibility of a failure in this regard. "Let us say that Berberoğlu is released upon the recent complaint. I am not sure if the march will continue. People would not believe in his sincerity if he does not continue the march," he conjectured.
Another question that remains unanswered for the time being is whether Kılıçdaroğlu's march will be able to draw support from other opposition parties. "Everyone who wants justice has to support this march," Kılıçdaroğlu said, adding, "There cannot be justice in a country whose prisons are overcrowded."
Karagöz mentioned those likening Kılıçdaroğlu to India's prominent independence icon Mahatma Gandhi. Underscoring that Kılıçdaroğlu's leadership is not as impressive and strong as Gandhi's own, the editor-in-chief said, "Kılıçdaroğlu cannot draw support from other circles as the issue centers around only him."
The pro-PKK Peoples' Democratic Party (HDP) cautiously expressed backing for the march. However, the party criticized the CHP for keeping silent when some pro-PKK HDP lawmakers were arrested earlier. Around a dozen deputies from the HDP are currently jailed, mostly awaiting trial over alleged links to the PKK terrorist group.