Syrians living in Turkey's border city of Kilis have said that the majority of the Syrian community has been living peacefully with Turkish locals and disputes among them are rare.
They also pointed out some of the provocations and distorted information, especially on social media recently, to elicit confrontations Turkish people and Syrian refugees.
News about tensions between some local Turks and Syrian refugees in various cities across Turkey that has escalated in recent days surfaced last week. While police intervened in several cases, it was also revealed that some fake social media accounts were created to spread false news and distorted facts, implicating Syrian nationals in crimes and to incite hatred among Turkish citizens for Syrian refugees.
The Ankara Public Prosecutor's Office launched an investigation after identifying the identity of those behind the accounts and detained 15 people on allegation of inciting people to hatred and hostility.
Speaking to Daily Sabah, Muhammet Ferit Adın, the director of the Selahattin Eyyubi Foundation, which focuses charity work for Syrian refugees in Turkey, said that the Syrians in Kilis became locals and created a culture of living together with the Turkish inhabitants.
"Especially Syrian youth are creating a bridge between Syrians and Turks. They know the language and get an education here. They are qualified. The Turkish state should give opportunities to these youths," he said.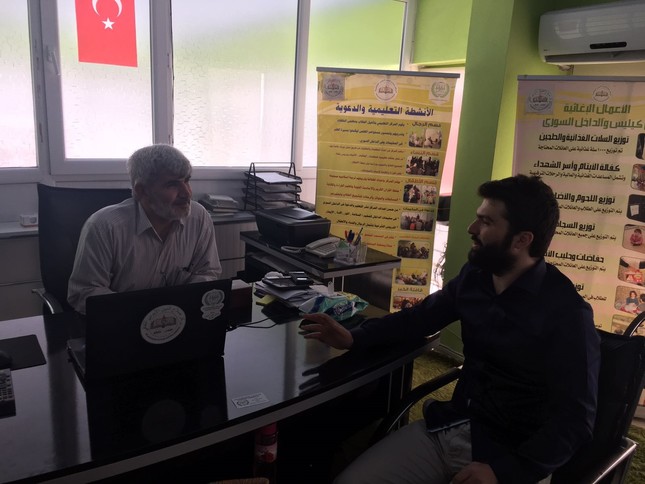 MuhammetFerit Adın, the director of the Selahattin Eyyubi Foundation.
Located in southeastern Turkey near the Syrian border, Kilis has more than 120,000 Syrian refugees, exceeding its total Turkish population.
Adın also said he witnessed many provocations since he moved to Kilis, pointing especially to youths from both sides are pulled in to incidents.
"When some of the windows of Syrian houses were broken here, years ago I called the police and said soon the windows of Turkish people's cars will be broken as purported Syrian revenge. And it occurred exactly that way. They asked me, how I knew that. Did I receive a tip from somewhere? I answered that it's just how provocateurs work," he said.
Earlier this week, the Interior Ministry drew attention in a statement to the provocations in the media against Syrian refugees, warning of the danger of spreading falsified information in the wake of recent cases affecting cities across Turkey.
The statement debunked claims of increasing crime rates among Syrians in Turkey, backed by statistics provided by the ministry.
"The crime rate among Syrians was 1.32 percent between 2014 and 2017 - and the majority of those cases were mostly mutual disputes among Syrians. Despite the rising refugee population, their involvement in crime in Turkey decreased by 5 percent in the first half of 2017," the statement read.
Abdurrahman Yesirci, the director of the Syrian Scholars Association, told Daily Sabah that they are giving formal and religious education and the teachers that they educate are holding a special place for the future of all Syrians, not only refugees in Kilis or in the region.
Yesirci said the association, which is based in Kilis province, has long been working with Turkish nongovernmental organizations and state institutions, the Presidency of Religious Affairs Foundation and local mufti offices in the city to train teachers that have enough qualification to be assigned both in Syria and Turkey. "Until now, we gave education to 17,000 teachers," he said, adding that they are working to prevent a "lost generation".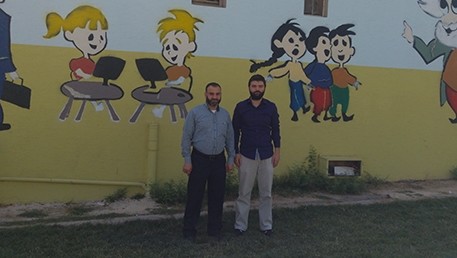 ​
Abdurrahman Yesirci, the director of the Syrian Scholars Association.
Turkey, which has more than 3 million Syrian refugees, has spent around $25 billion helping and sheltering refugees.
Another local in Kilis, associate professor Emad Gazi Kanaan from Kilis University, who worked at Damascus State University and came to Turkey three years ago, said there are many Syrian students being educated in various departments of Kilis University, and Turkish and Syrian students get along.
Kanaan said that sometimes messages came from Syrian numbers to the phones of refugees living in Kilis, "reporting Turkish crimes against Syrian refugees."
"We are asking about the cases mentioned in the WhatsApp messages. However, nothing as such ever occurred. Who is sending those messages? We know the motivation behind it," he said.
Upon a question of his expectation from the Syrian peace talks in Astana and Geneva, he said that the decisions made at these kinds of meetings never reflect reality.
Syria has been locked in a vicious civil war since early 2011 when the Bashar Assad regime ruthlessly cracked down on pro-democracy protests, which erupted as part of the Arab Spring uprisings.
Since then, more than 400,000 people have been killed and more than 11 million have been displaced, 6.3 million internally and 5.1 million externally, across the war-battered country, according to the U.N.