Several deputies from the main opposition Republican People's Party (CHP) mistook a meeting of President Recep Tayyip Erdoğan in Yenikapı for the final gathering of the 400-kilometer "justice march" kicked off by the party's leader Kemal Kılıçdaroğlu on June 15.
The CHP gathering took place on the coastal road of Maltepe, a district in the Asian side of Istanbul.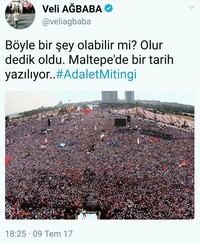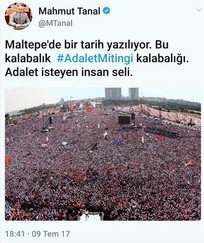 CHP deputies including Aykut Erdoğdu, Kamil Okyay Sındır, Eren Erdem, Veli Ağbaba and Mahmut Tanal shared photos purporting to show the CHP-led march, while the pictures were actually snapped during President Erdoğan's Yenikapı meeting.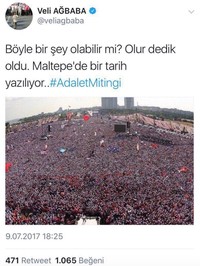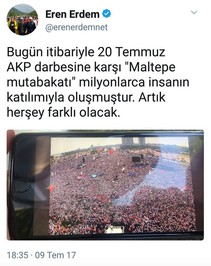 Each of the deputies later deleted their tweets and shared photos from the actual Maltepe area.
Kılıçdaroğlu launched a 400-kilometer march from Ankara to Istanbul, a day after one of its deputies was given a a prison sentence on espionage charges.
CHP Kemal Kılıçdaroğlu, joined by several thousand protesters, began the "Justice March" from the Güvenpark at the Kızılay Square in central Ankara.
The march came as a protest after CHP's Istanbul deputy Enis Berberoğlu was sentenced to 25 years in jail for leaking secret documents to the press in the controversial National Intelligence Organization (MIT) trucks case. Berberoğlu was accused of supplying confidential footage of a raid on MIT trucks, carried out by the Gülenist terror group (FETÖ), to Cumhuriyet daily's former editor-in-chief Can Dündar and its Ankara representative Erdem Gül.