Germany's Focus magazine has denied Republican People's Party (CHP) claims that the magazine wrongly quoted CHP Chairman Kemal Kılıçdaroğlu as saying that the lives and properties of tourists are not safe in Turkey. "According to German journalistic custom, the interview was sent to the CHP and officially approved before being printed," German journalist Frank Nordhausen posted on his Twitter account on Aug. 9. "In Turkey, there is currently no security guarantee for anyone, neither for life nor property," Kılıçdaroğlu was quoted as saying in Focus on Aug. 5.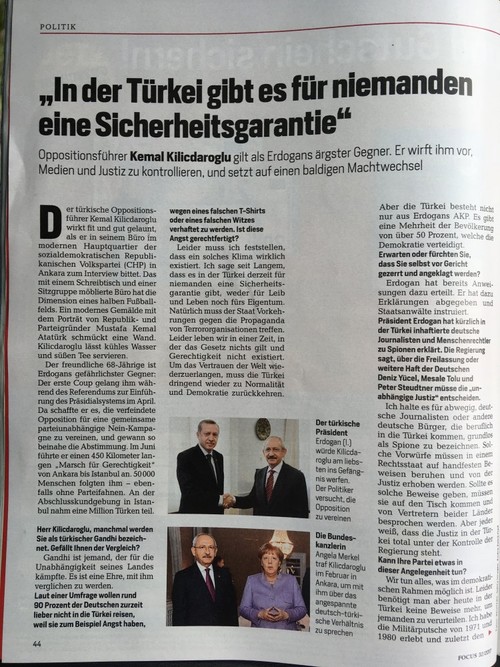 However, after his comments faced severe criticism from the Turkish public and media, the CHP released a written statement rebuffing the interview. It also claimed that Kılıçdaroğlu's words in the interview did not reflect his views and that the article was false. In a written statement released by the CHP press office on Aug. 7, Kılıçdaroğlu denied making comments on the current state of security in Turkey in the interview.
Deputy Prime Minister Bekir Bozdağ on Aug. 9 accused the main opposition party leader of contributing to disseminating misperceptions about Turkey with his remarks to Focus. "Kılıçdaroğlu's statement [regarding security] is a major blow to the Turkish economy and Turkish tourism," Bozdağ said.
"A main opposition party leader does not speak in a way that leads the economy of his own country to suffer and puts its people in a difficult situation." AK Party spokesman Mahir Ünal also voiced criticism: "The interview he gave to the German magazine Focus shows that he has become the mouthpiece of lobbies operating against Turkey and against President Recep Tayyip Erdoğan. He argues there is no right to life or security of property in Turkey. How can the leader of a party that represents 25 percent of the people say such a thing? It's very sad," he said on Aug. 9.
Last month, German Foreign Minister Sigmar Gabriel announced a series of possible economic and political measures against Turkey. The measures included heightened travel warnings for German citizens planning to travel to Turkey. Kılıçdaroğlu's interview with the German magazine came just weeks after the spat between the two countries.
Earlier this summer, Kılıçdaroğlu made headlines with his justice march when he walked from the capital of Ankara to Istanbul. Claiming that justice is being denied in the country, Kılıçdaroğlu embarked on the journey and completed the 430-kilometer walk on July 9.
The march came as a protest after CHP Istanbul Deputy Enis Berberoğlu was sentenced to 25 years in prison for leaking state secrets to the press in the controversial National Intelligence Organization (MİT) trucks case.
Berberoğlu was accused of supplying confidential footage of a raid on MİT trucks carried out by FETÖ to the Cumhuriyet daily's former Editor-in-Chief Can Dündar and its Ankara correspondent, Erdem Gül.
Previously, Kılıçdaroğlu told a British newspaper that he was determined to drag Erdoğan down and organize more street protests.
"I am not afraid. There is a serious lack of democracy in this country [and] someone needs to fight against this. Our main goal now is to drag Erdoğan down from his palace. We are determined to do this," Kılıçdaroğlu said in an interview with The Times, adding that he was "prepared to carry out more street protests."