Today the Justice and Development Party (AK Party) is celebrating the 16th anniversary of its foundation with a modest ceremony in capital Ankara, with more than 6,000 people participating in the event. The ruling party will mark the 16th anniversary in Ankara's Sincan district, where the ground works for the 1997 postmodern coup d'etat were laid after tanks rolled on the streets. According to Turkish media outlets, some 6,000 invitations were sent in total. Party sources have so far stated that the celebrations will be modest.

Invitations were also sent out to those who have worked and contributed to the AK Party; namely, all former ministers, mayors, and AK Party founders, including former President Abdullah Gül and former Prime Minister Ahmet Davutoğlu who are expected to be in attendance.
AK Party Chairman and President Recep Tayyip Erdoğan previously said that the celebrations should not overshadow the July 15 commemorations, in a move intended to show respect for the fallen on July 15, 2016.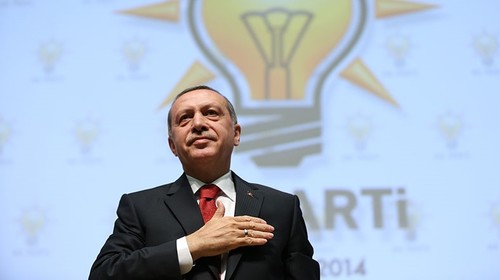 A short movie has been prepared by the AK Party, in which there are short excerpts from President Erdoğan's life. Founded on August 14, 2001, the AK Party brought enormous astonishment in the first general elections, garnering 34.3 percent of the vote in the November 3, 2002 elections and earning it 363 seats in Parliament. Since then, the AK Party has never lost an election.
The party so far has participated in five general elections, in 2002, 2007, 2011, June 2015 and the November 2015 snap elections, winning 34.3 percent, 46.6 percent, 49.8 percent, 40.9 percent, and 49.5 percent of the vote respectively, and coming in first in three municipal elections in 2004, 2009, and 2014, with 41.7 percent, 38.4 percent and 42.9 percent, respectively.
Since its establishment, the AK Party has been put under heavy pressure with closure cases in 2002 and 2008. The party narrowly survived the 2008 case, as six of the 11 judges in the Constitutional Court voted in favor of closing the party. Seven votes were required to close a party.
The military tutelage often caused party leaders headaches, as well. A Turkish Armed Forces (TSK) memorandum given to the AK Party on April 27, 2007 on the internet shortly after the AK Party's announcement of its candidate for president, was the first of its kind. The memorandum was perceived as a signal of a pending coup. However, after the AK Party's landslide election victory in the July 22, 2007 elections, the deadlock of opposition over presidential elections ended.
An era of transformation on the agenda
The AK Party has been going through a transformative era since President Erdoğan returned to his party in late May. Erdoğan had resigned from party membership in 2014 as he geared up for the presidential elections. After constitutional changes were approved in the April 16 referendum, the president applied for membership to the AK Party, and he was re-elected as party chairman on May 21.
The president has been calling for change within the party and local administrations since the first day of his chairmanship. Criticizing some local administrations and fellow party members for their lack of enthusiasm in the run-up to the April 16 referendum, Erdoğan even called on those who show signs of fatigue to step down. "Our fellow friends in successful branches will, of course, continue their duties, but I guess you can also agree that a comprehensive change is needed in our local administrations," Erdoğan said earlier in July.
"We will update all of our provincial, district and town organizations by the end of this year and revise them. This is because there is mental fatigue in these organizations and we need to overcome this. Therefore, we need to be prepared for 2019, hopefully with a much more dynamic team," he went on to say.
In line with Erdoğan's warnings prior to the 2019 local and general elections, the AK Party has ramped up works to find the right names for the 2019 election lists. The party is reportedly inquiring with non-governmental organizations (NGOs), tradesmen and ordinary citizens regarding their views about candidates. In addition, 81 provincial heads have been summoned to AK Party headquarters and asked about information regarding the current state of their branches. The voices of deputies were also heard regarding their electoral districts and the problems of their people.
Furthermore, the AK Party's deputy chairman in charge of administration, Mustafa Ataş, said that between 300 and 350 district heads will be replaced in the upcoming period. "There is a demand to make changes in more than 300 districts - changes of up to 350 positions. We have already recently replaced 200 of our district heads. What does this mean? It means that 50 percent of 970 districts have undergone changes," Ataş said.