The head of the ruling Justice and Development Party's (AK Party) women's branch, Lütfiye Selva Çam, said that apart from their efforts to increase women's participation in politics, they have also initiated a program that aims to increase the employment of women and their participation in the labor force. In an exclusive interview, Selva Çam underlined that, through this program, they want to increase the number of women employers, not employees.

Emphasizing that in the AK Party they care about the participation of women not only in the women's branch, but also in the youth branch and other administrative units, Selva Çam said their aim is to bring together qualified women who love their country and the party under one roof.

Responding to the question of why women from different segments of society should join the AK Party, she said their party polices are not exclusionary, underlining that they always prefer self-criticism instead of self-praise to improve themselves. She also added that as AK Party they care about finding common ground that will allow them to improve the country.

Daily Sabah: With the AK Party rejuvenation movement, it is aimed to increase the number of women and youth in the party's administrative units. What is currently being done about this?

Selva Çam: President [Recep Tayyip] Erdoğan's founding of the party's women's branch along with his frequent emphasis on women being a political actor has been very important for us. Since its foundation, the women's branch continues to work as diligently as the other administrative units.

Moreover, we are as organized as these other units; we currently have local women's branches all across Turkey throughout 919 districts in 81 cities. We have more than 4.5 million female members, while the party has over 10 million members. In this respect, approximately half of its members are female.

In preparation for the 2019 elections, we are currently going through a party convention. We have completed this process for towns; delegates were appointed to towns with populations of under 5,000 people while Congress was held for towns with over 5,000 people. We have also started district conventions. For the first time, we have established an online application system. We are excepting applications through www.akkadinbasvuru.com.

No references are needed; we are open to work with anyone who loves this country. Applications are still open. We have determined with whom we are going to continue to work and who are subject to change. Alternation is a must; we are a 16-year old party, after all. There are people very eager to act or who want to transfer their position to another and continue to work in comparative positions with lower profiles.

Considering all of this, we have initiated the rejuvenation process. After compiling the list of applicants through our system, we assess the candidates and make a shortlist of three people for each district. We have a five-person Candidate Assessment Commission at our headquarters. These three candidates are summoned; we ask them questions, allowing to them to express themselves.

Thus, we determine the provincial chairs. After this, we have to elect the provincial administrations. These are in proportion with the population of each respective district. In order to form provincial administration cadres, we visit districts over a certain population. These administrative personnel are jointly selected by the provincial chair, coordinators and representatives from the headquarters. Our aim here is to create a cadre with a broad participation.

As you know, to be elected president in the new presidential government system, one has to achieve a simple majority. Considering that the first election will take place in 2019, we have high hopes and aims. We are trying to expand our administrative cadres with people suggested by nongovernmental organizations (NGOs), tradeswomen, businesswomen and neighborhood representatives.

We set 150 female candidates for each district; out of this 150, we select 50 to become a part of the administrative cadre. Twenty-five out 150 are selected as substitute members. Still, we are left with 75 female candidates that are eager to act; these candidates are offered positions in various commissions, such as commission for the elderly or for tradeswomen.

Therefore, we task all the candidates with a duty that is appropriate for them. On the other hand, as the women's branch, we organize many training sessions: first aid, entrepreneurship and such. We invite our female candidates to these training sessions and ensure that they continue to collaborate with us.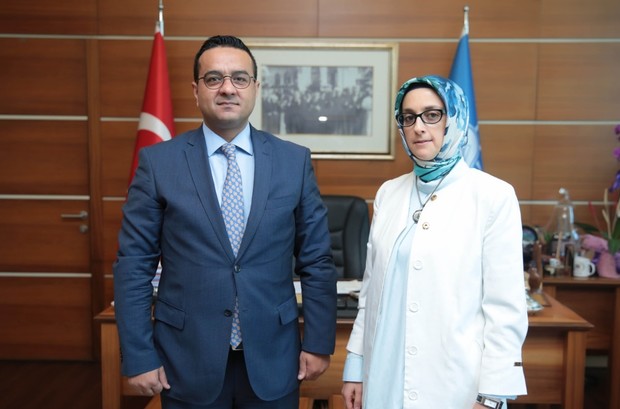 Daily Sabah's Ali Ünal (L) with the head of the ruling Justice and Development Party's (AK Party) women's branch, Lütfiye Selva Çam.

DS: In order to have a broader participation, do you offer candidacy to people coming from different segments of the society?

SÇ: Of course. We have certain notables, so-to-speak, in provinces. We are planning to hold meetings and we will invite these notables to these meetings. We will express that we will evaluate any names they are willing to provide. Our most essential principle is this: references do not supersede all the other elements. Our aim is to bring qualified women who love their country and the party together under our roof.

DS: Why should a woman who is interested in politics become a member of the AK Party's women's branch?

SÇ: Throughout the last 16 years, the AK Party has always surpassed itself. It works for the people of this country. Moreover, we are a party that enables women's active participation. We care about participation of women not only for the women's branch, but also for the youth branch and other administrative units.

On the instructions of President Erdoğan, who is also our current chairman, 60 percent of the central administration should consist of women and youth, 30 percent for each. Even though we are party that is against quotas, we heed the advice of our chairman. For this reason, we are working to achieve this 30 percent female participation.

The women's branch functions like a school; our members create added value both for themselves and the party. Therefore, it is mutually beneficial. Women are able to train themselves through training sessions and field work. On the other hand, by dedicating their equipment to the party, they are working for women's progress.

DS: You have mentioned a 30 percent quota. Does this have a reflection in politics? Also, why are you against it?

SÇ: We see a quota as an injustice towards women. Affirmative action is a must and it should continue. This has also become codified. However, we do not have to call it a "quota." This 30 percent female participation is the instruction of our chairman. I also greatly care about employing women who have worked hard for their districts and cities at the central administration. I do believe this is a vertical, hierarchical process.

Rising in rank from neighborhood chairmanship to the headquarters must become an aim. Politics is not only about becoming a member of Parliament. Local politics and deputyship are important for women. We have neighborhood representatives; our success in elections is because of our strong influence over neighborhoods.

Our neighborhood representatives know everything about their neighborhoods. More importantly, this communication between our representatives and the people do not take place only during elections, but always. When we go to the field, these doors are opened for us. We never sever these ties. Having good teams in a vertical system resolves all the issues.

DS: In your opinion, how will the presidential government system affect women's participation in politics?

SÇ: Firstly, we have to establish the necessity of this system and why it was implemented as a result of an immense effort. After many years of political instability, we have been able to see and experience a stable system for the last 15 years. So, in order to ensure the sustainability of this political stability, presidents have to be elected with a simple majority.

In this respect, we have also changed the election procedures of members of Parliament who are to collaborate with the president. We have worked hard for this system's implementation. Political instability has become a thing of the past with the presidential government system. This is a new page for Turkey.

A system which favors representation is implemented. The president will be elected in a fairer way. Moreover, this system allows the election of both qualified women and men who have the knack for representation by the people. Members of Parliament and the president will be elected through separate ballots. Therefore, individuals who are loved by the public and are able to connect with the society, regardless of their gender, will become members of Parliament that are to represent the people.

DS: Comparing with the Organization for Economic Cooperation and Development (OECD) countries, we see that women's participation in politics is low. In your opinion, what should be done to improve their participation and stimulate interest in politics?

SÇ: As the women's branch, we have two main aims: To produce policies for women and to improve women's participation in politics. We are working to have more powerful women in every level of society. This is what we are trying to achieve in cities and districts alike. We are spreading all of our initiatives in our headquarters in Ankara to provincial and local units.

Our women should become powerful politically and economically. Affirmative action for women in the AK Party is clear. We need to find women who could be active in politics and enable them; they should be able to represent. We are working to realize this.

When we visit our local branches, we keep a notebook that is filled with names of women who can represent and take further responsibility; we suggest these women to various local political positions. Even if these people do not have such demand, we offer them this chance. As I have expressed before, we are seeking qualified women who can create added value for our country and have a vision.

DS: Why should a woman who defines herself as secular and a Kemalist become a member of the AK Party?

SÇ: When you look at AK Party's understanding of politics, you can see that it is not exclusionary. When we organize an event, we send invitation to a very broad audience. Our events are open to all regardless of their ideology. Women are able to openly express themselves in AK Party. We do not categorize people by their appearances.

We advocate Sheikh Edebali's principle "let people live, so could the state." Therefore, we do not discriminate people both when we are serving them and when they come to our headquarters. We care about finding common ground that will allow us to improve our country. Women are concerned about leaving a better future for their children, providing them the best possible education.

To determine regional concerns and issues of women, we do evaluations in all cities. As a result, we are able to see the specific concerns of women in a region. Then, with this information, we determine our policies and methods to reach them. In this respect, on the website for applications, we have asked people about their vision for the AK Party between 2019 and 2023.

We wanted to see how much people know about us and what they demand us to do. This will provide us a roadmap, hopefully. We are open to criticism; instead of self-praise, we always prefer self-criticism to improve ourselves.

In this sense, we are political party that competes with itself. Therefore, women of all walks of life have multiple reasons to come to us. Firstly, all can express their ideas freely here. We are trying to improve ourselves and our country; so, if we are able to have this as a common ground, they are welcome to join our party.

There are some who are concerned that the AK Party is interfering with people's lifestyles. Some claimed that events like a woman wearing shorts being attacked were the result of AK Party's interference. How do you evaluate this situation?

When these attackers' backgrounds are investigated, it could be seen that they are usually people with psychological issues. We have seen the similar situation in attacks against the statues of Atatürk. It would not be fair to claim isolated actions of people with obvious psychological issues represent the whole of the society.

I, for instance, would not allow anyone to criticize the way another person dresses, as I have suffered from this when I was 18 years old and studying at university. People's choice of clothing is a matter of personal right and preference. I believe voters of our party are also of the same mind; they would not allow anyone to interfere with another's way of clothing. These claims about "interfering with lifestyle" are nothing but provocation. We have to find the provokers.

Meanwhile, it is hard to believe that all of these attackers are members of our party. We can't accept allegations that these attackers are "encouraged by the AK Party government." It is a matter of rights and freedoms; we always advocate these rights and freedoms.

However, whatever we do, there are always some who are concerned. Even though it is completely baseless, they are always expecting a kind of revenge. They have oppressed religious people to an extent that they believe when these religious people come to power they will be oppressed.

We have been in power for 15 years. We never interfered with people's lifestyles. Moreover, lifestyles are protected by the constitution; there are freedoms of religion and conscience. In this respect, I believe there is nothing to be concerned of and that these meaningless discussions should be concluded.

DS: As the chairwoman of the AK Party's women's branch, what projects are you developing for the employment of women and their participation in the labor force?

SÇ: We want to create a woman that employs, not one who is employed; this is our principle in this matter. Last year, we organized training sessions on project cycles in all cities of Turkey. There are many grants provided by both our country and international organizations. Our thinking is why shouldn't women benefit from these grants by preparing projects. For this reason, we have collaborated with the Development Agency and taught women how to prepare projects.

After this successful event, we have initiated a new program by collaborating with Small and Medium Enterprises Development Organization (KOSGEB) that aims to increase the number of female entrepreneurs. There were many applications to this program. We have selected women who want to found their own establishment through interviews; around 10,000 women from 81 cities in Turkey have applied to us to have their own enterprises. Now, we have started working in these cities.

At the end of the program, women learn to how to become entrepreneurs, prepare business plans, what to do and how to acquire loans from various institutions. After this, we will continue to follow their progress and help them open their own enterprises. We will also embed a special logo that was designed by us to their shop signs. We will continue to be in contact with these women and will see whether they are successful and are able to sustain themselves.

As I have said, we are trying to create a woman who is an employer, not an employee. Nevertheless, women's participation in the labor force is prominent for sustainable development. For this reason, we will continue to prepare similar programs for women.

On Dec. 5, we will organize a congress titled the International Women at Work Congress. We will invite businesswomen, female entrepreneurs and those who are successful to the congress and will have workshops. There will be an exhibition area where the products produced by those invited will be showcased.

Participants will be women who have the potential to achieve their aim. We will invite exemplary businesswomen from abroad as well. We are not seeking political outcomes from these events; we are emphasizing education and training.

Meanwhile, we have two female ministers, which is pleasing. Especially, Jülide Sarıeroğlu, the minister of Labor and Social Security, who had worked in the women's branch, became experienced in various matters. While these female ministers implement programs that benefit women in our country, we create awareness among women as the women's branch by informing about these programs. In addition, we also provide assistance in developing policies.

Lastly, I would like to express that our women's branch is sensitive to the plight of others. We are always trying stand together with the downtrodden through campaigns towards Bayırbucak Turkmens, Syrians and families in need.

We also want to contribute to the aid efforts to Rakhine, which was initiated with first lady Emine Erdoğan's recent visit, by the Turkish Cooperation and Coordination Agency (TİKA), the Disaster and Emergency Management Presidency (AFAD) and the Turkish Red Crescent. We hope our campaign will have a positive effect. We are collaborating with AFAD to extend a helping hand to our Rohingya brothers and sisters.