Locals in northwestern Syria's Afrin on Sunday welcomed Turkish Armed Forces and Free Syrian Army (FSA) troops with open arms.
Turkish forces took complete control of Afrin town center early Sunday morning as part of Operation Olive Branch.
Civilians waved to the Turkish and FSA troops and chanted slogans in their support.
Many drove their cars to the town center where they gathered and honked to celebrate the victory.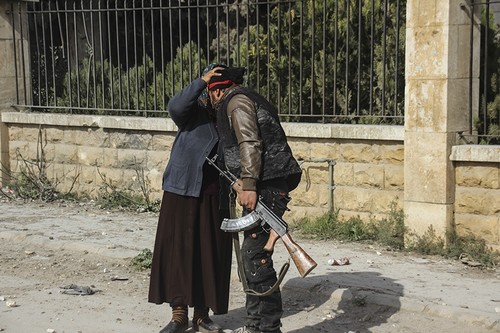 An elderly woman hugs an FSA fighter after the city's liberation from YPG/PKK on March 18, 2018 (AA Photo)
Anadolu Agency correspondents in the region saw several buildings and vehicles which had been set ablaze by terrorists.
After taking control, Turkish soldiers and FSA fighters destroyed photos and rags left behind by YPG/PKK.
Security forces are searching houses to capture any terrorists who are hiding among civilians.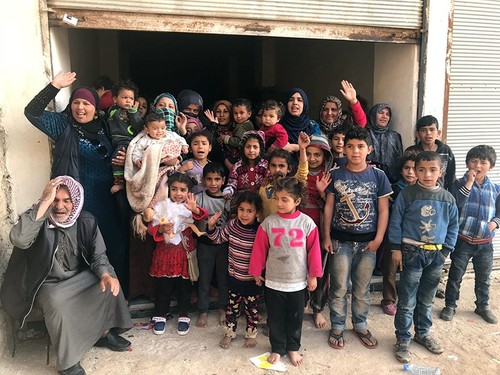 Mosques in Operation Euphrates Shield area held special prayers and raised 'Allah Akbar - God is Great' slogans.
Turkey's Operation Euphrates Shield began in August 2016 and ended in late March 2017 to improve security, support coalition forces, and eliminate the terror threat along the Turkish border.
Turkey on Jan. 20 launched Operation Olive Branch to remove PYD/PKK and Daesh terrorists from Afrin.
According to the Turkish General Staff, the operation aims to establish security and stability along Turkey's borders and the region as well as protect Syrians from terrorist cruelty and oppression.
The operation is being carried out under the framework of Turkey's rights based on international law, UN Security Council resolutions, its self-defense rights under the UN charter, and respect for Syria's territorial integrity, it said.
The military has also said that only terrorist targets are being destroyed and "utmost care" is being taken to avoid harming any civilians.
Afrin has been a major hideout for the PYD/PKK since July 2012, when the Assad regime in Syria left the city to the terror group without a fight.