The Turkish embassy in Washington learned from the press about the charges faced by Mehmet Hakan Atilla, the deputy general manager of state-owned Halkbank who was convicted in a New York court of partaking in a sanctions-busting scheme, a letter provided to the judge overseeing the case showed.
The embassy letter dated Oct. 23, 2017, was presented by Atilla's attorneys upon the request by the presiding Judge Richard Berman.
According to the document, U.S. authorities informed neither the embassy nor the Turkish government about the possible reason for Atilla's detention on March 27 at the JFK International Airport in New York.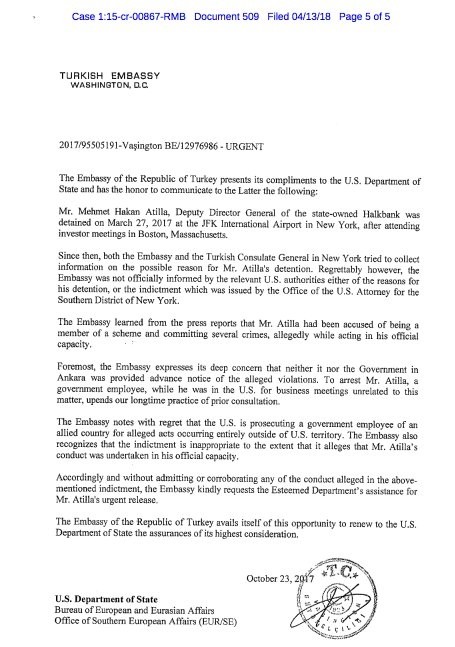 Saying the arrest of Atilla, a government official, while he was in the U.S. for official meetings upends "longtime practice of prior consultation," the embassy asked for the Department of State's assistance during the process.
Berman asked Atilla's lawyers andU.S. government officials to provide further information about the case prior to his sentencing scheduled on May 7.
The judge adjourned the sentencing from April 11 to May 7, because of "the number of issues raised by the parties in their (extensive) sentencing submissions."
In early April, the U.S. prosecutors asked a federal judge to sentence Mehmet Hakan Atilla to at least 15 years in prison and a monetary punishment between $50,000 to $500,000.
In a 75-page petition to the court, Atilla's lawyers asked the judge for a "fair and merciful" sentence of between 4 to 5 years.
They argued that the case was exceptional and that many international banks that had violated sanctions imposed on Iran had escaped with a fine and none of their employees were charged with any crimes.
The defense argued the trial had shown that Atilla was a simple state servant who was victimized by Iranian-Turkish businessman Reza Zarrab, who masterminded the scheme but turned state's evidence against Atilla in a plea deal, having earlier accepted all the charges against him.
Zarrab was arrested on March 16, 2016, before turning state's evidence on Oct. 26, 2017, and testifying against Atilla, who was arrested in March of last year while on a business trip in the U.S.