Turkish-American relations have been undergoing the most difficult times of the past 50 years and the alliance of the two countries has become a highly controversial topic in recent years. Did the most recent developments cause the deteriorated relations or are much deeper structural differences at play? Assessing the current situation of U.S.-Turkey relations, professor Michael A. Reynolds, a lecturer at the Near Eastern studies department of Princeton University, highlighted that the crisis between the two countries is much deeper than the pastor Andrew Brunson issue.
"The recent situation of the relations reveals that the problem is structural," Reynolds said.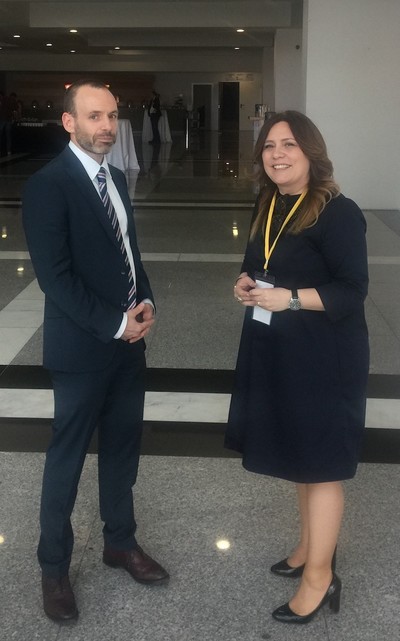 Indicating that Washington thought it could teach Turkey a lesson to keep it in line with its policies, Reynolds said, "If America pushes Turkey into a deep crisis - an economic collapse. That could blow up everybody, including the United States."
Pointing out that the Washington administration is insensitive to Turkey's national security concerns, Reynolds stated that U.S. cooperation with the People's Protection Units (YPG) in Syria is incompatible with the principles of the alliance.
He expressed his astonishment that Turkey has not been escalating its responses against the U.S.
He also said that he was annoyed by the fact that Fetullah Gülen, the Gülenist Terror Group's (FETÖ) leader is depicted as a religious figure and that Gülen is residing in the U.S.
"It irks me as an American citizen that he is deceiving and scamming the American people," he said.
Reynolds is associate professor of Near Eastern Studies in Princeton University and a 2018-19 Robert A. Fox Fellow at the Foreign Policy Research Institute's Program on the Middle East.
He is the author of "Shattering Empires: The Clash and Collapse of the Ottoman and Russian Empires" and the co-winner of the American Historical Association's George Louis Beer Prize, a Financial Times book of the summer, and a Choice outstanding title.
He is also well-known with his article for the Foreign Policy Research Institute, a U.S.-based think-tank, titled, "Damaging Democracy: The U.S., Fetullah Gülen and Turkey's Upheaval."
Reynolds wrote that by obliging Gülen and permitting him to reside in America, Washington fails to promote democracy.
In his article Reynolds also criticized the U.S.' stance toward FETÖ's coup attempt, saying, "It is surely a great irony - or tragedy - that the United States... may actually have helped to subvert and to weaken the most important democracy in the Middle East."
In his article, he also accused American policy makers, saying "they are guilty of negligence for not investigating and monitoring the activities of Gülen more thoroughly before and during his residence in the U.S."
In an exclusive interview, Reynolds answered some of Daily Sabah's questions.
Daily Sabah: How do you describe the recent crisis between Turkey and United States, and their foreign policy paradigms?
Michael A. Reynolds: Maybe the first thing to say that it is a very unusual crisis in that sense. Both countries are still normal allies and partners. Yet, now Turkey is accusing the United States of waging an economic warfare. They are extensive allies yet they are experiencing this sort of bitter infighting situation. I think it's already called as the worst crisis of Turkish-American relations in the history. I don't think anything quite compares with this term in the history.
DS: Would you say this is the worst crisis between the two countries?
MR: Yes, it is the worst. The Johnson letter sometimes can be compared to that, or what happened over Cyprus. But I think this is worse than that.
DS: What are the motivations behind it? Is this all about divergence in both countries' national interests, threat perceptions or foreign policy shifts? In fact is this all about the pressure generated by domestic politics in U.S.?
I think it is unfortunately structural. It would be nice to think this is partially miscalculation by [President Recep Tayyip] Erdoğan, miscalculation by [President Donald] Trump or their personalities or something just happened. Many analysts think that if it weren't for the crisis with Brunson, something else would happen and we would be where we are now anyhow. So this is structural. I think it's linked to doubts about the strength of United States, doubts of Turkey whether the U.S. is really that strong. So it is a test of American strength. I think it is a clash of two different visions of the Middle East. The United States doesn't have a clear idea what it wants to see in the Middle East nor is it a realistic one. I don't think Turks do either. There are some major disagreements; there is a lot they hold in common. But there are some disagreements between them on this vision of the future of Middle East.
DS: So this is not just about the Trump administration's policies?
No, unfortunately. I think it is deeper.
DS: Can we say that this divergence started with the Obama administration?
Yes, yes. I think Obama also made numerous mistakes.
DS: So how about Trump's attitude toward Turkey? He has indirectly and directly tweeted and threatened a NATO ally and a strategic partner with subversive steps such as tariffs and halting of defense deals.
Yes, yes. I think in both sides emotions are way too much - both the Turkish side and American right now.
DS: So you think emotions are the underlying reasons behind the fallout in relations?
Yeah, part of it. So I think there is a structural clash and conflict going on between Turkey and United States and that's the fundamental thing but that may be, could be massaged if we had more clear headed people in Turkey and United States. Still despite the conflicting visions of the Middle East, they also share a lot of things in common interest and they would be able to work together. But we do not see that right now.
DS: Do you think the Trump organization and the former Obama administration understand Turkey's concerns at home and in the region, including the U.S.' engagement with the PKK/Democratic Union Party (PYD) and harboring FETÖ's leader and its members?
I don't think they are. I think the U.S. administrations are pretty clueless. To be honest, as the president and prime minister of Turkey, I would have even attempted to respond to American collaboration with the PYD much more forcefully. I am surprised Turkey didn't do it.
DS: What do you see about Russian-Turkish relations in these circumstances? Do you agree with the idea that U.S. is pushing Turkey toward Russia?
I think it is, definitely. Turkey is drawing closer to Russia to send a message to Washington in part because its wants to do that despite Washington. I think yes. America is pushing Turkey to Russia. Turkey is going very willfully into that direction.
DS: Do you expect any kind of Cold War 2.0 between the U.S. and Russia? Do you see that Trump administration foreign policy perspective in this direction?
Yes, I do now with the Trump administration per se. It is clear that there are a lot of people in Washington now and they want to continue a cold war with Russia right now. I think that's a huge mistake. From my perspective for American national interest, a new Cold War with Russia and standing up against Russia is absolutely a waste of time. Moreover, now driving Turkey to the Russian hands is just another big mistake.
DS: You have mentioned many times before, and wrote an article, about Gülen's extradition, saying that he was taking an advantage of U.S. taxpayer's money. Can you elaborate on that for us?
I wrote an article after July 15 titled, "Damaging Democracy: The U.S., Fetullah Gülen and Turkey's Upheaval." I have explained there why it seems like this relationship between Fetullah Gülen and the United States is damaging democracy in Turkey. It irks me as an American citizen. What Fetullah Gülen did in Turkey? I am talking about things even before July 15; Ergenekon, Balyoz and all the things that Gülen seem to be involved back then. They were outrageous enough but what he did in United States is absolutely unacceptable. He had the schools that are embezzling money and committing financial visa fraud in multiple states in the United States. It bothers me when I see him presented as humble cleric, so-called cleric, or religious figure. He is scamming the American people.
DS: What about U.S. domestic politics? With the midterm elections coming up, do you think that Trump administration, including Vice President Mike Pence, is under the pressure of evangelical factions in U.S. politics, especially in the context of the Brunson crisis with Turkey?
They may play small role but they are going to get sympathy from evangelicals. To be honest, I wouldn't want to bet a lot of money even that people are thinking about that. Number two, if they are thinking about that it is a very small thing. I don't think Brunson is important for the evangelicals. I think that is something a lot of people use as an excuse.
DS: As a historian, where do you think that the world is headed to in terms of power politics and a multipolar world?
I think today's world is clearly multipolar and that's sort of what is trying to be sorted out right now. That's not how the world is attached to Trump perhaps. However, I think he understood that the world. He thinks that we could not keep going as the way it was. The United States really did need this change for his own interest. Do you want to call it a system? A system in a very loose sense, the system was operating and he has been trying to really reframe, reshape, and reform that system in his own way. A lot of people in United States are resisting that because they want keep going the way it is. But that is impossible. So right now, we are seeing a reaction to Trump but he recognized things weren't going as they were. Countries like Russia are gambling on that but we will see that replacing the old system something that would be more favorable to countries like Russia, Turkey. We will see...
DS: Do you think the Trump administration realizes this?
I mean Trump realizes that the United States and the world could not keep going to the direction it was. Now with China and Europe; for example in Europe, NATO members are not paying their fair share. I mean if even NATO should be in existence, I think it is a fair question to ask. Trade policy with China, any serious economic mists says this it could not go to continue the way it is. It needs to change. I think Trump was correct to start asking these questions like why we do why do we have a standoff with Russia. It's not productive and necessary but a lot of people in Washington succeeded resisting that and only have provoked more standoff with Russia. So there is a sort of internal ballot going on in the United States, and now the other groups, other states inside the United States, they also see the world order is changing. They want to change it in a still different direction as Trump does.
DS: Does this also affect U.S. foreign policy, particularly toward Turkey, and does it strain relations with Turkey?
I think Washington says, "We need to teach Turkey a lesson to keep it in line." However, I think that is just miscalculating American power - that is my theory. Rather than teaching a kind of lesson to Turkey, they are going to drive Turkey away, which is going to lead to the ruin of Turkey. I think in this economic crisis, Turkey is going to suffer more than anyone and I think Turkey's economy is very vulnerable. The government bears the blame for that but it is not helping if America helps push Turkey into deep crisis, an economic collapse. That could blow up everybody including the United States. I think it's going to be worst of all for Turks and it's going to be bad for the U.S. as well.