Van Prosecutor's Office launched an investigation into a pro-PKK Peoples' Democratic Party (HDP) lawmaker for hiding a PKK terrorist in his home, reports said Sunday.
HDP Van Deputy Murat Sarısaç is facing charges for aiding and abetting a terrorist organization for hiding PKK terrorist Y.D. in his home, Anadolu Agency reported.
Y.D. was allegedly responsible for recruiting members to the terrorist organization.
Police detained the terrorist in Sarısaç's vehicle, which had been recorded by security cameras in the area.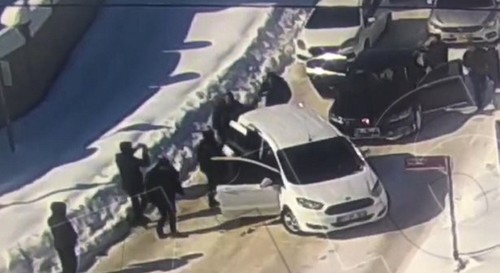 Security footage shows police detaining PKK terrorist in Sarısaç's vehicle
The HDP has criticized for its support to the PKK terrorists, including transferring taxpayer money and funds to the PKK, a globally recognized terrorist group. HDP mayors and local officials have been found to misuse funds in support of the PKK terrorist group and provide jobs to PKK sympathizers.
The HDP, long facing public reaction and judicial probes over its ties to the PKK, is under pressure due to the growing civilian protest movement launched by mothers and local families.
The HDP is known for encouraging young people to join the terrorist organization. Children abducted by the PKK are first radicalized by the HDP. The would-be recruits are then used as an instrument for propaganda and are forced to work. Specialists define four stages of radicalization, the first of which is brainwashing, thereby encouraging the young to join the terrorist organization. This is followed by the armament, violation and finally, leaving to join the organization in the mountains.
The PKK has been involved in a 30-year campaign of terror against Turkey. The terrorist organization is responsible for the deaths of some 40,000 people, including women, children and infants.