Classical Turkish filmmaking known as "Yeşilçam Cinema" has produced great actors and actresses via courageous attempts by talented producers and directors. People used to know the faces and names that appear on the silver screen very well, but had very little knowledge about the crew behind the camera. Even smart people thought that the actors and actresses were not acting but just living while a camera captured their daily lives.
By the 1960s, cinema became the most popular art in Turkey and the secret lives of movie producers and filmmakers became widely publicized in the media. As a result, people became more aware of the filmmaking process and by the second half of the 1960s, the film industry became the most popular art in Turkey. By the mid-1970s, film directors gained significant rapport in Turkish society.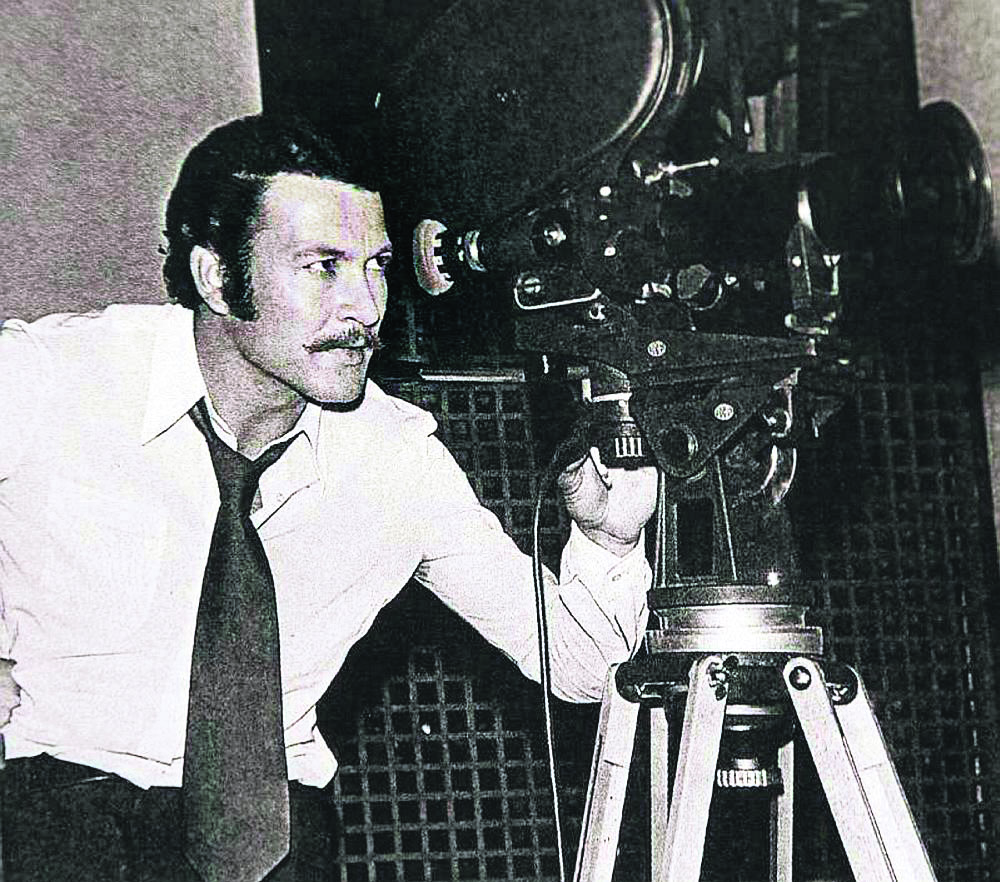 However, the dichotomy of filmmaking continued unabatedly. Film directors directed, actors and actresses acted, and that was filmmaking, in a nutshell. Osman Seden, a populist director and scriptwriter, preferred to act in the films he directed and this was considered an uncredited stunt. Some cinema historians believe he even impersonated Alfred Hitchcock, but this was not considered to be pushing the limits in the industry. However, for Kartal Tibet, a very popular actor in the 1960s and '70s, pushing the limits of the industry was what launched his career. In 1976, the actor went behind the camera and began directing films. While other celebrities were unsuccessful in their attempts at this, Kartal Tibet was the only actor of his time who successfully established his career both on-screen and off.
Early life
Kartal Tibet was born on March 27, 1938 in Ankara to a middle class family. Both of his parents were school teachers. Tibet's father graduated from law school and began working as a lawyer, expecting his son to follow in his footsteps. However, Tibet had an affinity for law school and lawyers, because he had seen his father leave his mother after he became a lawyer. Tibet wanted to be an engineer or an architect like his uncle from his mother's side.
Tibet participated in amateur drama shows at school. A short time later, he was invited to act at the Children's Theater and was paid a salary of TL 90 ($30), nearly the equivalent of his mother's salary as a high school teacher. Tibet was also a talented athlete, playing basketball on the team at Ankara College. In an interview, Tibet says that acting was not even an option for him before he attended boarding school.
When his parents divorced, Kartal moved into the dormitory at Ankara College. He was just 14 years old. This made him very confused about what he wanted to do with his life and he grew very resentful of his mother after she remarried. After a period of instability, he decided to attend the Ankara State Conservatory, where he had already been accepted.
State Theater
Tibet graduated from the State Conservatory and began working as an actor in plays for the State Theater in Ankara. His first play was Albert Camus's "Caligula," which debuted in 1960. The play had 100 runs in the first year. At the time, Tibet's best friends included Bozkurt Kuruç, Ergin Orbey and Önder Alkım - fellow alumni from the State Conservatory and fellow actors at the State Theater. The quartet is still close-knit to this day.
Tibet was among the founders of the "Meydan" (Square) Theater, a private theater company founded in 1961. He directed four plays and acted in 16 during his time at the Square.
After gaining five years' experience in theater, Tibet accepted the invitation of Suat Yalaz to play the role of "Karaoğlan" (Dark Boy, a Turkish fantasy comic created by Suat Yalaz) in "Karaoğlan: Altay'dan Gelen Kahraman" (Hero from Altay). The film broke the box-office record and Tibet became an overnight sensation. At that time, Tibet became a household name and was known as a fantastic hero.
Handsome, hero, manic-depressive
"Karaoğlan" was followed by "Tarkan" (another fantastic Turkish hero). He filmed sequels to the original, playing Karaoğlan and Tarkan. Kartal Tibet had now become one of the popular male stars in Turkish cinema. His name was seen alongside those of the greatest stars such as Cüneyt Arkın, Göksel Arsoy and Ediz Hun, who were known as "the handsome young ones."
Tibet successfully acted in a vast range of roles in various genres. Among these, his most memorable performance featured him as a manic-depressive male in "Ölmeyen Aşk" (Undying Love, 1966). The film - an adaptation of Emily Bronte's Wuthering Heights - was produced by Ertem Eğilmez and directed by Metin Erksan, two of the greatest Turkish filmmakers of all time. Tibet also played in various fiction adaptations such as "Sefiller" (Les Miserables) and "Dokuzuncu Hariciye Koğuşu" (The Ninth General Surgery Ward). His role was a heartbroken young man in such melodramas as "Senede Bir Gün" (One Day Each Year), "Hıçkırık" (Sigh) and "Dağlar Kızı Reyhan" (Reyhan, the Girl of the Mountains) were loved by many; especially by women.
From actor to director
Kartal Tibet played in more than 120 movies before making his first film as a director in 1976. Ertem Eğilmez accepted an offer from Tibet and the duo produced an epic comedy called "Tosun Paşa" (Tosun Pasha) that same year. The film set a new record at the box-office and later became a cult of Turkish comedy. This encouraged the ex-actor and future director, who went on to direct roughly 60 other films and more than 200 episodes of various television series.
In 1978, he made another cult film titled "Sultan," which featured leading actress Türkan Şoray and the famous actor Bulut Aras. Once again, Ertem Eğilmez was the appointed producer of the film. "Sultan" is a romantic drama depicting the complicated relationship of a taxi driver and a poor but beautiful widow, set in a shanty-house neighborhood of Istanbul.
Sultan maintained its prominence thanks to Tibet's talented directing, which was an artistic combination of comedy, romance and the brutal reality of life. The film's effective intertwining of the elements is what has always touched the lives of Turkish people. The typical Turkish cinema-goer wants to laugh, cry and learn a lesson all in one movie. This is the golden formula of the best "Yeşilçam" movies, which have included various Tibet films.
Tibet believes there should be no upper class in the filmmaking business. One should make films for the everyday viewer who wants to watch those films. He says that his films are easy to watch, cope well with drama rules and carry a message, too. For me, this is the best description of a standard Tibet film.
Directing Kemal Sunal
Kemal Sunal, the most loved actor in Turkish comedy, was featured in 80 movies, about 20 of which were directed by Tibet. Some of these are really ready-made Kemal Sunal films and their sole aim is to make the audience laugh. On the other hand, films like "Tosun Paşa," "Zübük" (a black comedy criticizing politics and politicians) and "Deli Deli Küpeli" (Mad Man, another satire portraying the economic difficulties people suffer under poor administration) are all dimensional films offering more than just plain comedies.
Tibet continued directing films and some theater dramas until his late years. He received the Lifetime Honorary Prize at the Golden Orange International Film Festival in Antalya in 2006.