Turks are proud of their architecture and the history of Turkish architecture, beginning with Turkic mausoleums in Central Asia from the 5th century B.C., includes many structures deserving to be named as "wonders of the world." Everyone should be fascinated by the high standards of architecture built by various Turkish and Turkic dynasties, including the Timurids and the Seljuks, Mamluks and Mughals. The Taj Mahal in present day India and the Blue Mosque in Istanbul are not exceptions beside the eloquent madrasas of Samarkand and Bukhara, and the great mosques of Mamluk Cairo and Ottoman Istanbul. In a word, Turkish history is also the history of an architectural civilization.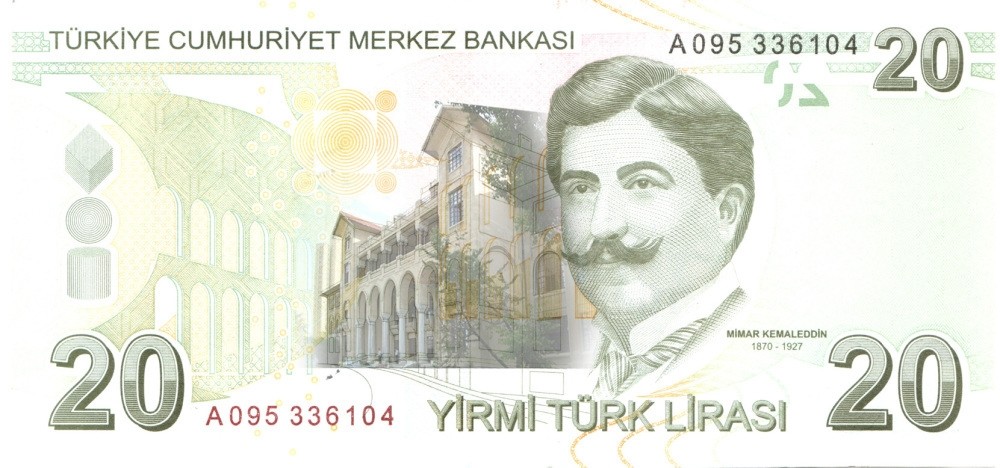 A portrait of Mimar Kemaleddin and the Rectorate Building of Gazi University constructed by him on the banknote of 20 Turkish Lira.
With regard to modern architecture, there is controversy among art historians, cultural interpreters and even architects. Some believe that Turkic architecture has lacked grandeur since the introduction of westernization, while the Republican view hails the so-called "first national architectural époque," also called the neo-classical Turkish style or the national architectural renaissance, which began with "Meşrutiyet" (constitutional monarchy announced in 1908) and ended in 1930. The neo-classical style is generally known for the experimental yet familiar structures built by Mimar ("Architect") Kemaleddin Bey and Vedat Tek. Both were born at the end of the 19th century and produced their best work during the first national architectural époque.
Early life and education
Mimar Kemaleddin Bey was born "Ahmed Kemaleddin" in 1870 in Acıbadem, an upper middle-class neighborhood of the Ottoman capital, Kostantiniyye (later Istanbul). Kemaleddin's father, Ali Bey, was a marine lieutenant colonel in the Turkish navy and served away from home, thus Kemaleddin Bey was brought up by his mother Sadberk Hanım.
Kemaleddin was first schooled in İbrahimağa Elementary School in Kadıköy. He continued his education at a secondary school on Crete, where Ali Bey was assigned. Kemaleddin soon returned to Istanbul and continued his education, admitted at age 17 to Mekteb-i Mühendishane-i Mülkiye (Civil Engineering School, now Istanbul Technical University). Ahmet Kemaleddin graduated with honors as an engineer in 1891, remaining in his alma mater for four years to work as an assistant. He also worked as a private architect and built his first pieces.
When he was a student in the Civil Engineering School, Ahmed Kemaleddin studied under the German architect Jachmundt, who built the Sirkeci Train Station on the European side of the Bosporus. Kemaleddin acted as an assistant to the German master. This is significant since Kemaleddin's works carry elements from contemporary German architecture. In 1895, Kemaleddin was sent to Berlin for graduate studies in architecture at Charlottenburg Technische Hochschule, and he returned two years later.
Teaching and designing
Ahmed Kemaleddin took the place of his master in the Civil Engineering School in Istanbul in 1900. He taught architectural design, which was vital for the future of Turkish architectural culture as well as architectural theory in the School of Fine Arts. Ahmed Kemaleddin was more an artist than an engineer. He said that his studies in mathematics and engineering were modest, yet he was fond of architectural design lessons.
From 1891 until 1909, Kemaleddin Bey designed a series of homes for rich Ottoman bureaucrats. These were wooden houses, while some of them were bigger kiosks.
Kemaleddin was granted the title of "Ottoman Architect" after his graduate studies in Berlin. He married Behire Hanım, the daughter of Halil Pasha, the head of the Municipal Council of Istanbul, after returning from Berlin. He was re-assigned to his job in the Civil Engineering School, and was named as a military architect for the army.
Inventing the new within the old
At the beginning of the 1900s, Mimar Kemaleddin thought about creating national architectural design. The tombs he made for Ahmed Cevad Pasha and Gazi Osman Pasha show his familiarity with the classical Ottoman style, despite his attempts to make new things inspired by modern German architecture. He fell between the standard old and the unknown new.
After "Meşrutiyet," Kemaleddin became more productive. He made a big kiosk for Ahmed Ratip Pasha in the Çamlıca neighborhood, the last wooden house designed by the great architect, which is significant because its design was inspired by Art Nouveau.
Mimar Kemaleddin was appointed Director of Construction and Repairs in the Ministry of Foundations in 1909. He repaired many historical monuments, including big and small mosques, providing him with concise knowledge of the historical architecture of Turkey. Taking from his knowledge of the old architecture, he wanted to innovate a national architecture.
The Ministry of Foundations sought to increase revenues by building foundations to rent to small companies and shops. Kemaleddin designed seven foundation "hans" (a historical mall for shops and small offices), which are located in the old districts in Istanbul; five are still in use.
Mimar Kemaleddin made contributions to his profession in the civil society field. He founded the Ottoman Association for Engineers and Architects, today's Chamber of Engineers and Architects. The association had 21 members, with 11 architects (only three of Turkish origin), yet of the 10 engineers, eight were of Turkish origin, as engineering was more important than architecture among Turks, which is still true today.
Kemaleddin Bey designed small mosques in the Bebek, Bostancı and Bakırköy districts of Istanbul. He built some elementary schools. World War I caused the end of the Ottoman Empire, erasing all of Kemaleddin Bey's personal savings which were in German bonds. Moreover, he lost his job in the Ministry of Foundations in 1919. He tried to earn a living through his private work.
Kemaleddin Bey and Behire Hanım divorced, and 1919-1923 was disastrous for him. Fortunately, people knew and loved him and he designed the Harikzedegan Apartments in Laleli (now a luxury hotel) for poor people who lost their homes during a big fire in the Edirnekapı neighborhood of Fatih.
Restoring Masjid al-Aqsa
Mimar Kemaleddin was hired by the Mufti of Al-Quds (Jerusalem) to repair historical religious buildings, such as the Holy Masjid al-Aqsa and Umar Mosque. This job was a remedy for him, as his letters and writings show him to be in high spirits. He became more religious.
In 1923, Kemaleddin Bey married Sabiha Hanım, a teacher in the Çamlıca School for Girls in Istanbul. In 1924, the leaders of the newly established Turkish Republic called him back to Turkey to finish construction of the Ankara Palace Hotel, a diplomatic hotel for the Republic. Kemaleddin returned to Istanbul after visiting Ankara in 1925 to finish the construction. He was re-assigned to his job in the Ministry of Foundations in October 1925. He designed many state and private buildings that made Ankara flourish as the capital city of the young Republic.
However, happy days did not last long in Ankara. The newly rich in Ankara were harshly critical of his work. Their mentalities clashed. Reformist architects replaced him. Yet he continued to make new state buildings in Ankara, including the famous Gazi School for Teachers, now used as the Director's Office of Gazi University. Gazi School is accepted as the last work of the national architectural movement.
Kemaleddin Bey died from a cerebral hemorrhage on July 13, 1927, , while he was trying to finish an architectural design in his office. His body was brought to Istanbul in a special wagon and buried in Nuhkuyusu, next to Karacaahmet Cemetery. After the Nuhkuyusu neighborhood was reconstructed, his grave was temporarily lost and later brought to the Bayezid Mosque on the European side of the Bosporus, due to road construction from Kadıköy to Üsküdar along Nuhkuyusu Caddesi. Can Çinici and Zeynep Mennan designed a new grave for him, which was constructed in 2007. Sadly, the Çinici-Mennan design carries no trace of the great architect's style.