The presidency has been the highest representational rank of the state since the foundation of the Republic. Although the Prime Ministry will remain the head of executive power until the next elections, according to the latest constitutional amendment voted on and accepted on April 16, 2017, the presidency has always held a psychological supremacy in public opinion. Presidents have represented the whole nation, especially in an emotional sense.
In 1995, the presidency initiated a special award, the Presidential Culture and Arts Grand Award, to be presented by the president to people who "have made prominent contributions to the cultural and artistic life of Turkey, and who have worked for the sublimation of Turkish culture and arts according to the Presidential Culture and Arts Grand Award's regulations.
Former President Süleyman Demirel, who served between 1993 and 2000, presented the first Presidential Grand Awards to painter Burhan Doğançay, novelist Adalet Ağaoğlu and musician Şefika Kutluer. Demirel went on to present three awards for the next four years. The next president, Ahmet Necdet Sezer, presented the awards only once in 2005.
The awards have been presented every year since 2008. After being elected to the post in 2014, President Recep Tayyip Erdoğan increased the number of award winners. During Erdoğan's term, five or six people have been awarded every year.
The 2017 winners were announced on Oct. 29, Republic Day, as historian İlber Ortaylı, musician Göksel Baktagir, filmmaker Yavuz Turgul, Islamic calligrapher Ali Toy, painter Selahattin Kara and late philosopher Nurettin Topçu. We have introduced İlber Ortaylı, Yavuz Turgul and Nurettin Topçu previously. Let us take a closer look at the other award winners.
Göksel Baktagİr
Göksel Baktagir is known for his virtuoso kanun playing, a string instrument used in classical Turkish music. Mentioned by al-Farabi, the kanun has played a key role in Turkish classical music. Baktagir was born in 1966. He received music lessons from his father, Muzaffer Baktagir, before being admitted to the Turkish Music Department at Istanbul Technical University's (İTÜ) Turkish Music State Conservatory in 1988. He continued with his graduate studies at the same school. Meanwhile, he was appointed as a kanun player in the State Turkish Music Ensemble. Baktagir has played kanun in Turkey and Europe on various occasions with several ensembles. The kanun virtuoso is a composer as well, with about 400 compositions to his name. Many of his compositions have been accepted in the Turkish Radio and Television (TRT) repertory. Baktagir has been developing his unique left hand technique since 1984, along with other kanun playing techniques. Recognized as one of the leading artists of our time for traditional Turkish kanun, he has pushed himself to discover the instrument's full potential and has challenged its limits. He has also broadened his perspective to other musical styles in the world, creating superb pieces in a variety of genres such as new age and jazz and performed with several well-known musicians in Middle Eastern and Western music.
Ali Toy
Toy is known as the modern architect of classic Islamic calligraphy because he is both an architect and an Islamic calligrapher. Born in Tavşanlı, Kütahya, in 1960, he graduated from İTÜ's Architecture Department in 1988, and continued his graduate studies there. He received private lessons for 10 years and finally received a classical Islamic calligraphy diploma from Ali Alparslan.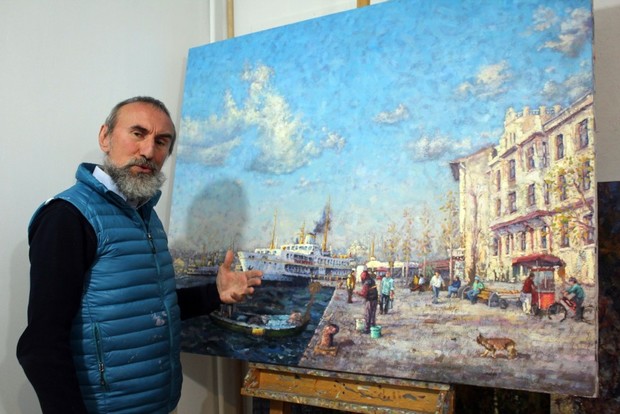 He is known for his works in the taliq, riqa and diwani styles, which are very tough variations of Ottoman calligraphy. He combines architectural and geometrical lines with classic styles of Islamic calligraphy, which was also mentioned in the award announcement. Toy is indeed very experimental. Much of his work reflects some kind of intended naivety.
Selahattin Kara
Born in 1958 in Çayeli, Rize, Kara graduated from the Painting Department of Atatürk Teachers' Institute in 1978. He worked as a painting teacher between 1979 and 1984. In 1984, he resigned and opened his workshop in Ortaköy, Istanbul. Kara took part in several group exhibitions while at the same time creating more than 30 personal exhibitions showcasing his impressionist style. The settings of his paintings are always Istanbul. The award announcement also mentions his focus on Istanbul, saying: "Selahattin Kara, who is known as a city painter, is indeed a painter of Istanbul, which is picturesque in nature." Kara says he has created more than 800 paintings of the city.