Old Istanbul was a wonder, most of which we have lost while the remains are surrounded by dull modernity. What all we know about the old city of Istanbul comes from memoirs of gentle Istanbulites, city historians and thankfully paintings of Turkish and foreign artists of the 19th century and before.
Perhaps, the painter to be revered most for Istanbul paintings is Hoca Ali Rıza, the soldier-painter who dedicated his life to portray the city's fabulous environment, especially the epic Bosporus.
Early life
Hoca Ali Rıza was born in 1858 in Üsküdar, Istanbul. Though some sources claim that he was born in 1857 or 1864, his personal notes, which he left to Süheyl Ünver the famous Üsküdar historian, are precise for his birth year and place. He was born in the Ahmediye neighborhood of Üsküdar as the son of Mehmet Rüştü Bey from Üsküdar, a cavalry major who was an amateur Islamic calligraphist.
Ali Rıza's family seniors, who were civil or military Ottoman bureaucrats and fond of the arts, helped Ali Rıza learn the art of painting early on. He used to draw pictures on his school books, which he never threw away but kept among his notes until the end of his life.
In 1878, Ali Rıza was enrolled at the Mekteb-i Harbiye where he managed to have a painting atelier opened, after graduating from the Kuleli Military School. Ali Rıza received painting lessons from the art lecturers of the Mekteb-i Harbiye including Osman Nuri Pasha, one of the first soldier-painters, Süleyman Seyyid and Monsieur Kes.
In 1881, while still at school, Ali Rıza was awarded by the Sultan Abdülhamit II for his artistic endeavors.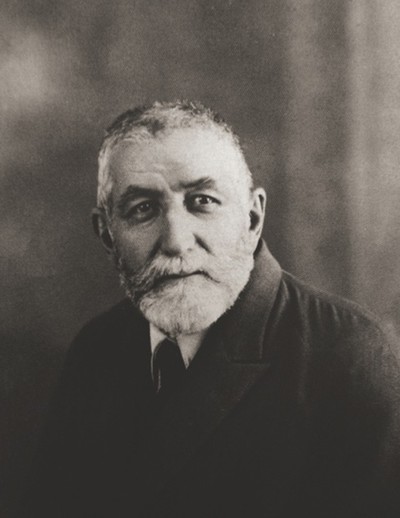 "Hoca"
Ali Rıza graduated from the Mekteb-i Harbiye with the rank of lieutenant in 1882 and was appointed as an assistant lecturer of painting at the school. His nickname "Hoca" (meaning Lecturer or teacher) comes from his life-long work as an art teacher in civil and military schools.
Officials decided to send Ali Rıza to Naples to continue his art studies and painting abroad. However, he never made it to Naples due to the city's widespread cholera epidemic at that time. Thanking to his skills, Ali Rıza became head painter at Military School Printing House. He prepared three drawing books for military students, including 30 models, to help them develop their drawing skills.
In 1891, Ali Rıza joined a commission that made explorations in the old capitals of the Ottoman State. He made sketches of the architectural monuments of the full Ottoman era.
In 1895, he created texture designs for the ceramics of the Royal Ceramics Factory established by Abdülhamit II. Two years later, he met Fausto Zonaro, the famous orientalist painter best known for his work portraying the Ottoman-Greek War of 1897. Ali Rıza also made many battle paintings during the war.
In 1903, Ali Rıza was assigned to paint a typology album for old Ottoman dresses. He was also assigned to a commission to establish the "Türk Esliha-i Atika Müzesi" (Museum of Turkish Antique Weaponry).
Ali Rıza became the chairman of the Ottoman Painters Association after the 1908 revolution. Later he retired from the military for health reasons and began working as a civil painting teacher at several schools, including the Art School for Girls, the Art School for Boys and Çamlıca Girls' School.
Istanbulite
Hoca Ali Rıza lived modestly in a rental house in Üsküdar for his entire life. His only income was his salary as a teacher. Though he is said to have made more than 5,000 paintings and drawings, he never sold any. He was too embarrassed to bargain for a painting. He used to give his painting as gifts to the people he loved.
Ali Rıza opened his first solo exhibition in 1909 at the lounge of the Üsküdar Port.
The soldier-painter was famous for his speed in making charcoal drawings and watercolor paintings. Ali Rıza is a true impressionist and like many impressionists, he loved the open air and drew and painted many Istanbul landscapes. He generally chose locations at or near the Bosporus. He interpreted the city life and landscapes in old neighborhoods such as Bebek, Arnavutköy, Burgazada, etc. Yet, his most loved place was Üsküdar, his home community. His best paintings include "Üsküdar Under Snow," "A Street From Üsküdar," "The Street Opening to The Sea," "The Yalı with the Hyacinths" and "Maiden's Tower."
Hoca Ali Rıza died on March 20, 1930. His children held a retrospective exhibition after his death. The late art historian Celal Esat Arseven included some of Ali Rıza's paintings in a collective exhibition held in Paris. His pieces have been scattered to various official and private collections since he loved to give his paintings as presents. Over the years, Hoca Ali Rıza's art has been praised posthumously and considered a significant part of modern Turkish art history.