Osman Hamdi Bey, a prominent cultural figure of the early Turkish Westernization, had many roles including museum founder, archeologist, lecturer and public administrator. However, he has been best known for work as a painter. Unlike his literary peers, Osman Hamdi had no traditional period and began directly with the Western style, perhaps because of two significant reasons. First, he was one of the members of the second generation of a notable family who had converted to Islam. Second, he received his art education in France, where he was sent to learn law.
Early life
Osman Hamdi Bey was born on Dec. 30, 1842 in Istanbul to İbrahim Edhem Pasha, an Ottoman grand vizier. Ibrahim Edhem was originally a Greek orphan from the Chios Island adopted and raised by Hüsrev Pasha, the Ottoman navy commander at the time. Osman Hamdi Bey later wrote that his father belonged to the Skaramanga family of Chios, which İbrahim Edhem Pasha never talked of. He always tried to erase his Greek past.
Osman Hamdi was first schooled in Beşiktaş, Istanbul. He enrolled at the School of Law in 1856. However, he was sent to France to continue his studies on law in 1860. Later, he left the Law School for Ecole de Beaux Arts. He trained in the art of painting under two French orientalists, namely Jean-Leon Gerome and Gustave Boulanger. Both were figure painters with classical and orientalist attitudes in style, which had a great impact on Osman Hamdi.
Osman Hamdi met the Young Ottomans in Paris; however, he did not join their political activities and stayed loyal to the Sultan Abdülaziz, who himself visited Paris during the Exposition Universelle held by the Emperor Napoleon III in 1867. Osman Hamdi joined the Turkish exhibition of the event with three paintings, none of which survived.
The young artist also met his first wife, Marie, who was a French woman, in Paris. They married in Istanbul in 1869 and had two daughters.
Public administrator
After his return, Osman Hamdi was sent to Baghdad by Mithat Pasha, the grand vizier preceding İbrahim Edhem Pasha. After working two years as the Director of Foreigners Issues in Baghdad, Osman Hamdi returned back to Istanbul in 1871. He dealt with the protocol issues of the foreign missions in Istanbul. Sultan Abdülaziz sent him as the Commissioner for the Turkish Exhibition in Vienna opened in 1873. During the 1870s, Osman Hamdi worked as a public administrator.
In 1881, the path Osman Hamdi walked changed as he was assigned as the director of the Müze-i Hümayun (The Imperial Museum). The following year, he founded and began directing the Academy of Fine Arts. Besides, he made some significant archaeological excavations in Ottoman territory. Many findings of Osman Hamdi's excavations are still exhibited at the Istanbul Museum of Archaeology.
Archaeologist and artist
Osman Hamdi prepared a special regulation for the archaeological issues in Ottoman territory. The regulation banned foreigners from smuggling archaeological findings to foreign countries, which has been vital for Turkish archaeology till today.
The archaeologist worked hard for the foundation of a special museum and he managed to open the first part of the Istanbul Museum of Archaeology in 1899, while he opened the second part in 1903 and the third in 1907.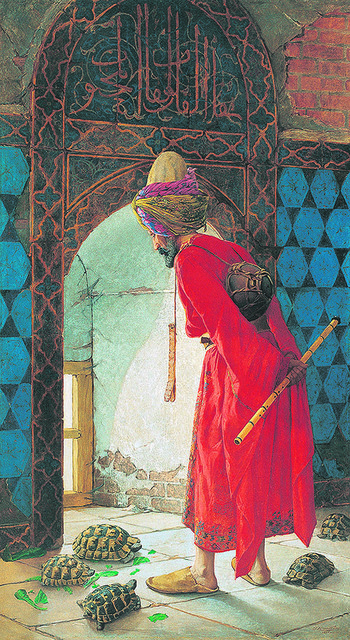 Osman Hamdi's first love was painting. He followed his orientalist masters and made many figurative paintings aimed at showing an enchanting image of the Ottomans from the perspective of a kind of self-orientalism. His most famous paintings always tend to show anonymous Ottoman individuals within a fabulous environment.
"The Tortoise Trainer," the most famous painting of Osman Hamdi which was sold for a record price ($3.5 million) in 2004 focuses on an imagined "tortoise trainer" who would have lived during the Tulip Era of the early 18th century. Indeed, we have no historical information about the tortoises and their so-called trainers from that era. Osman Hamdi's painting is dependent on imagination. Yet, the painting has gained great success since it perfectly reflects the orientalist need in imagining fabulous Ottoman people in their epic life.
On the other hand, Osman Hamdi was not merely a disciple of his orientalist masters. His paintings are also valuable for differentiating the Ottoman and Islamic image compared to those of the orientalists. Typical orientalist painting offers a type of vicious sexual hedonism and savagery of the Ottoman Muslims, while Osman Hamdi paintings are like the scenes of a slow and dull life. The typical European orientalist painter would create an image of half (if not fully) naked "harem women" as the sex slaves of the savage sultan. However, Osman Hamdi offers the "Girl Reciting the Quran," which shows a modest young Muslim woman.
Edhem Eldem, a Turkish historian, argues that Osman Hamdi Bey was a part of the "civilization project" of the Tanzimat era of the Ottoman State. Eldem does not accept that Osman Hamdi really challenged Orientalism as one of his letters suggests, in which he writes: "With the exception of my dear family and a few others, please, Dear Father, just look around you! What do you see in families? Nothing but corruption, depravation, fights, divorces. They are infested by slavery and lose their morality to odalisques... Please note, my Dear Father, that by demolishing in such a way our customs, which are no longer those of the Muslim, I am not praising European customs either. I have many objections to them, too, but nevertheless, I must say that I prefer them if only because they are generally depraved, corrupt and immoral only outside the marriage."
We cannot finalize the debate on Osman Hamdi's orientalism or counter-orientalism. All we know is that he was educated by and adopted the artistic style of French orientalists and he made works in line with that style with many peculiarities and differentiations. Osman Hamdi provided us with a more dignified image of the Ottoman self compared to the "Muslim savage" of the old-school orientalist painters.