Turkish cinema has relied on leading actor roles for decades. The "jeunes," or the handsome male actors to be precise, conveyed cinema to the masses. Though Turkey has had a strong auteur cinema, people still prefer to watch films relying on the leading actor, "jeune" or not.
The "jeune" cinema began with Ayhan Işık films in the early 1960s. The producers needed more actors to make more films, and they decided to open acting contests via media. Some popular magazines such as "Ses" ("Voice") held contests to select male and female stars with or without any acting education or experience.
Fikret Hakan, one of the "jeunes" who came from stage acting originally, once said that after completing his military service between 1958 and 1960, he returned to a "totally different cinema [environment]" since a leading actor was asked to make more than a dozen films every year. Hakan said, "You couldn't even sleep as long as you wished. You had to wake up early every day and walk to the studio for the new film."
The "Ses" contest introduced many leading actors and actresses to Turkish cinema including Tarık Akan, Ediz Hun, Hülya Koçyiğit, etc. Kadir İnanır joined the "Ses" contest in 1967 and was shortlisted for the finals; however, he couldn't take first place. İnanır joined another contest in 1968 held by "Saklambaç" newspaper and began his acting career after that.
Early life
Kadir İnanır was born on Apr. 15, 1949 in Fatsa, Ordu in the Black Sea region. He was the youngest of 14 siblings. He was first schooled in his hometown before he moved to Istanbul in order to enroll at the Haydarpaşa Boarding School.
After graduating from the Haydarpaşa High School, İnanır enrolled at the Radio-Television department of the Marmara University.
İnanır is said to have taken up roles at his school theater in his early grades. However, he made up his mind to become an actor while he was studying at university. He joined contests and took his first job as a photo-romance actor for newspapers.
From 1968, when he won the "Saklambaç" contest, until 1970, when he received his first leading role with Türkan Şoray in romantic drama "Kara Gözlüm" ("My Black Eyed One"), İnanır took minor roles in films alongside his acting in photo-romances.
In an early interview he gave to the Ses magazine, he said that his friends mocked him as "photo-romance kid," but this did not hurt him and he would try his best to become a significant actor for the white screen. "I have years before me," he said to the reporter, "One day I will have my own word for the cinema. Today, I try to learn what cinema is." He succeeded in doing exactly what he said.
The Ses reporter writes, "Kadir İnanır has a romantic face. On the other hand, he is a cultured kid. He is enrolled in journalism school. Yet, when I asked him whether he wished to become a journalist, his answer was a simple 'No.' Instead, he says he studies at the university to enhance his culture."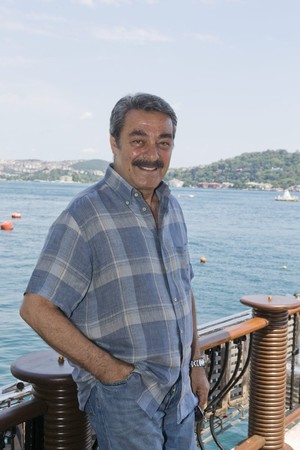 Türkan-Kadir duo
Atıf Yılmaz's "Kara Gözlüm" was not an artistic piece, though it was a box office success. More importantly people enjoyed seeing him play alongside Türkan Şoray.
Atıf Yılmaz gave Kadir İnanır more chances and made him play the leading male role in "Utanç" ("Shame") with Filiz Akın as the leading female role in 1972. The film was a romantic drama with a social point of view and looked at the "Acı Hayat" ("Bitter Life") of great auteur Metin Erksan. Kadir İnanır won the Golden Orange for the leading male actor for his role in "Utanç," making him one of the most famous actors in Turkish cinema.
İnanır played the unfortunate Turkish villager Ali, who was declared dead while serving for the Turkish army in the Korea War. Ali's wife is made to marry Ali's little brother according to local customs, which turned out to be a tragedy, as Ali shows up, not dead but just injured in Korea.
Turkish people loved such family tragedies and İnanır played many tragic roles during the 1970s. The producers used the Türkan Şoray-Kadir İnanır duo to get more of box office profits
The woman in the red scarf
İnanır and Şoray acted together in "Selvi Boylum Al Yazmalım" ("The Girl With the Red Scarf"), an adaptation of a Chinghiz Aitmatov story, in 1977, which became one of the most loved cults of the Turkish cinema. İnanır played his best role since this was not a one-dimensional (handsome young man with a tragedy) role like his previous roles. The film became a triumph; Türkan Şoray, Kadir İnanır and Ahmet Metin stepped forward in the line of movie stars.
İnanır acted in some political films, or drama films with a political aspect in the last part of the 1970s. He did not want to stay as a "jeune" only. He was among the leftist actors. On the other hand, İnanır chose more dramatic and populist roles than for example Tarık Akan, another natural-born "jeune" who became a leftist political actor in later years. Akan preferred to play the organized leftist or struggling poor guy, while İnanır always chose more complex roles such as his role in "Yılanların Öcü" ("Revenge of the Snakes," 1985), which scored him another Golden Orange.
İnanır played in more urban films in the 1980s. He was rewarded again for his acting in "Medcezir Manzaraları" ("Landscape of a Tide," 1989) at the Ankara Film Festival.
Ramazan the Tatar
Kadir İnanır became a living legend after his role in "Tatar Ramazan" ("Ramazan the Tatar," 1990), which is the epic story of a convicted man with a deep sense of manhood and justice. Ramazan is in prison for murder, which he committed to protect his fiance. The son of the "agha" (landlord) in his village seeks to have him break up with his fiance and marry her instead of him. The villain attacks him, but is killed by the knife of the hero. After being sentenced to eleven years in prison, Ramazan tries to keep calm, but injustice do not leave him alone. The "agha" of the prison sells drugs and oppresses people. The text implies that the oppressive order continues whether you are in or out. Ramazan finally encounters the oppressor.
Though shooting had many difficulties and the sound and color was a mess, "Tatar Ramazan" became an epic cult favorite. İnanır then made a second film "Tatar Ramazan Sürgünde" ("Ramazan the Tatar in Exile"), about the later events of his confrontation with the "agha" in prison.
Kadir İnanır acted in a couple of movie films and TV series after "Tatar Ramazan" films. However, "Tatar Ramazan" was the peak of his acting career. We can say that the "Tatar Ramazan" character is the epic finale of Kadir İnanır in film.
İnanır declared that he would end his career with a final film in 2018. However, he was hospitalized in February due to a brain vein blockage. Fortunately, he got better and recovered soon after that.
İnanır has taken a role in politics from time to time, too. He was among the "Akil İnsanlar" ("The Wise People") group, organized by then-Prime Minister Recep Tayyip Erdoğan, which worked with the public in order to find a solution for the "Kurdish issue" in Eastern Turkey.