Among the movements in modern Turkish painting, the Newcomers group was the one that rejected nonfigurative, individualistic and apolitical art in the 1950s. Though some of them, Turgut Atalay for example, tried to reach a mixed genre, or Nuri İyem who gave touching examples of individualistic figurative (the famous "sad eyed woman") the Newcomers stood for the figurative, political and class-oriented national. Under the heavy influence of Soviet socialist realism, they created a pathetic mood for the figures they painted.
The abstract-figurative dichotomy has continued for decades. Neşet Günal followed the figurative or realistic path by making certain deformations on the figures he painted. Though the Newcomers painted figures for a political reason, Günal's approach can be described as a figure for its own sake. He has painted poor villagers like his masters; however, he preferred to show their difficult situation by deforming their hands, feet and clothes. Günal's villagers, mostly the old ones, the women and the children, are unexpressive as they are frozen and rude in appearance.
A member of the "Yeni Dal" (The New Branch) group, Neşet Günal also lectured at the State Conservatory. One of his students, Neşe Erdok, would become a major artist and create her own style beyond her professor's impact.
Early life
Neşe Erdok was born on Aug. 26, 1940 in Üsküdar, Istanbul. Her parents were originally from Skopje. Her father Şinasi Erdok was a military officer. Because of his job, the Erdok family moved from town to town frequently. Neşe was first schooled in Üsküdar, but she continued elementary school in Ankara. When she was admitted to the secondary school, they'd already moved to Erzincan.
Erdok says that the first moment she realized that she had the talent of a painter was in painting class in the first grade of the Erzincan Secondary School. The painting teacher, Turgut Minez, a graduate of the Fine Arts Academy in Istanbul, realized her gift and asked her to draw a classmate sitting on a chair. Minez advised her to enroll at the Fine Arts Academy.
She was sent to Germany in order to learn German for one year. After her return, she graduated from the Paşakapısı Secondary School in Üsküdar, Istanbul. She also graduated from the Fıstıkağacı Girls' High School in Üsküdar before she enrolled at the Fine Arts Academy.
Neşet Günal atelier
Erdok studied painting under Neşet Günal's instruction between 1959 and 1963. She was admitted to the Bedri Rahmi Eyüboğlu atelier initially; however, Günal would instruct students since Eyüboğlu was visiting the United States at that time.
Günal had a great impact on her. Though she names Spanish painters such as Velazquez, Goya, El Greco and Zurbaran as great influencers, their influence seems to be intellectual rather than stylistic as she mentions them as the "tragic side in Spanish painting," which is also reflected in her art. Her style resembles more closely with the Dutch painters Bosch and Rubens, whose paintings she saw in Spanish museums. Nonetheless, her initial influencer was Neşet Günal, her professor at the Fine Arts Academy.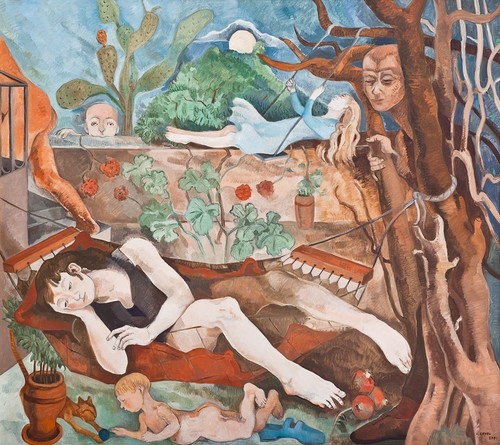 Neşe Erdok, "Adahan Hotel," 180x200 cm, 2001.
Erdok never accepts that she has been a part of socialist realism in painting, though many interpreters have sought to place her there. She thinks that her painting is not political at all. She defines her art as the painting of the subaltern or about the forgotten or unrecognized ones. She is completely right in this regard since she has always painted the unnamed nobodies with a depressed look. She answers a related question as follows: "I didn't paint the workers, but I painted the street sellers. Because I was interested in people I saw in my city, they were picturesque to me. I'm not into socialist realism, but I'm into realism in general."
Studying in Europe
Neşe Erdok studied Spanish, literature and culture in Madrid for the 1965 academic year before she was sent to Paris to study with French lecturers between 1967 and 1972. She remembers Chapelain Middy and Pierre Matthey de Etang, her professors at the Ecole Nationale Superiore de Beaux-Arts as medium artists. She refuses any connection with them in the sense of style. She didn't like the rationality of the French painting from the very beginning, though she was fond of the cultural environment in Paris. Besides, Erdok witnessed the 1968 youth riot in Paris, though she never conveyed this to her painting.
Erdok was sent to France in order to learn enough to be a professor at the Fine Arts Academy after her return. She began working as a professor beside Günal in 1972. She says that Günal was difficult because of his punctual and meticulous attitude. This can also be visualized through his paintings. On the other hand, Erdok does not seem meticulous in any sense. Her painting is even rough; however, most of them have a direct impact on the audience thanks to dramatic sensitivity.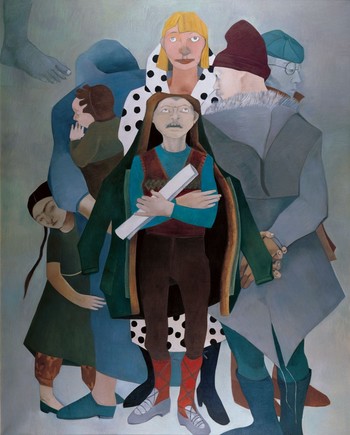 Professor
Neşe Erdok earned her Ph.D. in 1977 with her thesis "The Look-Space Dialectic in the Figurative Painting." She opened her first solo exhibition at the Fine Arts Academy. In 1978, she joined the "Turkish Painting" exhibitions in Moscow and Baku.
In 1981, she gained the Assistant Professor title through her dissertation "Portrait is a Social Signal." The same year, she won the Vakko prize, the first of many. Erdok became an attending professor at the Istanbul State Fine Arts Academy in 1990.
Erdok retired in 2008 after thirty-six years of lecturing.
Mehmet Ergüven wrote a book about Neşe Erdok in 1997, followed by Oğuz Erten's monographic book published in 2018, while the latter was supported by a retrospective exhibition held at Bozlu Art Project Mongeri Building.
Erdok has sold hundreds of paintings so far. Some of her pieces have been exhibited at museums such as the Istanbul State Statue and Painting Museum, the Istanbul Modern Art Museum and the Norton Simon Art Museum in the United States.