Turkish cinema relies on young male actors, known as "jeunes," although the role has occasionally been criticized by various people including film critics, cinema historians and even actors themselves, stating that the jeune type is a mere cliche. The critics think that real depth is in character roles, which have gained importance recently.
Ahmet Mekin, who has played both the jeune and character roles, criticized his fellow actor from the film "Selvi Boylum Al Yazmalım" ("The Woman in the Red Scarf"), Kadir İnanır for having been possessed with his jeune role in movies. Mekin told a reporter that an actor should not sink into his role too much, since this may force him to mix film scenes with real life. Mekin deliberately refers to the term "Kadirism," meaning that Kadir İnanır sometimes behaves as though he is the Mafioso character he plays in some of his films.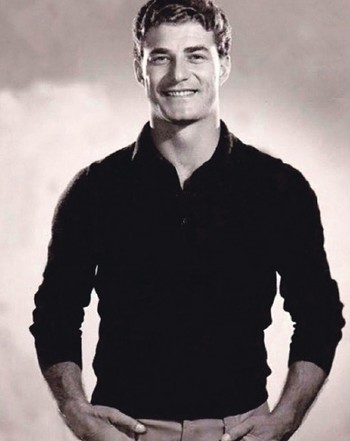 Ahmet Mekin as a young actor in 1962.
Indeed, the two played male rivals in a love triangle in "Selvi Boylum Al Yazmalım" in the late 1970s, in which Mekin's role represented the responsible and patient "in the corner" man, while İnanır's role was the irresponsible and unreliable playboy. This is ironic since that clash of roles is repeated in Mekin's criticism against İnanır's approach to acting. Because of that irony, one can call the counter approach, that of Mekin's, as "Mekinism."
Early life
Ahmet Mekin was born "Ahmet Kurtdereli" on Aug. 6, 1932 in Istanbul to a family originally from Kars, northeast Turkey. Unlike many other Turkish actors, Mekin was not truly interested in acting. He was rather fond of sports in his youth. His friends called him "Filiz Ahmet" ("Sapling Ahmet") because of his thin but tall physique.
Mekin was an amateur wrestler and football player. He played for Bakırköyspor, which is one of the rooted football clubs of Istanbul. He suffered a severe injury during a match while scouts were watching him on behalf of big teams in Istanbul. Thus, he quit football and found another hobby: stage acting.
On the stage
Ahmet Mekin began acting on the stage of Bakırköy Halkevi ("People's Culture House"). He was very confident on the stage though he had no official training for stage acting. His first role was in a play called "İttihat ve Terakki" ("Union and Progress"), which was a historical play about the rise and fall of the Union and Progress Committee. In 1957, Kenan Pars, a famous film actor, gave him a role in a film. Pars and Mekin were friends from the neighborhood and he told Mekin that he may feel anxious once he stands before the camera. However, Mekin told his friend, "I can act as much as you can." He jumped into the scene and played his role without any sign of anxiety.
Mekin says, "I have never sought to be an actor. Kenan Pars was a friend of mine from Bakırköy. The producers asked him to convince me to act. I started the profession for the sake of money. The producers offered me a lot of money. I still don't like filmmaking much. I like some part of it, maybe some of my roles. But I don't feel passionate about it. I enter the film set and do my job, that's all."
Unwilling jeune
Ahmet Mekin played the sympathetic and handsome jeune in dozens of films from the late 1950s until the late 1970s. Though he carried no passion for those roles, he did well and the watchers admired him as they admired other handsome jeunes such as Ekrem Bora, Ediz Hun and Ayhan Işık, without paying attention to the quality of acting.
Mekin acted alongside every famous jeune of the 1960s and 1970s including Kenan Pars, Hüseyin Baradan, Ayhan Işık, Ekrem Bora, Eşref Kolçak, Sadri Alışık and Kadir İnanır. He generally played the silent and mature young man, good or bad, or rather ambiguous, with reason. He was chosen for historical roles including a British spy, a Turkish war hero, a bureaucrat and so forth. He was cool but smooth.
A full character
I think Mekin's first progressive role was a complex character, a Turkish worker in Germany who had a serious affair with a young German woman who he leaves, in "Bir Türke Gönül Verdim" ("I Lost My Heart to a Turk"), seen as a classic drama of Halit Refiğ, one of the major directors of Turkish cinema.
Though Mekin acted in many market films after "Bir Türke Gönül Verdim," his acting however reached maturity just before he acted in the film "Düğün" ("The Wedding") of the great auteur Ömer Lütfi Akad in 1973. He played the mature and patient lover of a young woman, who sacrifices her future with her lover for her siblings.
Everyone can agree that "Selvi Boylum Al Yazmalım" was the peak of Mekin's career. He played "Cemşid," who helped, loved, waited and united with a desperate woman, who had been impregnated and left by her unreliable lover, played by Kadir İnanır. Cemşid was the most silent role of Mekin, yet he was the real legend thanks to his easy and polite stance. Cemşid's role was not the usual protective and manly behavior. Instead, his attitude in the film was the glimpse of early feminism in Turkish cinema. Cemşid is not in the front, he prefers to stay behind Asya, the woman in question. Asya's inner voice declares the political posture of the movie at the end: "What is love? Love is goodness. Love is friendship. Love is elbow grease."
Ahmet Mekin played yet another complex character in "Bir Adam Yaratmak" ("Creating a Man"), a television mini-series adapted from Necip Fazıl Kısakürek's play with the same title, directed by Yücel Çakmaklı.
"Kavanozdaki Adam" ("The Man in the Jar") was another dramatic TV series directed by Mesut Uçakan. "Kavanozdaki Adam" offers us the philosophical dilemma of a writer, who is mourning the death of his beloved son. I suppose nobody other than Ahmet Mekin in the Turkish cinema market could play such a complicated and difficult role with such ease and power. He never overacted a single moment, even though the entire role relied on his speech, gestures and stance. Mekin continued acting in TV series and movies. However, he left Istanbul for Erdek, a seaside town on the Marmara Sea, in 1998.