After the established poems of the first generation of "syllabic meter" poets who used patterns, meters and rhymes, Turkish poetry turned its face to "vers libre" ("free verse"), denying all three disciplinary rules. Orhan Veli and friends attacked the meter, rhyme and rhetoric model of conventional poetry of the early republic. A rivalry soon emerged between the young and old poets, which was later won by the young backed by the single-party rule.
Critics and historians love to divide Turkish poetry into generations with labels like the "syllabic meter poets" and the "poets of verse libre." This sharp division ignores those who fall in-between. Some poets were using rhymes and meters to show off, such as Necip Fazıl, while some others like Ahmet Muhip tried to hide their rhymes and meter from their audience by using mild versions of the techniques.Early life
Ahmet Muhip Dıranas was born in 1908, in the year of the revolution, in Istanbul. His father Galip Efendi was an illiterate villager from Sinop. Galip Efendi moved to Istanbul to work as a firefighter. He married Seniha Hanım, an Istanbul-born literate young woman. They had two children, Ahmet Muhip and Fehime.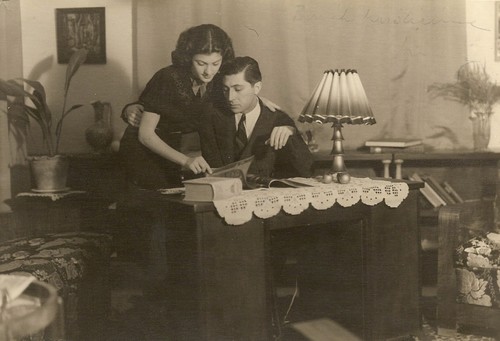 Ahmet Muhip Dıranas with his wife Münire Dıranas.
Galip Efendi joined the army in 1912 when the Balkan War erupted. After two years of fighting, he was sent to Gallipoli when the Allies, including Britain and France, attacked the Dardanelles in a strategic campaign of World War I.
Seniha Hanım, Ahmet Muhip's mother was the daughter of Salim Efendi, who was a dervish in Üsküdar. Seniha Hanım suffered a pockmarked face.
After the war, Galip Efendi decided to return to his village in Sinop instead of Istanbul. So, he left his wife and two kids in Istanbul and remarried in his village; however, Seniha Hanım didn't give up and found her husband with his new wife in the village of Salı in Sinop's Erfelek district. After a fierce fight, Seniha Hanım succeeded in separating her husband from the new wife. After that they settled in Sinop city, Ahmet Muhip started school there.
Dıranas loved nature. He used many images of nature in a romantic light. He felt that nature was heaven on earth. The roots of his imagery of nature are based in his experience in Salı village, which he called "the village of the father."
Dıranas often reflected on the influence that Numan Bey, his elementary school teacher, had on him. Numan Bey inspired Dıranas' love of poetry.
The Dıranas family moved to Ankara in 1921. The father began working in the arms factory of the military. The family lived in a small house in Hamamönü, a poor neighborhood in old Ankara. Dıranas always reflected on those years fondly. He said, "Nobody can erase the footsteps of my childhood from the streets of Hamamönü."
Young poet
Like many of his peers, Ahmet Muhip Dıranas began writing poetry very early. In his last year of middle school, he wrote his first poem. He published his early poems in "Talebe Mecmuası," an amateur school journal.
His big break came from Abdullah Cevdet, the famous writer and publisher, who met young Ahmet Muhip and published one of his poems in the "İctihad" ("Opinion"). The piece was called "Köpek Havlaması" ("Dog's Barking"), detailing the death of Ahmet Muhip's uncle who suffered from tuberculosis.
Faruk Nafiz, a major poet, taught Ahmet Muhip during his last grade of secondary school, which he remembers as a great chance for him. "Faruk Nafiz walked around Ankara like a poetry god at the time," he said, speaking about his first master. Faruk Nafiz actually criticized one of Ahmet Muhip's poems and advised him not to write poetry but to concentrate on his classes.
Ahmet Hamdi Tanpınar was also working at the same school as a teacher. Some friends of Ahmet Muhip showed the same poem to Tanpınar. He wanted to see the young poet and supported his writing despite Faruk Nafiz's negative attitude toward the young boy. Tanpınar made Ahmet Muhip read Charles Baudelaire, who influenced him deeply.
Among prominent poets
Dıranas enrolled at law school in Istanbul and continued publishing his poems in periodicals. He was welcomed into the inner circle of modern Turkish poetry, which included figures like Cahit Sıtkı Tarancı, Orhan Veli Kanık, Fazıl Hüsnü Dağlarca and others.
Dıranas left school and returned to Ankara to work at the Hakimiyet-i Milliye (National Sovereignty) newspaper. He received a post at the library of the Fine Arts Academy. He enrolled in the Philosophy Department of Istanbul University, which he would also leave, and returned to Ankara in 1938.
Ahmet Muhip married Münire Hanım, a 17-year-old girl, at the age of 32. He served his military duty in Ağrı for three years, which inspired one of his masterpieces. It was then that he wrote his imagist poem "Ağrı." Ağrı is both the name of Ağrı province and Mount Ararat and means "pain" in Turkish as well.
Dıranas' poetry depends on pathetic human feelings carried by natural images. He uses nature as an empathic source for the expression of sadness and love.
Dıranas worked as a civil servant for years. Meanwhile, he wrote columns in newspapers. He was a parliamentary candidate in the 1950 and 1958 elections for the People's Republican Party (CHP) but was never elected to Parliament.
Dıranas published his one and only book of poetry in 1974, two years after his retirement. The poet died on June 21, 1980 in Ankara. His body was buried in his "village of the father" in accordance with his personal will.