Cinema is a powerful discipline that overcomes borders and impossibilities. It brings differences together. In this sense, the 8th Malatya International Film Festival (MIFF), which was launched with a red carpet and an opening ceremony on Nov. 9, will present renowned and veteran artists with awards and showcase their work. The main theme of the festival this year is "Cinema Makes the Far Close."
Providing a common ground that brings people together, the festival presents a meaningful meeting of cinematic works with an inclusive perspective and support for local Turkish films. Based on this understanding, a rich international program that includes original films from various countries around the world was created. These international films are set to compete in the International Feature Film Competition and the International Short Film Competition of the festival along with the National Feature Film Competition and the National Short Film Competition.
The esteemed and highly successful Turkish director Nuri Bilge Ceylan undertook the presidency of the International Feature Film Competition of the festival. Ceylan was also a jury member at the 62nd Cannes Film Festival and the 72nd Venice Film Festival.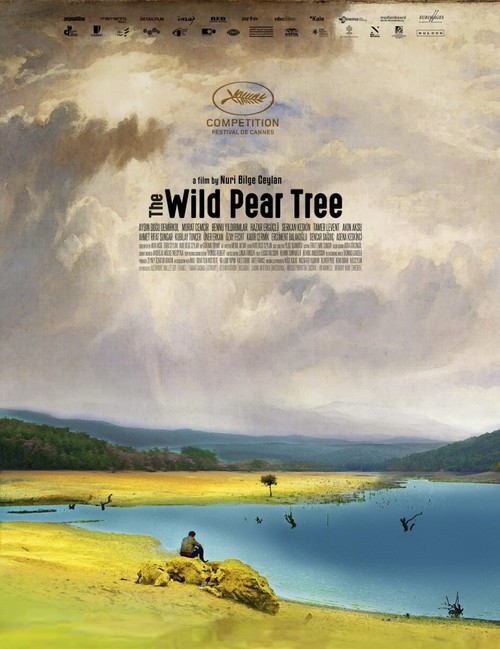 The renowned director also joined a master class for Malatya Film Platform and shared his experience in the art of cinema. Explaining that he was in Malatya to discuss his successes but also his mistakes, Ceylan started the meeting noting that he sees himself not as a master but as a student in cinema, as this art form is endless and there are always many things to learn.
He highlighted that making films is like a confession for him, and films by other directors that see cinema in the same light always attract his attention. He said: "When the world does not provide meaning for you, you have to create your own. Cinema was my way of creating this meaning. Therefore, I also describe it as a therapy."
After mentioning the meaning of cinema, the director also talked about his own journey. Stressing that he likes literature even more than cinema and read throughout his military service, Ceylan said the moment when he decided to become involved with cinema was in that period. He had graduated from university and was doing his service, which led him to question life. Reminding people to make serious decisions when they are alone, Ceylan indicated that he was alone during this period, and this situation triggered his decision to pursue a future in directing. Noting he does not exactly know why he chose cinema, the director commented that he would have written a novel if he had had the talent. In the end, his skill in cinema gave him direction in what to do.
However, his cinematic talent was not the only thing that lured him into the sector. He said that his greatest motivation in cinema is the challenges it offers. Highlighting that making films is not an easy task, he added that he focuses on creating after he finds a challenge that he is interested in. He gave an example from his latest film, "The Wild Pear Tree." He explained that his inspiration came from the father of Akın Aksu, with whom he wrote the script of the film, while creating the character named İdris, the father of the leading figure, Sinan. Aksu's father was a teacher, and Ceylan would talk with him sometimes. Saying he wanted to understand rural lifestyles like the one that Aksu's father lives, he pointed out this perspective as one of the challenges in the film.
Mentioning that he is often referred to as the director who knows everything, Ceylan stated that he often feels like a fish trying to swim its way out of cloudy water. He noted that he has no formula for any step in filmmaking, including transferring his perspective to the audience. "I am always hesitant and ask myself whether I will really make a film from this subject during shoots. Sometimes, I add and cut parts from the montage on the day before a premiere. I produce my films with this indecisive approach," he continued.
Ceylan stressed that he conveys his thoughts about a subject to audiences in his films and argued that he does not expect everyone to like them. Explaining that everyone's perspective is different, the director said the meaning will vary for each person who watches the film.
Later, Ceylan concentrated on his work and his creative team. He said he does not want to concretely convey the meaning of his films. On the contrary, he wants people to think about them on their own. The director goes to great lengths to not express his ideas in plain terms, leaving the audience mulling over the possibilities. He also noted that he is often unsure of where his new idea is going and feels it would be unfair to set a concrete definition in the minds of the audience, to do so would be like hijacking their thoughts. For him, being obscure is important in art.
When it comes to character development in his films, Ceylan accepted that there is no clear formula for it as well but said he chooses characters with whom he can reveal a feature of human nature.
In line with his thoughts, the meaning in a film should be revealed at the end. He believes in wholeness in film. He explained that he takes note of his film crew's reaction to a scene. "If they overreact to a scene, I think that there is a problem in it. Maybe, I overdid something. I don't want that. Every scene should simply be a part of the film, and the film should have a meaning at the end," he told.
His crew is important for him, but he still believes that directing is a personal task. He accepts and appreciates his crew's efforts. At the same time, he considers being alone in a crowd intense. For him, cinema eventually becomes individual art. The director ended his speech evoking his perspective on himself as a student and said there are still many books to read and films to watch for him, as well. "The Wild Pear Tree" was shown for cinema lovers in Malatya as part of the screenings at the festival.