Taking the notion of Westernization as a starting point, long fiction in modern Turkey has progressed along two differentiating routes. The first route was social and political reality, which was walked by novelists with political theses in hand. The second route, which was often considered a detour, was the psychological or individualistic point of view. In the first style, the author is expected to give a realistic portrayal of the considered cross section of society at a certain time and convince the reader with a newer political thesis over the mentioned portrayal of the cross section. Realism or consistency of social behaviors of the fictional characters with historical reality is fundamental to the so called "thesis novels."
On the other hand, for psychological novels, art novels or individualistic fiction, naming long fiction's stylistic detour has never been as certain as that of the main road, should create another kind of realism for its reader, a psychological one. Fictional consistency of an inconsistent and unstable human psychology, especially the psychology of the intellectual or illuminated personalities of this genre, is a complicated question of criticism. Should or should not the author judge or even weigh psychologies or abnormal behaviors? Or rather should he or she maintain a strong and silent distance from the inner worlds of the anomic characters. Perhaps, most psychological authors of long fiction make a third path for themselves as well as their readers, which is to have readers judge the characters on behalf of the novelist. Ahmet Hamdi Tanpınar can be considered as a good example of the third, while Peyami Safa never hesitated to show his kinship, kindness or disgust against the doings and feelings of the characters he created.
Safa himself is said to have been an unstable, suffering person with frequently shifting modes, thoughts and beliefs. His fiction depends on guilt, fantasies, missing dates, unfinished commitments and revenge. No one argues that Peyami Safa wrote bad fiction, but apparently he insistently wrote on the bad.
Early life
A difficult fate welcomed Peyami Safa into life. He was born on Apr. 2, 1899, in Gedikpaşa, a neighborhood in old Istanbul, to İsmail Safa, a renowned poet and a rigid opponent of Abdülhamit II. İsmail Safa had been exiled to Sivas when Peyami was born. He died in 1901, leaving his children, including one-and-a-half year old Peyami, to his poor wife. Peyami was raised as an orphan, which deeply affected him both in his health and personality.
Safa's family was full of authors. His father İsmail was a romantic poet and a member of the "New Literature" movement led by Tevfik Fikret, one of the greatest poets of the modern era. His grandfather Mehmet Behçet Efendi was also a poet, but belonging to the divan genre. His brother İlhami wrote poetry besides journalism. Ahmet Vefa, one of his uncles, who suffered from mental illness, died young, leaving some sentimental poems behind. Ali Kami Akyüz, his uncle, wrote on education and translated some novels into Turkish.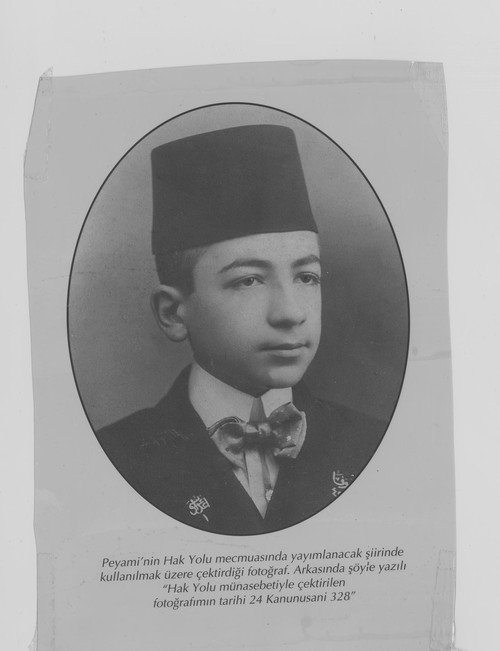 Peyami Safa as a young boy in primary school.
Peyami Safa was first schooled in an elementary school in his neighborhood. He was diagnosed with a chemical illness at age nine, which caused him to spend years in hospitals. Safa used this experience in "Dokuzuncu Hariciye Koğuşu" ("General Surgery Ward No. 9"), which is a novella describing the situation and psychology of a young boy hospitalized for a chemical illness. The young patient faces two disasters. First, he may die or his foot may be cut off because of his illness. Second, the girl he loves will marry a doctor, which is a dark irony. The detailed depiction of the hospital environment and the psychology of the young patient close to death are so well written that the Ministry of National Education has listed "Dokuzuncu Hariciye Koğuşu" among the "100 Fundamental Literary Works."
Safa was a complete autodidact. In spite of his unfortunate family situation, bad health and the fact that he had no money at all, he was so dedicated to study and work that he began working as a public servant in the postal service at age 15. He taught himself French by memorizing the "Petit Larousse," which shows his talent and dedication. Though he never graduated from any school higher than elementary school, he worked as a disciplinary agent, a teacher and a deputy principal at various schools.
Journalism and fiction
Peyami Safa began publishing a daily paper, Yirminci Asır (Twentieth Century), at the age of 20 with his brother İlhami. He wrote short stories for his newspaper, namely "The Stories of the Century," which prominent writers such as Yahya Kemal and Yakup Kadri liked. They encouraged him to write more fiction. Safa wrote two early novels before 1920, which were sentimental love romances with moral crimes and questions. He was attacking rapid modernization and improbity. The moral frameworks of these early novels' were simple and strict.
After closing his newspaper, Peyami Safa began working for other newspapers, including Cumhuriyet and Milliyet. He wrote columns, opinion articles and short stories for the press. During the 1930s and '40s, Safa was among the most read press writers. One of his most famous essay volumes is "Türk İnkılabına Bakışlar" ("Views on the Turkish Revolution"), where he speaks as a Kemalist, a position he would abandon after Atatürk's death.
Peyami Safa is famous for his
philosophical, political and literary shifts. He praised Mehmet Akif, one of the two greatest poets of the early 20th century with Tevfik Fikret, in some early comment, while he insulted his art after his death. Safa was as unstable as the characters in his novels.
Quarreling with Nazım Hikmet
Peyami Safa's quarrel with Nazım Hikmet caused the left to denounce Safa, while the right rejected Hikmet for years. Cemil Meriç, a prominent essayist and historian of Turkish thought, mentions this fight as "a quarrel of brothers," depicting Safa and Hikmet as "enemies yet brothers." Meriç emphasizes the Turkish ideological irony that the poor Peyami Safa was a rightist, while the rich Nazım Hikmet was a leftist.
Money was very important for Safa sin
ce he had to earn it by using his only talent, writing. So, he wrote cheap novels to get money. Among these 80 novels, the "Cingöz Recai" series is significant with film versions as well.
East-West question
Safa contributed to the questioning of Westernization problem with some outstanding novels. "Fatih-Harbiye," tells of the clash between the East-oriented and traditional Fatih and West-oriented and modern Harbiye, both neighborhoods in Istanbul.
Safa was assigned as a member of state-run cultural institutions, including the Turkish Language Institution and the Turkish Literary Writers' Union, where he was fired after the 1960 military coup since he was known to support Democrat Party policies.
"Yalnızız" ("We Are All Alone") is considered Peyami Safa's masterpiece. It's a psychological novel about a troubled wealthy family and their complicated relationships.
Peyami Safa died on June 15, 1961, just three-and-a-half months after his son Merve died during his military service.