Çalık Gayrimenkul, one of the leading construction companies of Turkey, offers the best location for foreign investors with its Taksim 360 project, located in the heart of Istanbul. Çalık Gayrimenkul rebuilds the neighborhood of Turkey's hot spot, which received the title of Europe's Best Urban Renewal Project. Gonca Özgül, deputy general manager of the company, shared the details of the project with Daily Sabah.
Daily Sabah: Can you tell us about your recent Taksim 360 project? What makes it different from the others?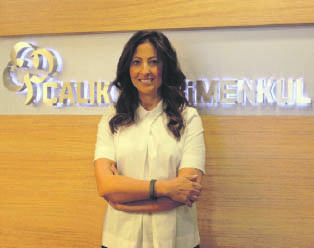 Gonca Özgül:
The most important feature of Taksim 360 is that it is Turkey's first urban renewal project carried out under public-private sector cooperation. Our project, which received the title of Europe's "Best Urban Renewal Project" at the 18th International Real Estate Awards, has properties that go far beyond the residence and office projects we have been used to seeing before. Taksim 360, which is the result of tremendous endeavor and effort, is designed like an ornament and has found life in the very heart of Istanbul. We are trying to revive a history that was about to disappear here and bring an existing treasure back to our country with the most modern applications. The biggest difference of our project is that it offers a world integrating history and social life at the center of the city, thanks to the historical location. Another great advantage is its walking distance to the Pera region and İstiklal Avenue, where the cultural and artistic activities of Istanbul are experienced.
The project is unique even at its construction site, because it is a very special area that includes many historic buildings where we work to ensure the preservation and restoration of these structures. This is a very trusting and multicultural area, which has hosted different cultures throughout history. It has structures with very special architecture, where the gentlemen and ladies of old Istanbul walked in their most beautiful clothes on its streets. Unfortunately, over time it has turned into a shell of its former self, but with Taksim 360, the region is regaining its former glory. A historical treasure, which is about to be destroyed, is reunited with Istanbul and society. In this sense, as Çalık Gayrimenkul, we are proud and excited to be a part of the Taksim 360 project, which is carried out with a great sense of responsibility for our country and Istanbul with the cooperation of the Beyoğlu Municipality.
Within the scope of the project in general, we are carrying out renovation and restoration works in a total of 269 buildings, including 210 registered ones, on an area of 20,000 square meters in nine city blocks in Tarlabaşı. Small historic houses, with sizes ranging from 50 to 100 square meters, are combined into five or 10 groups to form a single block, while the exterior walls of the buildings are protected. The project draws attention to Tarlabaşı Boulevard with a façade of 220 meters.
Taksim 360, which has an investment value of $500 million, consists of shopping streets, residences, offices, boutique hotels and guesthouses, making it a 52 percent residential area, 12 percent commerce, 17 percent tourism and 14 percent office space. Underground parking lots and pedestrian areas with comprehensive social activity are being built for all residences. In our project, we have 952 units, including residences, offices, residential and commercial units, in nine city blocks on an area of 20,000 square meters.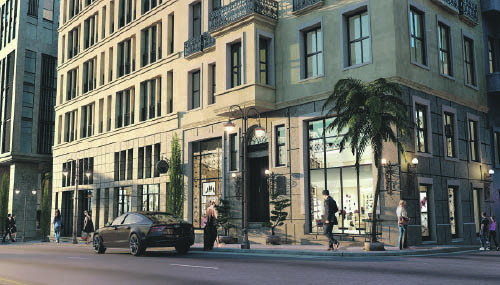 D.S.: Which elements have the strongest influence on foreign customers in terms of choosing your projects?
G.Ö.:
I can say that location is the most influential element to the decisions of foreign customers. We also see in the survey results that foreign investors prefer to be close to the Taksim region in real estate investment. If you want to tell the location of any project in Istanbul, you will describe it by specifying the distance according to Taksim and Beyoğlu. So, it would not be wrong to say that Taksim - Beyoğlu is the center of Istanbul. Located just 350 meters from Taksim Square and parallel to İstiklal Avenue, Taksim 360 literally does justice to the phrase the "center of Istanbul."
D.S.: Do individual or investor/company-based purchases make up most of your sales?
G.Ö.:
Our project has been designed to meet the needs of all our customers, both individual and company-based, as well as both investment and residential. As a result, Taksim 360 has been the focus of both individual and company-based customers since day one.
D.S.: How would you define the reasons to choose Turkey for real estate investment?
Our country has recently been the focus of foreign investors in the field of real estate. There is an intense demand for branded housing projects in Turkey, especially from the Gulf Region. There are many reasons behind this, such as the geographical position of our country between the East and the West; direct flights from Turkey to many countries of the world and that the flight times are short; all four seasons being experienced in the best way possible in our country; Turkey's historical and cultural heritage; and its unique natural environment. With all these factors, foreign interest increases day by day thanks to the law of reciprocity and the granting of the citizenship right to foreigners purchasing residences in Turkey. Foreigners are mostly interested in Istanbul and we now see that they prefer the southern regions as well.
D.S.: What are your expectations about the real estate industry in Turkey for 2017?
We are hopeful for 2017 on behalf of our industry. Both government officials and sector representatives are making an effort to boost the sector. We are all trying to do our part. We are also trying to make contributions to the sector with various campaigns. At present, we offer our residences and offices with a 60-month maturity, zero interest and a 5 percent down payment as part of our ongoing campaign in the Taksim 360 project.
D.S.: What do you expect from MIPIM 2017?
This year, we are attending the MIPIM as the Beyoğlu Investors Group (BIG) under the Beyoğlu Municipality. As in previous years, we aim to represent and promote our project, Istanbul and our country in the best way in Europe as well. In contrast to the ill perception formed abroad about our country, we are going to show our belief in the future of our country and its potential to foreign investors and invite them here.
We also attach great importance to international organizations like the MIPIM. As a country, we must invest in such organizations and show our presence. These investments provide a return to the sector, in the form of energy and mobility.
D.S.: As you may know, some recently approved regulations; namely tax reductions, are enabling foreigners to buy properties in Turkey. Moreover, according to a new amendment, foreigners, who purchase at least $1 million worth of immovable properties without selling them within three years, will be eligible to acquire Turkish citizenship. How do you think these regulations will affect real estate sales to foreigners?
We experienced a situation similar to this regulation in the reciprocity law. It had a very positive effect on the market. It should also be supported by additional laws. Now the granting of citizenship has been a step further. This decision was expected by many foreign investors, especially from the Gulf region. It is a decision that will bring a further boost for the sector. There is a great interest from the Gulf countries, Russia, the Balkans, the Caucasus and Africa in luxury housing projects in Turkey. But foreigners were holding back on their demands with the expectation of citizenship. Now, with this decision, our hopes for 2017 will bloom again because there are no such obstacles left in front of foreigners. We revised the sales ratio of the Taksim 360 project to foreign investors by 40 percent after this decision. This means a sales volume of $200 million.