Representing 400,000 Istanbul-based businesses, the Istanbul Chamber of Commerce is prepared to breathe a breath of fresh air into MIPIM, the world's leading property market, taking place March 14–17 in Cannes, France.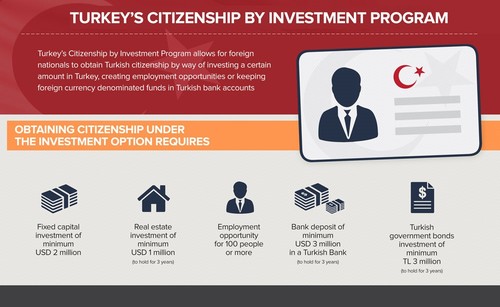 Located in the most prestigious seashore strip of MIPIM, the Istanbul Real Estate Pavilion hosts visitors from the financial capitals of the world, including Paris and London. Under the "Bosporus" theme, the pavilion offers breathtaking views of the beautiful Bosporus strait of Istanbul, connecting the Asian and European continents.
Thanks to a 96-square-meter Istanbul mock-up, 23,000 visitors from 90 countries have the chance to experience the unique views of the city of Istanbul, bejeweled by a splendid selection of mega projects, even getting a chance to obtain firsthand information and details.
Follow your 'Istanbul dream'
Istanbul Chamber of Commerce President İbrahim Çağlar said: "We will explain to potential investors that Istanbul is the most profitable and attractive place for purchasing real estate, inviting investors to Istanbul to experience the "Istanbul dream" in this beautiful city that is situated on two continents as the only city in the world with a sea running through it."
Turkish citizenship for $1-million investments
According to a recent amendment in Turkey, foreigners whose fixed capital investments of at least $2 million were approved by the Economy Ministry, as well as those who have purchased $1 million in immovable properties and have not sold them within a three-year period will be eligible to acquire Turkish citizenship upon the approval of the relevant ministry, subject to authorization from the Council of Ministers.
Emphasizing that the amendment allows investors to acquire Turkish citizenship via their real estate investments, Çağlar said: "Istanbul continues to be a very attractive location for real estate investment thanks to the low price per square-meter and offers many advantages. It is never too late to invest in Istanbul: A residential or commercial real estate purchase in Istanbul has dual return potential for the global investor; on one hand the significant return in capital gains and on the other the opportunity to obtain Turkish citizenship through your real estate purchase by way of the recently enacted legislation."
The city that flies you to 57 countries in 4 hours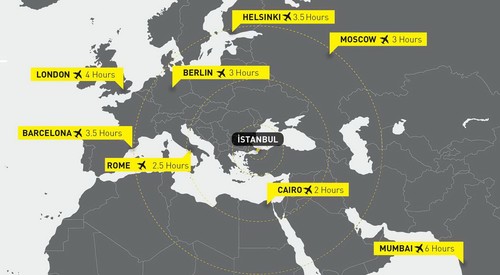 The Istanbul Chamber of Commerce is using the "two continents, one city" theme in its MIPIM promotion this year. The chamber also highlights that the city is connected to 57 countries with a four-hour flight and the historical capital of three empires and will continue to be the center of attraction for many years to come.
Time to sign new business contracts
Çağlar said that every inch of the 685-square-meter Istanbul Pavilion was planned with great attention to detail amid aims to create a meeting space that is fit for the purpose, bringing together global investors with Istanbul-based real estate companies. Çağlar said: "We have significantly enhanced Istanbul's image in the past two years with our Istanbul Pavilion efforts. MIPIM's long-time visitors now have this wonderful image in their hearts and minds, and now is the time to reap the benefits by signing new contracts."
"The Turkish economy continues to grow with all its actors and in all industries. No obstacle along the way has haltered Turkey's growth, nor has it hampered the determination of Turkey to realize investment plans and seize opportunities to reach its targets. Turkey is a safe harbor in the most tumultuous waters of the global economy, offering a strong future with solid growth. Now is the time we set sail to enjoy the wind beneath our wings, make use of robust financing and investment opportunities and invite all potential investors to our land of stability. We aim to connect with investors in Istanbul, in the city that connects two continents. MIPIM is once again ready to welcome visitors representing leading names in construction and the real estate business. It will also be a platform for Istanbul to showcase the city and the opportunities it offers," Çağlar added.
What is on at the Istanbul tent?


The Istanbul Chamber of Commerce invites MIPIM visitors to "Istanbul: Two Continents One City."
March 14, 2017
A press meeting will start at 10:15 a.m. and be broadcast by leading media outlets in Turkey to promote Istanbul for the world and the world for Turkey.
Official opening of Turkey and inauguration of Istanbul tent.
March 15, 2017
The chamber has a "Networking Event" at 2:00 p.m. - all MIPIM participants are welcome to join and meet with investors from all around the world and Turkey. This reception will be under the patronage of the Minister of Environment and Urban Planning Mehmet Özhaseki.