Halk Real Estate Investment Trust (REIT), an affiliate of Turkey's state-owned Halk Bank, has continued to grow since its inception in 2010. The company, which has been open to the public since 2013, has amassed a portfolio worth TL 1.9 billion ($5.04 million) thanks to office, house and hotel projects that it has been involved in, and rental incomes.
This year, Halk REIT will prioritize the towers to be built at the Istanbul's Finance Center, according to General Manager Feyzullah Yetgin. Speaking to Daily Sabah, Yetgin shared his insights on the sector and Halk REIT's plans for 2017.
Daily Sabah: How would you evaluate the real-estate industry in Turkey?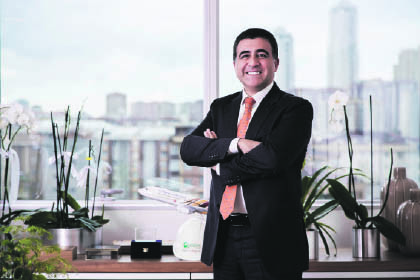 Feyzullah Yetgin:
Considering all the dynamics that it affects as well as its sub-industries, the Turkish real-estate industry has an important place in Turkey's Gross Domestic Product (GDP). Considering construction, marketing, after sales services, the second-hand market and the recruitment, use of materials and business relations during all these processes without any distinction between segments, it is not possible to overlook the locomotive effect of the real estate industry on our country's economy. The construction industry grew 5.1 percent in the first quarter and 15.7 percent in the second quarter of 2016. In the third quarter of the same year, however, the construction industry grew 1.4 percent and it points to a special case in the industry which can be explained as the general economic trend.
When the industry is analyzed in terms of the housing market, property sale campaigns including our company's campaigns, the discount in housing loan interest rates, the increase of banks' housing credit facilities by up to 80 percent and the regulations made to diversify the capital market of the industry helped to increase property sales across Turkey by 4 percent and surpassed TL 1.3 million, despite all the negative environment in domestic and international conjunctures in 2016.
Since the property price rate of increase is above the inflation rate, it can be said that the demand of property sales are still going strong and the expectations about the growth in the industry were still positive.
Hence, we predict that 2017 will be better in terms of property segment comparing 2016 and the growth in property sales last year will continue in 2017.
Reviewing the office market of the industry, class A office stock in Istanbul has increased to 4.7 million square meters. The total office stock in Istanbul is predicted to increase to 6.9 million square meters by 2020. The biggest continuation in the office stock in Istanbul will come from the demand at the Istanbul International Finance Center (IFM) of which our company is one of the biggest shareholders.
We have begun our IFM project, which is composed of two towers with 46 and 63 floors and three eight-story buildings. IFM, which aims to become a regional and eventually global finance center and lead to new employment opportunities while contributing to economic growth, is our biggest priority.
D.S.: How was 2016 for Halk REIT? What are your future projects?
F.Y.:
Despite some unfortunate local and international incidents, Halk REIT had a successful year in 2016, working tirelessly to increase the added value it creates in Turkey's economy, as well as the construction industry.
Our company continues to experience stable growth with the regular revenue it receives from mainly its commercial property portfolio -- worth TL 1.9 billion -- closing the year with a net profit of TL 10.7 million.
We have completed the constructor selection process and launched the construction of two towers, with 46 and 63 floors, and three eight-storey buildings as a part of IFM project, of which our company is one of the biggest shareholders.
We have a memorandum of understanding with Türkiye Halk Bankası A.Ş., our main partner, to rent out some of the office spaces if needed. Our priority in 2017 will be to see our projects grow.
Halk REIT initiated numerous new projects in 2016. We collaborated with the Erzurum Metropolitan Municipality's affiliate Er Konut A.Ş. and launched a housing project in Erzurum's Yakutiye region, marking our second project outside Istanbul and fourth in total. There will be 620 houses and 13 commercial units in the "Şehristan Konutları" project, which is known with its motto, "Şehrin Gözdesi" (The City's Favorite).
Meanwhile, sales for the Bizimtepe Aydos project, composed of 1,037 houses, which we carried out in Istanbul's Sancaktepe district in collaboration with Vakıf REIT, continued above our estimated rates throughout the year. We plan to handover the keys to homeowners in both of our projects, which are being constructed and sold at this moment, starting in 2018.
The sales of our housing projects "Referans Bakırköy" and "Eskişehir Panorama Plus" are almost finished. We also included the Park Dedeman Levent Hotel in Istanbul and the Şekerpınar projects in our portfolio and we receive regular rental revenues.
Moreover, we took important steps to transform our Salıpazarı Building into a hotel within the scope of our portfolio productivity strategy.
Within the scope of our strategy, "right location, right project," our company, which has been profiting since its foundation and has been sharing its profit with shareholders since 2013, will continue ahead with its investments without a break, in line with its primary target of "growing with profit and increasing the value it earns for its stakeholders."