With first hand overs, planned to be made in four months, more than 50 percent of the properties at the project have already been sold out. The Sea Pearl project is offering a 60-month zero interest promotion campaign, plus a 0.45 interest rate for 120 months. In addition, buyers paying for the housing in advance will enjoy a 15 percent discount on the total price.
Calling the Sea Pearl Ataköy project "the birth of splendor," Kuzu Group board member Özen Kuzu said, "The difference between living in Istanbul and living Istanbul was the starting point of our story. It would not be possible to live in Istanbul without the sea. Then, our thoughts merged with dreams and in Ataköy, one of Istanbul's most decent and central districts, a magnificent seafront life project emerged."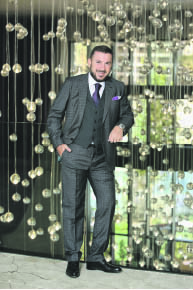 Drawing a lot of attention with its architecture, Sea Pearl Ataköy is unique for its balconies that offer an uninterrupted view of the sea. The exterior of the apartment blocks at the Sea Pearl, from the lower floors to the upper ones, are decorated with shades of green that turns to shades of gray and blue. They also carry some modernized Seljuk motifs while the magnificent entrances on the rear front, overlooking Ataköy, add a unique look to Istanbul's skyline.
While each room offers an uninterrupted view of Sea of Marmara, the floor garden with wooden floor, natural grass and wide terrace are sure to provide an unprecedented landscape, at any time of the day.
Rich with socializing possibilities, Sea Pearl Ataköy includes fitness rooms ranging from 150 to 200 square meters, yoga lounges, recreational areas, children's play areas, and seafront hiking trail, tennis court, streetball court, pedestrian paths, biological ponds and a baroque-style landscape, that takes inspiration from Ottoman and French architecture.
The project spans over a 33,000-square meter area, with no vehicle entrances, and merges seamlessly with a 1,200-meter long coast line.
The project includes a five-star hotel with 202 rooms, set to be put into service in 2019 and operated by Jumeirah, an award winning world-renowned brand known, for its quality of service. It will also have 62 residential units.
The hotel draws attention with its unique lobby and architectural design while residential units, ranging from 1+1 to 4.5+1, cover areas between 44 and 298 square meters.
The hotel unit consists of standard rooms, junior suite, executive suite, hospitality suite and presidential suite ranging from 47 to 480 square meters.
In these areas, there is also a conference hall, VIP Club, VIP business center, food zone, a seafront restaurant, sports arena, shopping area, Turkish bath, fitness and spa area, indoor/outdoor swimming pools and boutique shops.
The exterior architecture of the hotel, like other units at the project, is designed by Evrenol Architects. The hotel has chosen the world-famous KCA International Designers' Khuan Chew to do its interior design and decoration.
SeaPearl Ataköy by numbers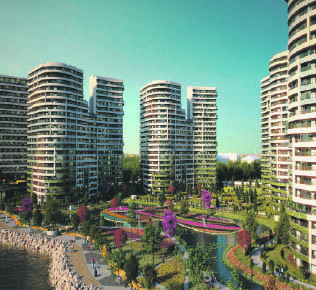 Investment value: $2.7 billion
Total number of housing: 1401
First stage construction area: 217,000 square meters
First stage pond area: 6,185 square meters
First stage green area and hiking trails: 33,000 square meters
The number of the first stage housings: 631 units in four 20-story blocks
The first stage housing types: Residential areas varying from 1 + 1 to 4.5 + 1, ranging from 88 to 398 square meters
First stage deliveries: July 2017 Initial unit price per square meter: $8,000