Today, we are familiar with residence projects that feature unique concepts as well as the signatures they carry, often placed by the biggest names in construction. However, the concept of branding was quite new when the 40-year-old housing brand Artaş İnşaat started work on its "Avrupa Konutları" (European Residences) in Istanbul. The company has since built 14 projects under this brand and continues work on six more. It is now ready to unveil its latest project "Avrupa Konutları Yamanevler," which is located on the Asian side of the city near the Istanbul Finance Center project, according to company Chairman Süleyman Çetinsaya, who shared his insights with Daily Sabah.
Daily Sabah: Could you give us some information about your Avrupa Konutları Yamanevler project which you have launched recently?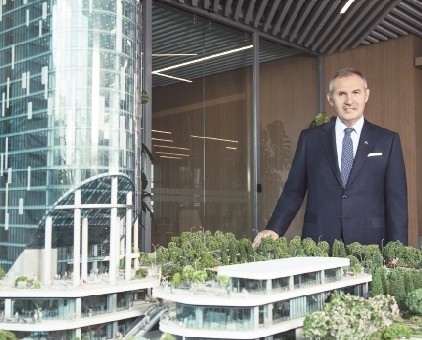 ​
Süleyman Çetinsaya: We launched the Avrupa Office Ataşehir project last year at Dubai Cityscape Fair. We have demonstrated the Avrupa Konutları Yamanevler project this year. The project is now at the preliminary-sales stage. It stands out as the first Avrupa Konutları residence project on the Asian side of Istanbul. We are erecting this project in the Ümraniye Yamanevler's Alemdağ Street - one of the most popular and valuable thoroughfares in Istanbul - with TL 1.2 billion ($350 million) as the symbol of the region. We have attracted a great deal of interest in a very short time. The project offers wide and large areas. It consists of 1+1, 2+1, 3+1 and 4+1 flats ranging from 75-square-meter to 248-square-meter. Roughly 5,000 residents will use 1,672 residences, two office blocks, and 38 commercial units in 11 blocks. Avrupa Konutları Yamanevler project spreads on a construction area of 427,000-sqm. It is located in an area surrounded by the Istanbul Finance Center, TEM and E5 Highways, and Metro lines. Yamanevler - the namesake of our project - and Çakmak metro stations stand adjacent to the project field. We are pleased to be in the Asian side under the Avrupa Konutları brand.
D.S.: Artaş İnşaat has been delivering construction projects in the industry for 40 years. Avrupa Konutları is among these projects having a brand quality as well as bringing branding awareness to the industry. Could you tell us a bit about your Avrupa Konutları projects? How did it get started? How many residences were built as part of the project? Are you planning for upcoming projects with a similar concept?
S.Ç.: Artaş İnşaat was founded in 1977. We have led tens of thriving projects and investments in the industry since then. Artaş İnşaat has always intended to create everlasting added value for our country; set the bar high for the living standards of the nation; and remain profitable at all times for the benefit of the citizens who prefer us. Avrupa Konutları is perceived as a brand offering premium living spaces, being delivered earlier, and always bringing in profit. We therefore keep our operations going with an utmost accuracy to preserve and further our position. We are glad to add value to every region where our projects exist. All of our delivered projects stand as the baseline of this approach at every turn.
As part of the Avrupa Konutları brand, we have realized the following projects: Avrupa Konutları TEM, Avrupa Konutları TEM 2, Avrupa Konutları Kale, Avrupa Residence & Office Ataköy, Eclipse Maslak Business, Avrupa Konakları Florya, Avrupa Konakları Saklıbahçe, Avrupa Konutları Atakent 1-2-3, and Avrupa Konutları Ispartakule 1-2-3. We launched the Avrupa Konutları Başakşehir, Avrupa Konutları Atakent 4, and Avrupa Offıce Ataşehir projects in 2016. We already made our short-term investment plans public in the beginning of 2017. We have kicked off two projects including Yamanevler, which is one of five new short-term projects. We continue to pursue our activities with more focus on our investments in 2017 as well. We have delivered 16,000 residences so far. We will be delivering 6,631 residences more together with ongoing and scheduled construction projects. We will keep our brand within the borders of the "quality, trust and satisfaction" triangle in the future just as we do today. Artaş İnşaat plans and carries out long-term projects.