A number of Turkish cities and real estate developers are once again presenting their ambition in the reconfiguration of global urbanization and its changing trends. A number of Turkish cities and companies are showcasing their projects at the world's largest real estate fair, MIPIM 2018, which starts today and will last until March 16 in Cannes, France.
Some 250 Turkish companies will participate in the international real estate exhibition, which draws the most influential international property professionals, the Istanbul Chamber of Commerce (ICC) said yesterday.
According to the ICC statement, the four-day event is expected to host 24,000 professionals from 100 countries in a 20,000 square meter exhibition area.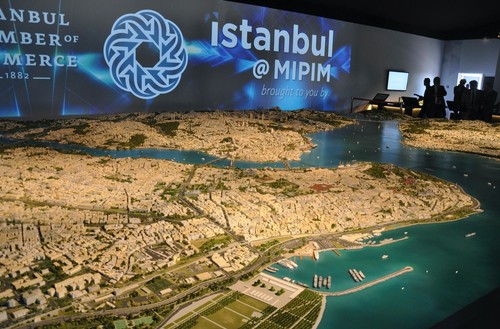 The ICC Istanbul Investment Tent will represent more than 60,000 Turkish real estate and construction firms, the statement said.Öztürk Oran, head of the ICC, said the aim is to raise Istanbul's prestige at the event, whose main theme is Mapping World Urbanity.
Turkey will have an exhibition area of 1,600 square meters where the country's most prominent cities, leading real estate firms and architects will display their projects.
Turkey will be represented by 250 institutions and 700 participants. Among the cities, Balıkesir, Gaziantep, Hatay, Istanbul and its Beyoğlu district will showcase a number of projects. The Istanbul pavilion will have an area of 685 square meters, which was prepared by late Istanbul Chamber of Commerce Chairman İbrahim Çağlar. In addition to metropolitan municipalities, Turkey will be very active with its Environment and Urbanization Ministry, which will hold talks in the Istanbul pavilion and Investment Support and Promotion Agency.Turkey's biggest metropolis, Istanbul, is preparing to become a center for international investors once again with its pavilion. The city will again be represented by the Istanbul Chamber of Commerce (ICC).
The pavilion, located between those of Paris and London, is expected to draw a great deal of interest from real estate investors as it did last year.
Earlier, in an exclusive interview with Daily Sabah, Yonca Aközer, the general manager of Alkaş Consultancy, Turkey representative at MIPIM, said that the participation of Environment and Urbanization Minister Mehmet Özhaseki shows Turkey's commitment to following global urbanization trends and the government's support for the sector. She also said that Özhaseki will meet foreign investors and explain the investment opportunities in Turkey.
"A main session on Turkey will host foreign investors from around the world and help expand global cooperation," Aközer said, adding that a great number of meetings with global investors will be organized at MIPIM 2018.
Drawing attention to the MIPIM 2018 theme: "Mapping World Urbanity," Aközer said that Turkish real estate developers and public sector representatives will explain the accelerated urbanization of Turkish cities with planned urban transformation initiatives. She also cited the growing trend for cities around the world as they become more important for economic development with increased connectivity.
The concept of global cities is certainly not new, as it has been a major result of industrialization beginning in late 18th century. But in the current circumstances, the concept is going under a reconfiguration, as the MIPIM 2018 theme shows, Aközer said. The reconfiguration leads to the emergence of new challenges and opportunities for real estate professionals as the world faces increasingly urbanized populations, densification of transport, and the requirement to improve energy efficiency in buildings.
"The expectation that the number and power of world-leading cities will rise with the involvement of new actors is not open to discussion. Twenty global cities outperform many countries with their gross domestic products (GDP). For instance, London has a GDP equivalent to that of the Netherlands, the world's 17th-largest economy, while New York has a GDP comparable to that of Canada, and Beijing to Sweden," Aközer said. She added that even though these cities are very developed, they continue to produce new projects to further cement their positions and they exhibit these projects at MIPIM. That is why the number of Turkish cities that participate at MIPIM increases every year as they are well aware of the fair's importance and want to integrate global trends in their projects.
Citing a U.N. study that says the number of megacities and metropolises will see a considerable increase by 2030, Aközer said that these cities will have a bigger say in global governance. "Turkey should partake in this map of the future not only with one city, but with several cities," she said, and added that the interest of Turkish mayors and real estate developers in MIPIM to showcase their projects and explain investment opportunities is proof of Turkey's determination to shape the mapping of world cities.
Aközer also mentioned Turkey's commitment to the top real estate event since the country has been participating in the fair even in years of turmoil like 2016, which saw a failed coup attempt. Therefore, MIPIM offers Turkish business people and public sector representatives a platform to explain Turkey's story of development and growth that has always attracted foreign attention. She also said that the Turkish representatives will have the opportunity to map out the country's position in global urbanization trends. In that sense, Aközer said, Turkish cities that participate in the fair can trumpet the country's claim to be among the leading countries in changing urbanization trends.
Another point that Aközer mentioned was the networking opportunities at the event. To that end, the aim is to increase the number of business to business (B2B) meetings to 4,000, which was formally recorded at 3,500.
She also elaborated on the interest of foreign investors in projects in Turkish cities. "International investors are very interested in projects that will be completed in the next couple of years. Their interest was evident in the B2B meetings," she said. With its cities and real estate companies, Turkey can secure a key position in the industry, she said, adding that MIPIM is the best platform to find opportunities and demonstrate Turkey's ambitions.