Located in Bamako's Hamdalaye Aci district, Eyoub Mosque is an imposing structure of cement and marble. The mosque's interior features a central vault decorated with Islamic calligraphy, where the marble walls of the spacious prayer area are adorned with tinted glass brought from Turkey. The grand mosque is the result of cooperation between Turkey's Religious Affairs Ministry and the High Islamic Council of Mali, at a cost of 2 billion CFA francs (roughly $4 million). "The construction of the mosque, fully financed by the Turkish government, began in 2012 and ended in 2013 with the help of officials in Turkey through an agreement with the High Islamic Council of Mali," explains Ousmane Cisse, the mosque's imam.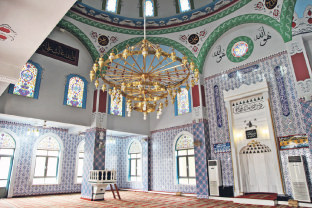 "There are many beautiful mosques in Bamako, but the Eyoub Mosque is the most beautiful," Mohamed Kibiri, spokesman for the High Islamic Council of Mali, Mali's highest religious authority, told Anadolu Agency.
Hundreds of people flock to Eyoub Mosque each week for Friday prayers, including prominent Malian political leaders, according to the mosque's clerics. Mosque clerics include former president Moussa Traoré, former Prime Minister Moussa Mara and current Prime Minister Modibo Keita. "They all come here regularly, especially for Friday prayers," said Konta, the mosque's deputy imam. Kibiri, the High Islamic Council's spokesman, asserted that there were "many other beautiful mosques" being built in the West African capital.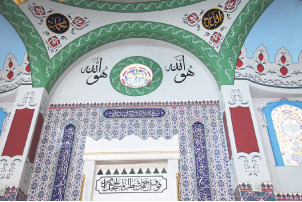 "Starting next week, we will inaugurate another beautiful mosque, which is like that of Eyoub" Kibiri told Anadolu Agency.
In recent years, the Turkish authorities have stepped up cooperation activities in Mali, including donations, the construction of mosques and schools, and relief aid for displaced persons in Mali's war-torn northern region. Mali slipped into violence in 2012 following a failed coup attempt and a rebellion by the Tuareg ethnic group, which had allowed al-Qaida-linked militants to take over the northern half of the country. In early 2013, former colonial power France sent troops to the West African country and - with the help of Chadian and other African forces - flushed Islamist militants from Mali's main northern cities. Earlier this year, the Malian government and an alliance of Tuareg-led northern rebels reached a cease-fire agreement that called for a cessation of hostilities and provocations and confidence-building measures by both sides, including the release of detainees.