Sitting across the Bosporus opposite Ortaköy, the quaint and colorful neighborhood of Kuzguncuk still possesses the nostalgic air known by locals as the remnants of old Istanbul. In the past, every lush avenue and verdant backyard was overflowing with edible gardens, and neighbors swam together on a shore front that was cleaner and abundant with fish that simply tasted better.
Overpopulation and construction seems to have changed the face of daily life for a city full of proud multi-generational and interfaith families who have shared the same holidays and seasons, lived in the same homes and streets, and loved the same children and elders.
The quintessential Kuzguncuk saying "after an Armenian dinner, meet a Greek woman in a Jewish home" was told to Turkish architect and poet Cengiz Bektaş in 1991 by a fellow Kuzguncuk resident named Çetin.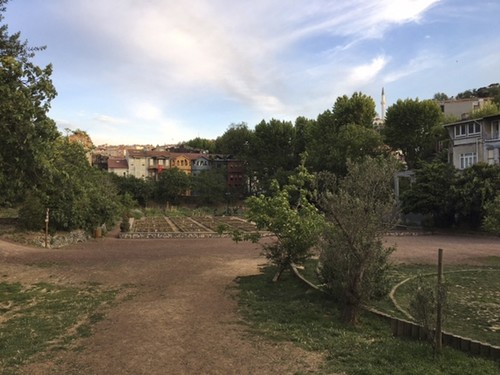 Five central art galleries and a performing arts center surround the "bostan" garden.
Bektaş transcribed his conversations with Çetin and his Jewish wife Victoria, along with many other Kuzguncuk locals for his book, "The Other Name for Tolerance: Kuzguncuk," published in 2003. He made it his life's work to restore the charm of his beloved Kuzguncuk by reintroducing the neighborhood to its historic soul, where Jews, Armenians, Greeks and Muslims lived and prayed in harmony.
Urban researcher Amy Mills wrote about Bektaş and his neighborhood restoration project in her 2010 book, "Streets of Memory," where she details his efforts in preserving the interfaith fabric as a dedication to the Old City of Jerusalem, with its neighborhoods divided among the same four historic communities. The architecture of Kuzguncuk has been restored with creative aesthetic, as Mills articulated, "To make it act as the natural theater for the collective memory of the 'mahalle' [neighborhood in English]."
Kuzguncuk is truly a theatrical "mahalle," a veritable stage with its storefront characters, pampered strays, conspicuous intellectuals and photo-happy sightseers. It has inspired great literature, having been the setting for novels such as "Mediterranean Waltz" by Buket Uzuner and "Bir Kuzgun Yaz" by Mehmet Ünver and short stories, including "Aahh Canım Kuzguncuk" (Ohh Dear Kuzguncuk) by Nedret Ebcim, among others. One of the streets is named after the television series "Perihan Abla," which pioneered the mahalle setting for public broadcast.
İcadiye Avenue is the sole artery of the neighborhood, where five central art galleries and a performing arts center surround the "bostan" garden. The garden is the chief accomplishment of the Kuzguncuk Neighborhood Association, which has been organizing intellectuals, artists and activists, many of them women, since 2000, to preserve the residential valley between Nakkaştepe Hill and Fethi Paşa Korusu Forest in the heart of the local community. Without a single bar, its nightlife instills a village ambiance, as neighbors crowd the few lamp-lit cafes every evening.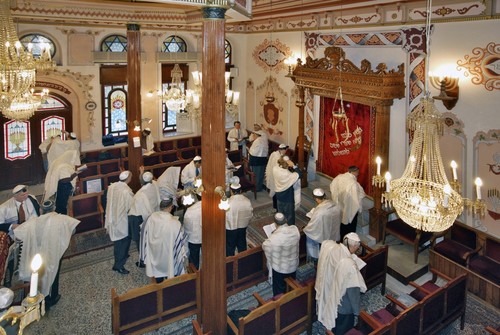 The inner sanctuary of Beth Yaakov Synagogue features a beautiful mural depicting the geography of Israel said to have been drawn by a Persian calligrapher.
Yet, the pinnacle of Kuzguncuk lies around the corner where the street names İcadiye, Perihan Abla, and Üryanizade meet in a rare nexus of interfaith urbanization. From the steps of Bereketli Street, where Karagöz theaters have traditionally delighted neighborhood children, the domes of Yeni Cami mosque and the oldest Armenian church in Istanbul are nearly indistinguishable. And at street level a block away, Beth Yaakov Synagogue stands beside a barber, taxi stand, kebab joint, green grocer and Agios Georgios Greek Orthodox Church.
The Stars of David decorating Beth Yaakov are visible from the main thoroughfare where the neighborhood meets the Bosporus, as is its Hebrew-engraved stone mantle that rests atop two thick metal doors and a security checkpoint. It is one of two synagogues in Kuzguncuk sharing territory with co-religions from Bet Nissim on nearby Yakup Street.
The inner sanctuary of Beth Yaakov Synagogue features a beautiful mural depicting the geography of Israel said to have been drawn by a Persian calligrapher. The synagogue was painstakingly restored 17 years ago. Now, its exquisitely carved wooden Torah ark and embellished interiors are exactly as its oldest congregants remember.
Turkish-Jewish historian Rifat N. Bali wrote of old Kuzguncuk in his book, "The Silent Minority in Turkey," recounting how Greeks and Jews often settled near the shore, while Armenians lived uphill by Nakkaştepe where delinquents would face off out of sight of the local police station. They gathered at the Kuzguncuk pier after-hours for a film. Dr. Seyfi İşman, the father of Nisya İşman Allovi, director of the Jewish Museum of Turkey, remembers his family patriarch screening the golden age of Hollywood there for the early 20th century community.
In her novel "Mediterranean Waltz," Buket Uzuner describes Kuzguncuk as a Jewish village on the Bosporus, famous for its jams and desserts that provoked the preeminent Turkish poet Nazım Hikmet to sing its praises. For Jews, the ground of Kuzguncuk is sacred. For over five centuries, its Jewish cemetery on Nakkaştepe has been the resting place of buried pilgrims who once dreamed of Jerusalem.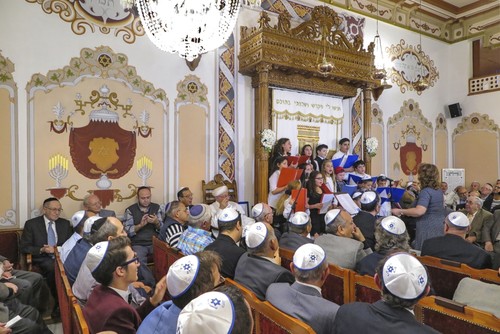 Nowadays, the local Jewish community has all but vanished. Volkan Özgürcan, director of Mona Art Gallery in İcadiye, said there were only about four old Jewish men left in the neighborhood. Turkish-Jewish journalist Lizi Behmoaras, author of "Jews Through the Eyes of Intellectuals in Turkey," remembers her days living in Kuzguncuk over a decade ago when she wrote for Şalom, Turkey's leading Jewish media source, and the last newspaper in the world to publish in Ladino (Judeo-Spanish).
"I described Kuzguncuk in my previous novel 'Sen Bir Başka Gittin' [You Left in a Particular Way] portraying İcadiye Street with its places of worship, bakeries, art galleries and its square, which lies beneath the shade of a centuries-old plane tree," wrote Behmoaras in an email to Daily Sabah, as she also shared an excerpt from her first novel, "A Time to Love," about an Ashkenazi Jewish woman's relationship with a Muslim Turk in Izmir.
Despite its illustrious and historical precedent, Turkish Judaism has only made a slight impression on Kuzguncuk's art district. Famous names, such as the artist Bubi Hayon and author Mario Levi, are relatively aloof from the place that inspired "Kuzguncuk," a piece of music by Israeli musician Yinon Muallem with the Turkish-Jewish fusion band Rast Ensemble.
"In 1972, when I was exhibiting my paintings in Italy, there was only one art gallery in Istanbul. Now there are 300 to 400," said Habib Gerez, a prominent Turkish-Jewish artist and poet who continued to create in his 80s. From a studio located in Galata, he exhibits and sells paintings, some of which have overt Jewish motifs. "It's not possible to have a Jewish art exhibition in Istanbul. There is no audience. Jews and anyone interested in paintings with Jewish content come to my home gallery," he said.
In 2015, the French-Jewish cartoonist Jeremie Dres published Les Petits Mondes d'Istanbul," a graphic literary work edited by Editions Gallimard in the 31st edition of XXI Vingt Et Un Magazine. Kuzguncuk was the setting for the work that focused on the smattering of Jewish life clinging to the area. The piece features a Jewish widow named Victoria together with Behmoaras and a cheerful old bachelor named Avram, who still scans groceries at Kardeşler Market between İcadiye Ave and Üryanizade St.
"In the 1910s, there were 800 Jewish families here, around 3,200 Jewish people. My family has been in Kuzguncuk for 150 to 180 years. I left Kuzguncuk in 1970. I come here for the Shabbat prayer all of the time," said a natural storyteller on the synagogue board at Beth Yaakov. He gave a lengthy interview with Daily Sabah detailing the entire history of Kuzguncuk Jewry from the synagogue courtyard. "In the books, it says that this synagogue was built in 1865, but this is wrong. The upcoming year will be the 200th year of Beth Yaakov. Kuzguncuk was one of the first places where the Sultan appointed the Sephardim to settle," he explained.