People from different religions and cultures are together in Konya for the 744th anniversary of Mevlana Jalal ad-Din Rumi's ultimate union with the divine, which started Thursday and will continue until Dec. 17.
Rumi, the 13th century Sufi poet and mystic, is commemorated every year at the International Şeb-i Arus Ceremonies, also known as the "Wedding Night," on Rumi's death, which is held from Dec. 7 to Dec. 17. This year's ceremony for the Sufi mystic and philosopher brings together people once more from around the world in Konya.
The events at the ceremony, which is organized under the theme of "Time of Brotherhood," started with a visit to the Tomb of Shams Tabrizi and a Brotherhood March yesterday. The ceremony continued with Sema ceremonies performed at the Mevlana Whirling Dervish Hall and Gülbang prayer.
Mesnevi lessons in Turkish and English
As part of the ceremony, various events in the city center and districts have been organized. Exhibitions of several institutions and organizations will be on display until Dec. 17 at the Mevlana Cultural Center Exhibition Hall and "dervish's chest," including dervish clothes, which are presented for the first time this year, are among these events.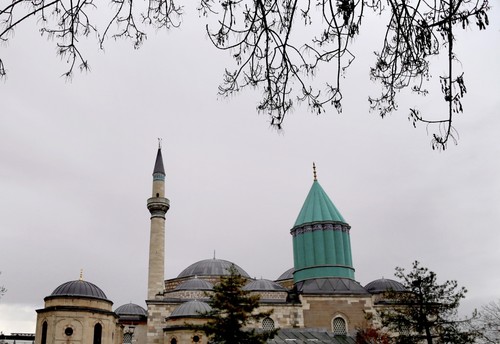 Konya hosts hundreds of thousands of tourists for Rumi commemorations every year.
Mesnevi lessons in Turkish and English along with conferences, international symposiums, conservations, panels, workshops, plays and poetry readings will be held. Children and children with mental disabilities will also perform Sema ceremonies along with the whirling dervishes.
343 programs
Provincial Director of Culture and Tourism Abdüssettar Yarar said that 17 Sema performances will be held, and that 343 programs will be organized, including theater plays in 200 places at the end of the ceremonies.
"Last year's theme was 'Time of Union.' We decided on the title of 'Time of Brotherhood,' inspired by Rumi's words this year.
We need brotherhood all the time. The more we talk about it, the more we will be united as a nation. We have introduced Şeb-i Arus ceremonies in Turkish, French and English with the title of 'Time of Brotherhood.' If we contribute to form the consciousness of brotherhood, we will be satisfied. We estimate that the ceremonies will be watched by nearly 65,000 people. Konya will be more beautiful with 'Time of Brotherhood' and Şeb-i Arus. We invite all citizens and people who love Rumi to the program," he said.