Comprising of 104 names and titles of Prophet Muhammad (Peace Be Upon Him), the calligraphy exhibition titled "Esmaü'n Nebi" was opened to visitors at the Workshop and Exhibition Hall of Yıldız Holding on May 21. The exhibition, open until Sept. 3, prepared by calligraphy artist Ferhat Kurlu, illuminated manuscript artists Numan Aydın and Deniz Akın with traditional calligraphy art, is the first one to carry the names and titles of the prophet to a digital platform.
While 104 great names of the prophet, which tell the beauties of creation, were given a place on a big plaque, separate digital designs were created for each of them and reflected on 104 screens.
The book of the exhibition and its content were compiled from the works that can bring light to calligraphy and illuminated manuscript art in various museums, libraries and special collections by professor Faruk Taşkale and Hüseyin Gündüz. The editor of the book, published by Antik A.Ş. Kültür Publishing, is Olgaç Artam.
Contribution to Turkish art scene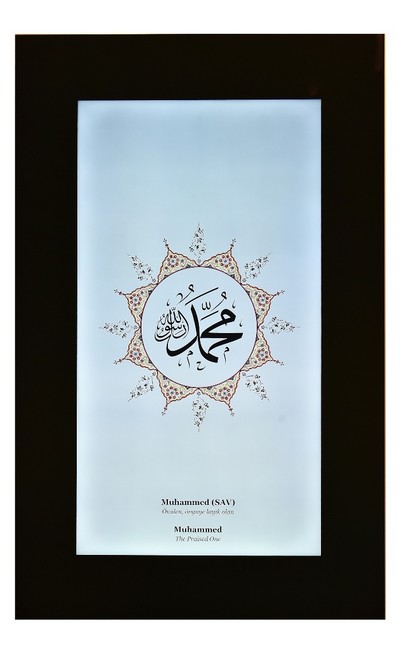 Speaking at the opening ceremony of the exhibition, Yıldız Holding's management board Vice Chairman Ali Ülker said, "Yıldız Holding is responsible for social benefits along with economic contributions. We aim to take part in authentic cultural and art projects. We have supported many special projects of Islamic art with both our sponsorships and in our company to date. We do not use our work areas only for our job but also for contemporary and traditional art. I hope the names and titles that we saw in the Esmaü-n Nebi exhibition at Yıldız Holding Workshop and Exhibition Hall will open up everyone's horizon."
'Prophet gave importance to calligraphy'
Calligraphy artist Ferhat Kurlu also said, "Esmaü'n Nebi is a good work. Its calligraphy, illuminated manuscripts and digital applications are authentic. However, I can say that the beauty of my works does not come from my talent. It is because of the beauty of the prophet's names. Our prophet is such a person that the religion that he announced, the book that he brought, words, names and titles that he had are beautiful. I want to thank everyone who contributed to the exhibition."
In works of Esmaü-n Nebi, the prophet's names which are gathered from the hadiths and books are brought together. In these names, his supremacy, mercy, intercession, special place in the face of God and excellence are mentioned along with the love and respect that his people feel for him. While they take their places in "naats," which are poems praising the prophet, poets enrich their poems, using these poetic names with similes. The 104 beautiful names are in the exhibition as the most beautiful examples of calligraphy.
Calligraphy artist Ferhat Kurlu
Ferhat Kurlu was born in Fatsa district in Ordu province in 1976. Kurlu was introduced to calligraphy when he was a sophomore at On Dokuz Mayıs University in 1993. He learned art information and got the first Riq'ah classes that got him interested in Classic Turkish Islamic Art. He started to practice calligraphy after meeting Hasan Çelebi with the guidance of calligraphy artist Mümtaz Durdu. At the end of four years, he was ratified with a ceremony at the Research Center for Islamic History, Art and Culture (IRCICA) in 2000. He attended competitions and exhibitions in the same year.
Illuminated manuscript artist Denİz Akın
Deniz Akın was introduced to illuminated manuscript art in 2011 at Mimar Sinan University's Traditional Turkish Arts Department, and started to work at galleries three years after that. Akın illuminated the writings of Hamit Aytaç, Halim Özyazıcı Kamil Ülgen, Necmeddin Okyay, Macit Ayral, Aziz Rıfa-i, Ali Rıza Özcan, Hasan Çelebi, Fuat Başar, Hüseyin Kutlu, Ferhat Kurlu and Mümtaz Durdu.
The artist also took place in the collections of the Presidency, Yıldız Holding and Classic Turkish Arts Foundation. Akın's works are exhibited in many special places, such as Enderun Art Gallery and Gallery Kalem Güzeli. Attending many local and international, group exhibitions, the artist has illuminated nearly 200 works to date. Deniz Akın continues to work at DNA Art studio, which Akın opened in Kuzguncuk together with Numan Aydın.
Illuminated manuscript artist Numan Aydın
Meeting the art form in 2008, Numan Aydın started to work with art galleries after training for one year. In 2011, Aydın was accepted by Mimar Sinan University's Traditional Turkish Arts Department. He also took part in the collections of the Presidency, Yıldız Holding and Classic Turkish Arts Foundation like Deniz Akın. He has illuminated nearly 300 works to date. He continues his works together with Deniz Akın at DNA Art Studio.