Turkish photographer Orhan Durgut has been taking pictures of Islamic cities for 12 years. The photography artist says he now wants to introduce people to each other through his work.
Durgut started his career as an architectural photographer, taking pictures for construction firms. He began to photograph Islamic cities when he traveled to Mecca in 2006.
He later traveled to Jerusalem and decided to start the project "Islamic Cities Archives." He has since traveled to 46 other cities and added them to his project.
Most recently, the artist was in the Qatari capital Doha.
Speaking to Anadolu Agency (AA) there, Durgut said, "While taking photos of Jerusalem, I met Muslim people and I recognized that they did not know each other. This is how the idea of an archive occurred to me."
"I have been photographing Islamic cities for 12 years now. I am trying to prepare a large archive. I hope my project will help Muslims know each other and bring them closer," he said. "In the Islamic world, Muslims of one country do not know others. I am trying to make people connect through this project because you don't easily forget pictures."
Photography is not just an art
Durgut said that photography is not only an art form but one that informs people, captures history and deliver a message.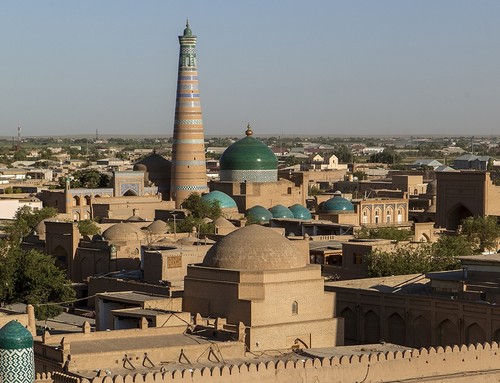 Khiva, Uzbekistan.
"I serve to Islamic community this way," he said. He added that he has so far photographed various cities, including Mecca, Medina, Jerusalem, Damascus, Istanbul, Sarajevo, Tunisia, Isfahan, Delhi, Baghdad and Basra.
Doha was his 46th stop.
Explaining how he picks the cities, Durgut said he started off with cities that are mentioned in the Quran and hadiths, before focusing on cities where famous Islamic scholars are buried.
"We can see Maliki people in Damascus, Salafi people in Saudi Arabia, Sunni people in Turkey and Shia people in Iran. They all perform ablution the same way. They all face one qiblah," he said.
Durgut said that the only difference he observed in Islamic cities was in the minarets that are built according to the cities geography. He said his photos of Islamic capitals show the richness of these cities.
He said that there are many books that tell the different stories of the Islamic world but photos can reach a larger audience. "I am planning to photograph 60 cities as part of this project," he said.