The death of Sufi poet Mevlana Jalal Al-Din Al-Rumi, known as Şeb-i Arus (the Night of Union) or wedding night, will be commemorated for the 745th time this year, from Dec. 7-17 in Konya province.
Konya Governor Cüneyit Orhan Toprak said that the 745th Anniversary of Rumi's death would bring together tens of thousands of people from Turkey and abroad due to the poet's teachings of tolerance and brotherhood. At a hotel press conference, Toprak provided information about the ceremonies this year. To ensure that the events will be performed without any problems, Toprak said: "As part of the ceremonies, various events like Semâ, or whirling performances, exhibitions and theater shows will be organized. Hopefully, as every year, tens of thousands of people from Turkey and abroad will come together with Rumi's teachings of tolerance and brotherhood. When we look at the advice and works of Rumi, he shows us ways to find more peace in our individual and social lives."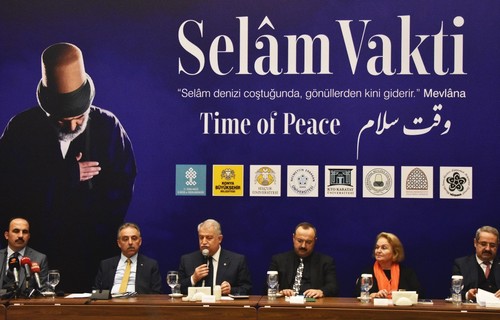 Information about this year's ceremonies was provided at the hotel press conference.
Since the theme of the ceremonies is "Selam Vakti" (Time of Peace) this year, Toprak said that "selam" is the most important password for our society to live in peace, to understand each other, to soften hearts and for toleration.
Provincial Culture and Tourism Director Abdüssettar Yarar said that their directorate will hold the 81st edition of the events this year: "We have displayed a different approach in ceremonies for the last three years. We emphasize the topics and concepts that Rumi addressed in his great works such as the "Masnavi," "Divan-e Kabir," "Fihi Ma Fihi," "Maktubat and Majalis-i Saba." We will have events like exhibitions, scientific meetings, workshops, concerts, award ceremonies, theaters, Rumi film screenings and autograph sessions. We provide information on when and where these events will be carried out in the booklet we have prepared."
Friday sermons on Rumi in all mosques across Turkey
Indicating that events will start with the Peace Time March on Dec. 7, Yarar said that commemoration ceremonies were performed under the theme of Time of Unity in 2016 and Time of Brotherhood in 2017 and will have the theme Time of Peace this year. The programs consist of 23 main topics: 15 Semâ or whirling performances, 15 Mevlana lessons, 40 meetings at mausoleums, 14 exhibitions, 17 Turkish Sufi music concerts, 15 Mevlana talks, 47 workshops and 3,512 theater programs. In addition, there will be various events such as symposiums, concerts and interviews, amounting to 3,766 programs totally. A total of 55,000 people are expected to attend the ceremonies. The ceremonies will be promoted in five different locations at the Ankara and Istanbul airports. On Friday, Dec. 7, the teachings of Rumi and the theme of a Time of Peace will be preached in all mosques across Turkey.
Esin Bayru Çelebi, Rumi's 22nd generation granddaughter, attended the press conference as well as Konya Metropolitan Municipality Mayor Uğur İbrahim Altay, Necmettin Erbakan University Rector professor, Dr. Muzaffer Şeker and KTO Karatay University Rector professor Dr. Bayram Sade.